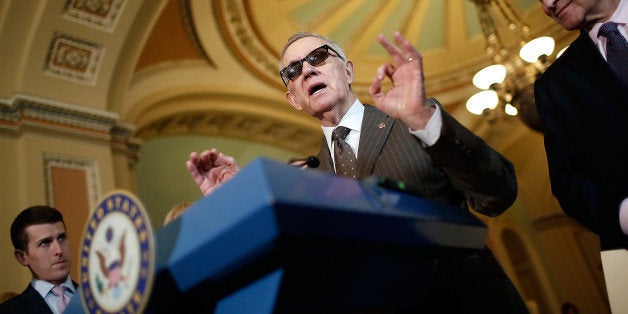 WASHINGTON -- Sen. Harry Reid (D-Nev.) is saying "hell no" to a bipartisan deal reached last week that would grant President Barack Obama authority to quickly push hefty trade deals through Congress.
Though Reid's position on the fast-track authority bill is no surprise, he sounded off Tuesday. "You couldn't find a person ... who feels more negatively about it than I do," he said.
"So the answer is not only no, but hell no," he added.
Last week, the two top senators on the Senate Finance Committee, Chairman Orrin Hatch (R-Utah) and ranking member Ron Wyden (D-Ore.), joined with House Ways and Means Committee Chairman Paul Ryan (R-Wis.) to announce legislation that would let Obama strike new trade deals with Asian and European countries and then fast-track them through Congress with little oversight. In particular, it would grease the wheels for two controversial deals now in the works -- the Transatlantic Trade and Investment Partnership with the European Union, and the Trans-Pacific Partnership with 11 Asian nations.
Formally known as "trade promotion authority," the TPA bill is one issue that divides the president from a number of fellow Democrats, including the Senate minority leader.
"I have never, ever in my 33 years in Congress ever supported, ever supported a trade agreement. And I'm not going to start now," Reid said. "They're not good for the American people. They're not good for working men and women. It puts us at a disadvantage."
Reid may find himself in a standoff with the White House as early as next week.
On Wednesday, the Senate Finance Committee is meeting to mark up the bill, and if the deal doesn't break down then, Republican leadership in the upper chamber is looking to move fast.
"When Orrin Hatch and Paul Ryan and Ron Wyden get on the same page with the president, you better strike while the iron is hot," said Sen. John Thune (R-S.D.), the third-ranking Republican in the Senate. "I would think if we get a favorable outcome tomorrow, it would be scheduled [for a floor vote] in pretty short order."
Thune said he would like to see the legislation come to the full Senate next week during Japanese Prime Minister Shinzo Abe's visit to Congress. "It would be perfect timing," he said.
He also noted, "I think TPA will have a very high sense of urgency attached to it because we have been waiting for the committee to report it, hoping to get it done as soon as possible."
Pressed on whether the Senate would bring the trade legislation to the floor before a bill granting Congress the authority to weigh in on any final nuclear deal with Iran, Thune said he would be "surprised [if the former measure] doesn't come up right away."
White House press secretary Josh Earnest said Tuesday that the fast-track legislation is a top priority for Obama.
"This is the most far-reaching, progressive trade promotion authority bill that Congress has ever passed," Earnest said in his daily briefing, emphasizing its labor and environmental protections. "There is ample reason for Democrats and Republicans to support this bill."
He warned that lawmakers would "essentially be ratifying the status quo" if they didn't support this type of trade bill and that ultimately the U.S. would find itself at a disadvantage to countries like China when it came to competing for business in Asia.
Reid's disagreement with the White House leaves other top Democrats in a tight spot. Senate Minority Whip Dick Durbin (D-Ill.), for one, wouldn't say how he'll vote if the trade bill reaches the floor.
"I'm going to wait and see how it comes out of committee," Durbin said Tuesday, adding that he has concerns that the bill would give away Congress' "right to take a close look at the trade agreement and how it might impact our country and your state."
Reid said that he wouldn't try to defeat the legislation in any "single-handed" way, but that he is pressing Wyden to slow it down.
"This is really marching forward. I think there should've been more time in the committee," the minority leader said.
Jennifer Bendery contributed reporting.
Before You Go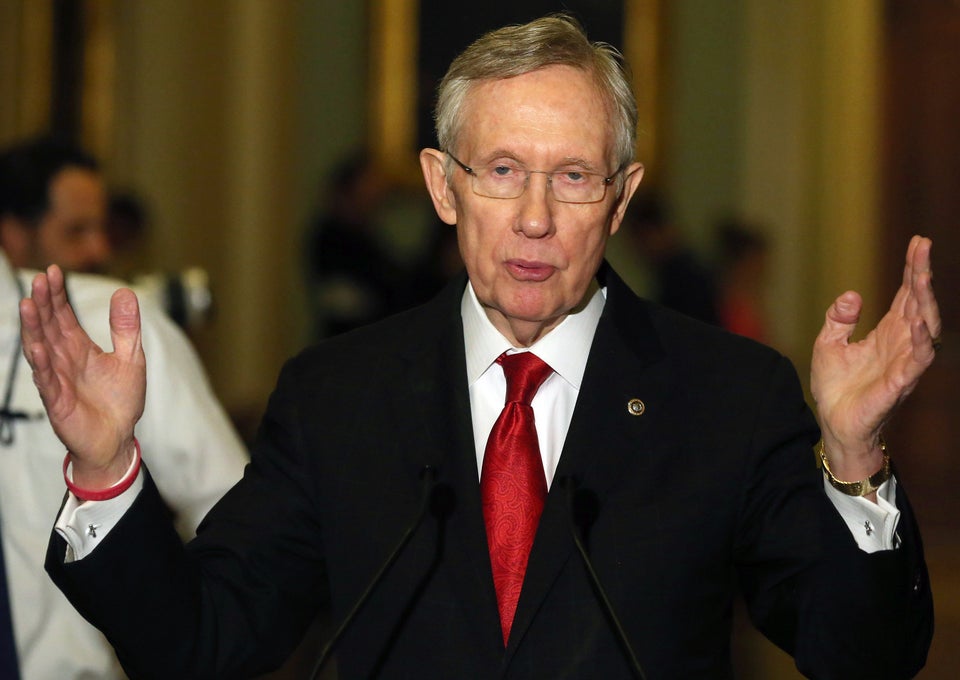 Harry Reid
Popular in the Community