WASHINGTON -- Keeping with his post-election pledge to reform the filibuster, Senate Majority Leader Harry Reid (D-Nev.) on Tuesday proffered that changes to the rules of the upper chamber will be made, leaving it up to Republicans if they would like to participate.
"There are discussions going on now [over filibuster reform], but I want to tell everybody here. I'm happy I've had a number of Republicans come to me, a few Democrats," Reid told reporters Tuesday at his weekly press availability. "We're going to change the rules. We cannot continue in this way. I hope we can get something that the Republicans will work with us on."
"But it won't be a handshake," he added. "We tried that last time. It didn't work."
Asked to confirm if his comments meant that the rules would change and Republicans can choose to be a part of that change if they want, the Nevada Democrat responded, "That's right. Yup."
Senate Minority Leader Mitch McConnell, who has repeatedly slammed Democratic efforts to reform the filibuster, was unmoved by Reid's statement.
"Well, there is growing Democratic unease with breaking the rules to change the rules," McConnell said later Tuesday at his weekly press conference. "I think it will be very difficult for that to come about. I think it will be bad for the Senate."
McConnell added that in accordance with Senate rules, such an effort would require a 67-vote majority, and that Reid's approach to make the changes with a simple 51-vote majority -- a procedure that has been labeled a "nuclear option" by its opponents -- would be "bad for the institution, bad for the country."
He continued that he hoped to see a "more sober reaction" develop to the current situation.
Following the November election, Reid indicated that he would aggressively pursue a filibuster reform to stop GOP senators from continuously blocking legislation from moving forward. Sen. Jeff Merkley (D-Ore.) has been working with Reid on the proposed changes, which would effectively force any senators wanting to delay a vote to visibly take to the floor and talk. Once every senator had left the floor and could no longer debate, a cloture vote would be taken that would require only a simple majority rather than two-thirds of the chamber in order to pass muster.
"You've got to present your case before your colleagues, before the American public," Merkley recently told The Huffington Post in an interview. "If you haven't got the guts to do that, then you shouldn't stand in the way of the majority vote."
President Barack Obama has also endorsed Reid and Merkley's efforts. Most Republicans, led by McConnell, have fiercely opposed the measure, which has left Reid few options for seeing the reform through. Yet, on Monday, Sen. John McCain (R-Ariz.) expressed sympathy with supporters of changes to the filibuster, while voicing his frustration at Sen. Rand Paul (R-Ky.) and his filibuster threats and stall tactics.
In his remarks on Tuesday, Reid did not name any of the Republicans who he said have expressed their support to him for filibuster reform, and his office did not immediately return a request for comment for those names.
Before You Go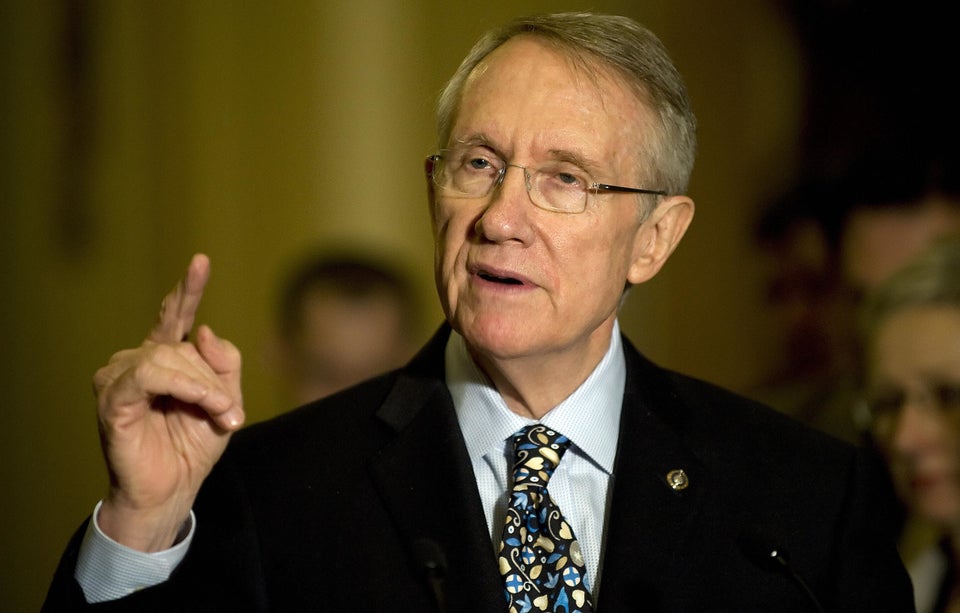 Senate Majority Leaders Through The Years
Popular in the Community