WASHINGTON -- In his toughest talk yet on the matter, Senate Majority Leader Harry Reid (D-Nev.) signaled Monday that a change to Senate filibuster rules is all but certain if Republicans block votes this week on any of President Barack Obama's seven executive nominees set for action.
During remarks at the Center for American Progress, Reid discussed the idea of changing Senate rules to require only a simple majority to advance executive nominees -- rather than the current 60-vote threshold -- as if it were already a done deal. He reiterated that the Democrat-backed rules change would not apply to any legislation or to judicial nominees.
"This is a moment in history when circumstances dictate the need for change," Reid said. "It's time for course correction that compels the two parties to work with each other instead of against each other."
Reid has been sparring with Senate Minority Leader Mitch McConnell (R-Ky.) for months over the prospect of a Senate rules change, with McConnell warning Reid that he'd regret changing filibuster rules when Democrats are in the minority. Their rhetoric has gotten so heated that McConnell warned Reid on the Senate floor last week that, if he followed through with such a change, he'd "be remembered as the worst leader in the Senate. Ever."
None of those threats seemed to deter Reid on Monday, though. He called the Senate an "evolving" institution, and pointed out that it has changed its rules 18 times in the past three decades. The change that Democrats support is "no big deal," he said, and it is aimed at saving the Senate from becoming obsolete, given how partisan gridlock has slowed its business in recent years.
"I love the Senate," Reid said. "But right now, the Senate is broken and needs to be fixed."
On Tuesday, Reid will begin lining up test votes on seven of Obama's executive nominees: Tom Perez to lead the Labor Department, Gina McCarthy to lead the Environmental Protection Agency, Fred Hochberg to lead the Export-Import Bank and Richard Cordray to lead the Consumer Financial Protection Bureau, as well as Mark Gaston Pearce, Sharon Block and Richard Griffin to serve on the National Labor Relations Board.
As it stands, there are 161 pending executive nominees in the Senate, according to the White House. Some of the nominees on tap for votes this week have been waiting for hundreds of days. As of Monday, Cordray has waited 729 days, McCarthy has waited 133 days, Perez has waited 120 days and two of the NLRB nominees -- Block and Griffin -- have waited 578 days.
Reid dismissed the idea that he would be open to a deal with Republicans that would move only some of those nominees this week; he said all seven must get votes in order to avert a rules change. He also emphasized that this fight isn't about "McConnell versus Reid," but about what Senate Democrats want to do.
"This is not me marching down the road on this," he said. "My caucus is supportive of me because this is where they want to go, to change this rule."
Ahead of Tuesday's votes, all senators will meet in a rare, private meeting on Monday night evening to discuss how the parties plan to proceed. McConnell said on Sunday that he hopes the meeting will convince Democrats not to make any changes to the Senate rules, something that Democrats, as the majority, have the ability to do with a simple majority vote. But Reid signaled that Democrats won't be swayed by any last-minute deals with Republicans.
"If the sky is falling and [Republicans] think it's falling, let them stop the filibusters on the seven that I filed [a procedural motion to begin debate] on," Reid said. "We would have up-or-down votes on these people and go on to the business of the day. That seems pretty simple to me."
Later Monday, White House press secretary Jay Carney deferred to Reid when asked if Obama supports the changes to Senate filibuster rules. But he said when it comes to GOP obstruction of nominees, "the problem is real."
Republicans have "needlessly and systematically obstructed our nominees," Carney said during his daily briefing. "The president believes that the Senate ought to function."
This story has been updated to include comments from Jay Carney.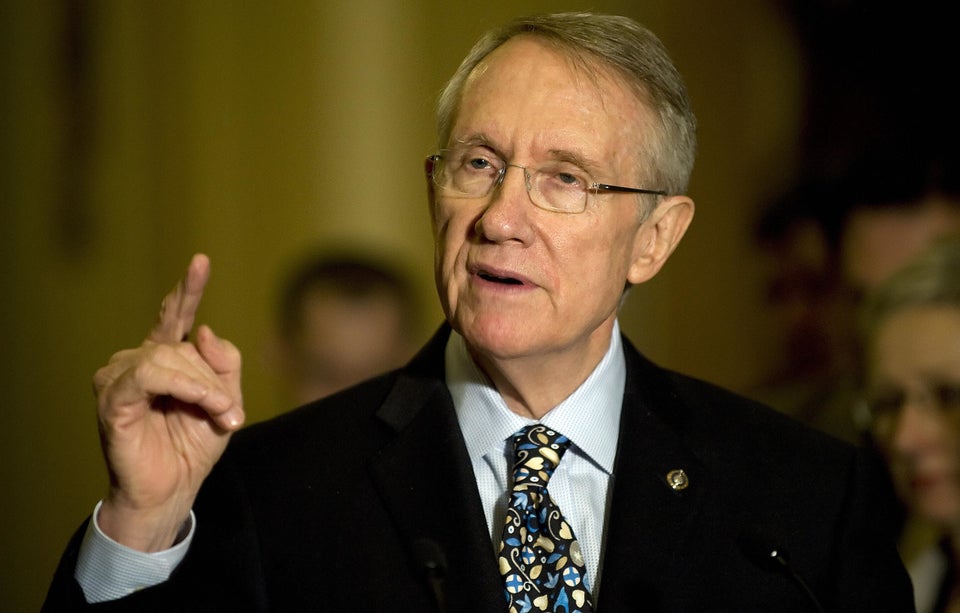 Senate Majority Leaders Through The Years