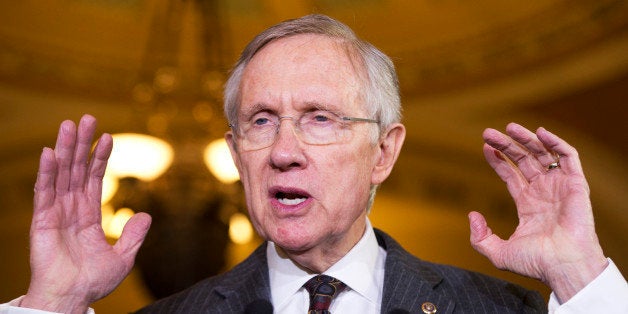 WASHINGTON -- Filibuster reform advocates have been here before. A Senate bogged down in procedural gridlock drives Democratic leadership to threaten a change of rules, only to back away at the last minute when a group of Republicans offer a gentlemen's agreement. The agreement proves temporary, agitation sets in and the threats reemerge. Lather, blather, repeat.
So, as Majority Leader Harry Reid (D-Nev.) has once again raised the specter of upending the rules of the Senate in order to bring functionality to the chamber, there is no shortage of skepticism.
And yet, those around the majority leader insist that his determination is sincere this time. By way of evidence, one progressive activist sent The Huffington Post an invitation addressed by Reid's office to "supporters of filibuster reform." The invitation is for a Thursday event, where attendees can hear from Reid directly about "his thinking on changing the rules."
Such scheming usually doesn't happen unless political action is afoot. It appears that it is.
In an interview with The Huffington Post on Wednesday, Sen. Jeff Merkley (D-Ore.), one of the loudest champions of narrowing the filibuster, insisted that this wouldn't be yet another instance of the football being placed invitingly in front of Charlie Brown's foot. After a showdown this January resulted in a toothless set of procedural changes and another standoff this summer resulted in a fleeting pact between the parties, Democrats are beyond frustrated, the Oregon Democrat said.
"Members who hoped we could recreate the understanding and comity of the past -- which was to retain the ability to filibuster nominees with the understanding that it would only be used rarely based or related to a nominee's qualifications or if there was an exceptional concern -- now realize that that is impossible," Merkley said. "The new Republican strategy of blocking nominees solely based on the argument that they were nominated by this president has put a strike through the heart of that hope."
Aides on the Hill are equally adamant that this isn't some big bluff on Reid's part. One top aide told The Huffington Post that even if Republicans simply allowed for up-and-down votes on the president's three nominees to the U.S. Court of Appeals for the District of Columbia Circuit (the nexus of this current filibuster fight) it wouldn't dramatically alter the party's thinking.
"There is no indication that there is eagerness on our side that we could just take a few nominees and we will back off," the aide said.
Perhaps even more telling is that back-channel talks to avert the so-called "nuclear option" aren't happening at the level they were in standoffs past.
"There is nothing like that going on at this time," the aide said, when asked if the brokers of the last compromise –- Sen. Chuck Schumer (D-N.Y.) and John McCain (R-Ariz.) –- were trying to find a way around the impasse.
Whether Reid has the votes to actually move forward with rules reform is another question entirely. According to aides, the majority leader is personally whipping members and holding the number of votes he has close to the vest. He has been pitching a rule change that would allow for simple majority votes on executive nominees and district and circuit court judges. Supreme Court justices would still require a 60-vote threshold for approval under this plan, as would every bit of legislation.
Reid is planning to move fast regardless. An aide said a motion to reestablish the Senate rules is more likely to come this week than next month. After all, momentum is there. Grey beards of the Senate, such as Pat Leahy (D-Vt.), have expressed their support for changing the rules; something that was not a given in prior showdowns. In addition, some of the more prominent abortion-rights senators -- Sens. Dianne Feinstein and Barbara Boxer, both Democrats of California -- have said they would be supportive of a rules change. Rules reform is something they have been hesitant to do in the past, out of fear it could open up the floodgates to anti-choice judges and legislation if Republicans retook the majority.
Merkley says fear of a future GOP majority is misplaced. For starters, he noted, those anti-choice judges have managed to get through the Senate during past Republican administrations even with the filibuster in place. More importantly, he argued, it would be naïve to think that a hypothetical Senate Majority Leader Mitch McConnell (R-Ky.), serving under a hypothetical Texan GOP President Rick Perry or Ted Cruz, wouldn't move swiftly to change the rules himself.
"I don't doubt that they would do it," he said.
The Huffington Post asked McConnell's spokesman, Don Stewart, if Merkley's point was legitimate.
He replied, "Sen. McConnell has said the opposite."

Before You Go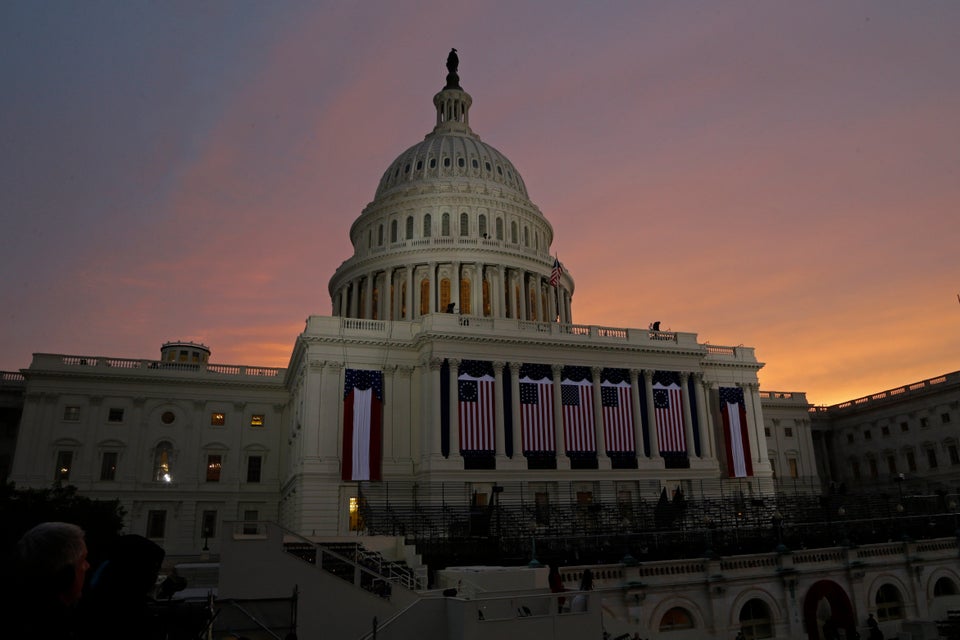 U.S. Capitol Photos
Popular in the Community