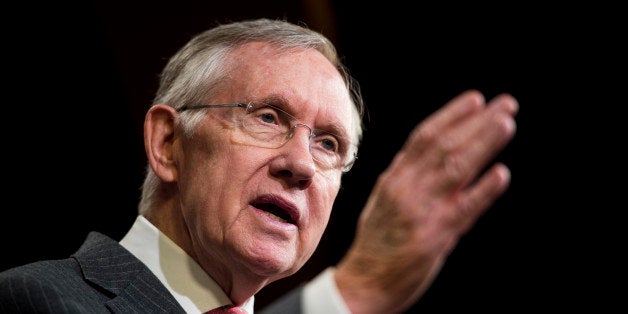 WASHINGTON -- Senate Majority Leader Harry Reid (D-Nev.) scuffled with Republicans Thursday over delayed action on President Barack Obama's nominees, and wondered aloud whether Democrats should have gone further when they pushed through last year's contentious filibuster reform.
During a back-and-forth on the Senate floor, Reid sparred with Sen. Chuck Grassley (R-Iowa) and Senate Minority Leader Mitch McConnell (R-Ky.) over a vote to confirm Michelle Friedland to the U.S. Court of Appeals for the Ninth Circuit. Friedland's confirmation vote will follow a 30-hour period for debate, which ends on Friday around 5 p.m. Since there weren't any senators coming to the floor earlier Thursday to speak against her, Reid asked for consent to go ahead and hold the vote. All of this was happening as senators were anxious to leave town for a two-week recess.
But Republicans objected. Not because they plan to use the remaining hours to speak out against Friedland, but because they want to run out the clock, as proof that they can still cause problems for Democrats despite filibuster reform. Grassley said Republicans get 30 hours, and they plan to use all of it. He proposed that Friedland's vote be pushed to April 28, when senators come back from their break.
"We have not yielded back post-cloture time on judicial nominations since the so-called nuclear option was triggered last November," Grassley said. "We have followed the rules of the United States Senate."
Reid said Grassley's argument isn't exactly "a dissertation on logic" and blasted him for wanting "to waste 30 hours doing nothing." He also said filibuster reform is a major reason why the president's nominees are even moving now -- and hinted he may be rethinking the need for further reforms.
"Where would we be in this country without having changed that rule?" Reid asked. "We're slogging through these rules on these nominations. It's kind of slow because of the inordinate amount of time that we're caused to eat up. But the longer that my friend from Iowa talks, the more reason is that maybe we should have changed the rules more than we did."
Republicans have been fuming ever since Democrats changed the Senate rules to require only a simple majority, instead of 60 votes, to advance a president's judicial and executive nominees. As payback, GOP senators have been leaning on other Senate rules to gum up the process. But the Democrats' action on filibuster reform came in response to widespread GOP obstruction of Obama's nominees. Some groups say Democrats should go further and do away with the 60-vote requirement for moving legislation. That possibility hasn't gained much traction, for now.
During Thursday's dust-up, Reid apologized to Democrats for sticking to Friday's scheduled vote on Friedland, which keeps lawmakers in town a day longer. He noted that Republicans may opt to just leave town on Thursday, since they're likely to oppose Friedland anyway, along with another executive nominee due for a Friday vote.
"I'm so sorry for the inconvenience ... but Republicans know, for them, it's pretty easy," Reid said. "They can just walk out of here. It's our burden to run the country. We're not going to be able to do that. We're going to have to vote and approve these two people ... We've been elected to be U.S. senators."
UPDATE: 8 p.m. -- Reid agreed to postpone Friedland's confirmation vote until April 28, according to a Senate guidance email.
An aide later told HuffPost why Reid caved: "Everyone just left town."
Calling all HuffPost superfans!
Sign up for membership to become a founding member and help shape HuffPost's next chapter
BEFORE YOU GO
PHOTO GALLERY
Senate Seats Up For Grabs In 2014