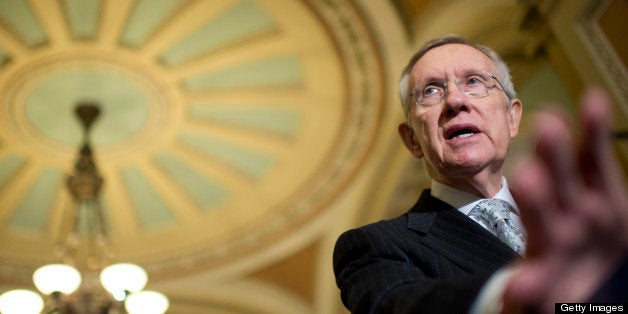 WASHINGTON -- The likelihood of a knockdown fight over the filibuster this summer increased on Tuesday as Senate Majority Leader Harry Reid (D-Nev.) pulled back a vote on the confirmation of Richard Cordray to lead the Consumer Financial Protection Bureau.
Cordray is a contentious nominee because 43 Republicans have demanded changes to the structure of the CFPB before they will approve any nominee to run it. That means Republicans can deny Democrats the 60 votes needed to begin debate on a CFPB nominee. President Barack Obama gave Cordray a recess appointment in January 2012, which Republicans have challenged as illegal, citing a recent court case that invalidated other recess appointments.
Reid indicated Tuesday that he would bring Cordray's nomination to a vote in July, and a Senate Democratic aide said that vote will come at a time when Reid is ready to launch into a broader fight over all of Obama's stalled nominees. The "plan is to wait until immigration is complete before engaging in total all-out nom[ination] fight," said the aide.
The Washington Post's Greg Sargent first reported on Friday that Reid was eyeing July for renewed battle over the matter and has Obama's support if he chooses to move ahead with it. Democrats could change the rules of the Senate however they like with a majority vote, though doing so would be highly controversial.
The idea of rules reform itself, however, is broadly popular. A HuffPost/YouGov poll conducted last November found that 65 percent of Americans believe senators should have to participate in debate for the duration of a filibuster, while only 9 percent of those polled said senators should be able to filibuster without being physically present.
The July tussle would focus on the logjammed nomination process, and could lead to eliminating the ability to filibuster some nominations, the so-called "nuclear" or "constitutional" option -- the word choice depending on whether one approves of it or not. At least 50 Senate Democrats are supportive of rules reform.
"July is the best time to have this debate over rules and nominees," said another Democratic aide. "After immigration, and before the budget battles."
Don Stewart, a spokesman for Senate Minority Leader Mitch McConnell (R-Ky.), pointed out that Reid vowed in January 2011 not to make any rules changes in this Congress without going through regular order -- a vow he would be going back on if he moved ahead with rules reform in July.
"I'm surprised that this is even in doubt," Stewart told HuffPost. "The majority leader told the Senate publicly on more than one occasion that not only would he not use the nuclear option to change the rules, but that he would oppose 'any' effort to use the nuclear option to change the Senate's rules."
Regardless, several Senate Democrats signaled Tuesday that they're ready for a rules fight, with some pointing to specific instances where Republicans leaned on the filibuster to block broadly supported measures.
"I'm ready to go when Reid's ready to go. Absolutely," said Sen. Chris Murphy (D-Conn.). "I can't explain to the families of Newtown how I can't get gun legislation passed when I have 55 senators on my side."
Murphy acknowledged that Reid has only floated the idea of reforming rules for nominations, not for bills. But he said it's the principle that matters to him.

"I think this place should run by a 50-vote rule," Murphy said. "I'll do it all at once or incrementally, whichever comes first."
Sen. Joe Manchin (D-W.Va.), who earlier this year led the charge on the gun background checks bill that failed to pass despite receiving a majority of votes, said he is "more open than I've ever been" to changing the filibuster rules.
"When it gets to the point of just trying to get your administration in place and having years go by and not having people because we can't get past politics, I'm very open to the changes," Manchin said. "Our founding fathers didn't design it to be this way, nor did our predecessors."
Sen. Chris Coons (D-Del.) said he'll be watching to see how Republicans vote on Sri Srinivasan, a D.C. Circuit Court of Appeals nominee due for a floor vote sometime after next week. Coons said that vote will be a "critical moment" for Republicans to prove they aren't trying to jam Obama's nominees.

"If he is not confirmed, then they are signaling clearly that they won't allow the confirmation of any, any, even the most qualified nominees because Srinivasan is so clearly, obviously qualified," Coons said. "This president hasn't been able to fill a single vacancy on the D.C. circuit."

Asked if he would push for filibuster reform based solely on the Srinivasan vote, Coons replied, "Yes."
CORRECTION: This article originally stated that Sen. Chris Coons represents Maryland instead of Delaware.
Before You Go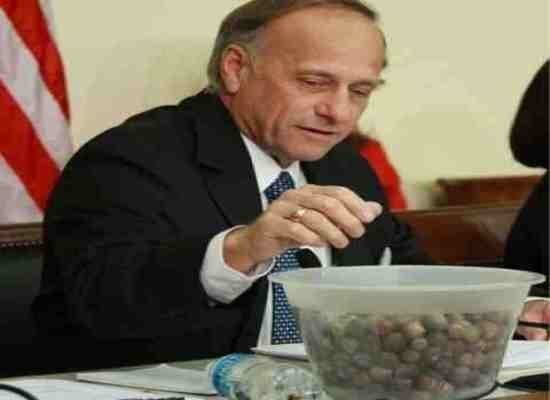 More Crazy Examples of Congressional Theatrics
Popular in the Community