WASHINGTON -- Senate Majority Leader Harry Reid (D-Nev.) signaled Tuesday that his Democratic caucus members are becoming so frustrated with Republicans blocking President Barack Obama's nominees that they will again consider whether to invoke the so-called nuclear option to change Senate rules.
"I'm going to have a full meeting with my caucus on Thursday. We're going to talk about nominations," Reid said. He did not hint what he would do, but suggested his deliberations were far enough along that the sessions with his members would be decisive.
"I think Thursday, by the time the day's out, you'll have a better idea of what we're going to try to do on this," Reid told reporters on Capitol Hill.
Senate Democrats had threatened to change rules at the start of the session to make filibusters more difficult, but settled on only mild reforms. At the time, Reid promised not to change the rules for the rest of the Senate session as long as the GOP members conducted themselves in the a less obstructive manner more in keeping with Senate history.
But soon thereafter, Republicans attempted the first-ever filibuster of a defense secretary nominee. They have also slow-walked numerous nominees, subjecting them to hundreds of questions before granting a vote -- usually resulting in overwhelming confirmation.
Late Tuesday afternoon, Reid met with Sen. Jeff Merkley (D-Ore.), one of the most outspoken advocates of sweeping reform, Democratic aides told HuffPost. Merkley pushed Reid hard in December to make major changes to Senate rules, and was ultimately rebuffed, but his meeting with the leader Tuesday signals that Democrats are attempting to align behind a single strategy.
The nuclear option involves using arcane Senate parliamentary procedures to force a simple majority vote, which would than set precedent for similar future votes. Many Democrats feel like Senate Minority Leader Mitch McConnell (R-Ky.) has broken his side of the agreement, and they may be prepared to break theirs.
"There's only so many times you can play Lucy with the football," one aide said, referring to the cartoon character's penchant for snatching the ball away from Charlie Brown just before he can kick it.
Republicans have backed off recently, with conservatives such as Sen. David Vitter (R-La.) promising a vote on the president's EPA nominee. Two judges were confirmed just this week.
But many Democrats, key among them Oregon Sen. Jeff Merkley, wanted stronger reforms at the start of the session, and would still like to see a fix.
A recent study by the NYU's Brennan Center found that district court vacancies are at record highs -- some 10 percent of the seats are empty, compared to a 4.4 percent vacancy rate in the Bush administration.
And the Senate has yet to deal with some of its more controversial nominations, including the head of the Consumer Financial Protection Bureau, Richard Cordray, and three judges for the federal appeals court for the D.C. circuit.
Democratic sources confirmed a New York Times report that leaders are weighing a change that would end filibusters on presidential picks for administrative posts, but not for judgeships. It's a plan that appears to have been in the works for some time. HuffPost reported in May that Democrats were gearing up for a fight around Cordray's job this month.
Sources who requested anonymity because the talks are still ongoing said Reid could announce his intent to proceed on nominations soon after the Thursday meeting, with voting possibly beginning next week.
Cordray's nomination is tops on the list for Democrats, but they are also determined to get Gina McCarthy in at the EPA. The National Labor Relations Board is also approaching a crisis, and could soon lack enough members to do any work, dealing a severe blow to labor's ability to defend against workplace violations.
Jennifer Bendery contributed reporting
This article has been updated to note Reid's meeting on Tuesday with Sen. Jeff Merkley (D-Ore.).
Michael McAuliff covers Congress and politics for The Huffington Post. Talk to him on Facebook.
Before You Go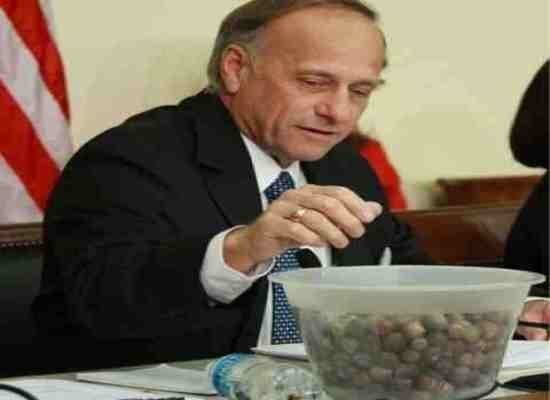 More Crazy Examples of Congressional Theatrics
Popular in the Community