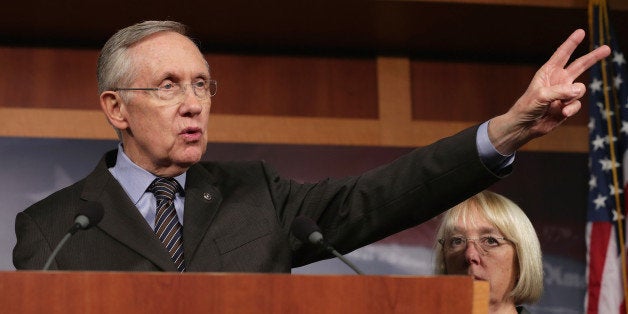 Senate Majority Leader Harry Reid (D-Nev.) said on Tuesday that he's perfectly comfortable living with the carnage of the filibuster should he eventually find himself in the minority.
Speaking to Las Vegas TV station KSNV, Reid said he'd been convinced of the need for a rules change, in part, after hearing complaints from members of the Obama administration -- Secretary of State John Kerry and Defense Secretary Chuck Hagel, specifically -- about lingering vacancies in top executive and judicial posts.
"I tried to work it out –- two different Congresses -- by being a good guy to go along," he said of earlier efforts to cut a deal with Senate Republicans to fill those vacancies while preserving the filibuster. "But I was misled. And you can't do that to me too many times. We had to change this."
Prior to the Thanksgiving break, Reid adopted new rules that removed the filibuster for executive, appellate and district nominees. The filibuster was left in place for Supreme Court nominees and regular legislation.
Democrats mostly cheered the move, arguing that it was needed for President Barack Obama to execute his legislative agenda. But there was some trepidation about what it would mean should the party become the Senate minority with a Republican occupying the White House.
"We have a bicameral legislature. We have the ability to cool off. The filibuster is still available on many different issues in the Senate," Reid said of those concerns. "There is no question the Democrats will be in the minority at some time and I would live with that in a second because you have to allow a president to have the team he wants, whether it is George Bush or Bill Clinton. They should not be prevented from having the team they want."
Watch the interview below:
REAL LIFE. REAL NEWS. REAL VOICES.
Help us tell more of the stories that matter from voices that too often remain unheard.
BEFORE YOU GO
PHOTO GALLERY
Senate Majority Leaders Through The Years