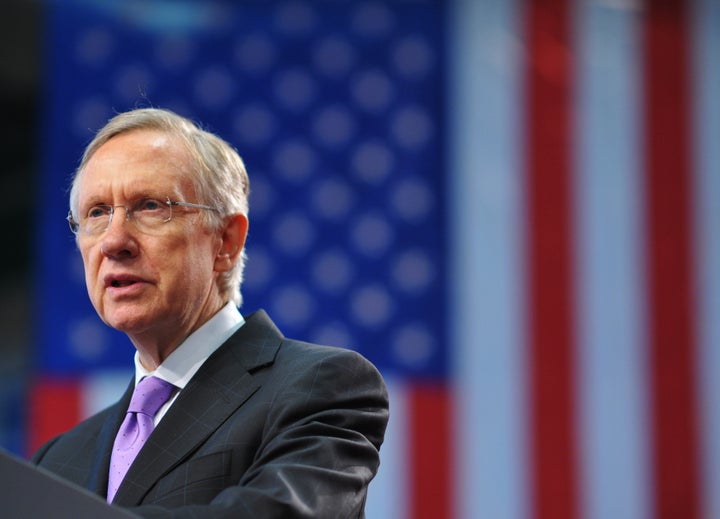 Senate Majority Leader Harry Reid (D-Nev.) is still planning to introduce financial regulatory reform legislation on Monday, despite threats from Republican leadership that the bill would be filibustered on the floor.
Aides to the Nevada Democrat tell the Huffington Post that plans remain in place for a 5:00 p.m. cloture vote on the bill crafted by Senate Banking Committee Chairman Chris Dodd (D-Conn.) -- setting up, what promises to be, a major showdown between the two parties.
"Based on what we saw on the shows this morning, it sure looks like Republican senators are prepared to march in lock step over a political cliff," said Jim Manley, a Reid spokesman, before confirming the vote was still on.
Manley's comments come hours after Minority Leader Mitch McConnell (R-Ky.) told Fox News Sunday that he did not expect the chamber to vote on Monday. The bill, the Kentucky Republican said, still fell short in several areas. And 41 Republicans were committed to filibuster the legislation without changes.
"It's my expectation that we will not go forward with this partisan bill tomorrow. That will stimulate the kind of continued discussion we have to get it right," McConnell said.
"We don't have a bipartisan compromise yet," he added. "But I think there is a good chance we are going to get it."
The dual threats from McConnell and Reid add another element of tension to an already tense regulatory reform debate. Appearing on Meet the Press on Sunday, Dodd and ranking Banking Committee member Sen. Richard Shelby (R-Al.) stressed that negotiations were progressing but not yet complete.
Dodd would suggest that the talks were close enough that they could conclude as early as tomorrow. But the end-date, even he acknowledged, was likely several days off.
"Will we get a bill tomorrow?" Shelby added. "I doubt it."
That Reid is planning to go forward even as Dodd seems open to having more time, suggests that his office believes a firm deadline -- and perhaps that alone -- will be the one thing to bring Republicans on board. Certainly, the Nevada Democrat recognizes that the politics may be on his side as well.
"To paraphrase Senator McConnell from this morning," said Manley, "it looks like Republicans are going to try to do for Wall Street what they did to the insurance industry, protect the profits of a powerful interest group at the expense of the American people."

Popular in the Community