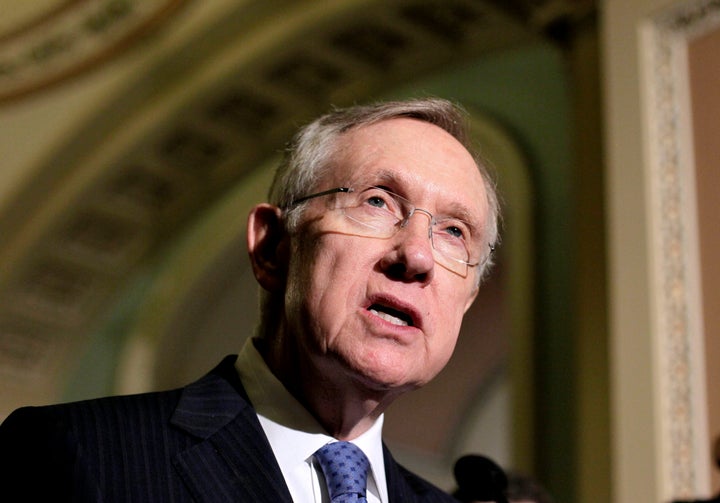 WASHINGTON -- A new wave of pessimism colored super committee talks on Tuesday as Senate Majority Leader Harry Reid (D-Nev.) blasted anti-tax crusader Grover Norquist for meddling with the panel's progress and suggested that the American public "impeach" him.
"It won't pass the House or the Senate," Norquist, who is the president of the advocacy group Americans for Tax Reform, said in the interview. "I've talked to the House leadership and the Senate leadership. They're not going to be passing any tax increases."
Reid also cited recent comments he said Norquist made to the Washington Post, including what Reid called "a stark warning" to super committee co-chair Rep. Jeb Hensarling (R-Texas): "I would say to Mr. Hensarling that he might want to call George Herbert Walker Bush and see how his second term went." Norquist was referring to the former president's "no new taxes" pledge in 1988, during his first campaign. Bush went back on his pledge once in the White House and went on to lose his second election.
"You'll have to admit it is a little disheartening to read the stuff to you I read from Grover Norquist," Reid told reporters.
He suggested Norquist's lobbying on the issue is at least one reason why the 12-member super committee hasn't been able to achieve its goal: trillions of dollars in debt reduction stemming from some combination of spending cuts and new revenues. Several Republicans are wrestling with the fact that they signed Norquist's no-tax-hike pledge amid debt talks.
"It's obvious that Grover Norquist has a lot of pull in the Republican caucus and I think that's an understatement," Reid said. "So far, I haven't seen any indication that Republicans are willing to agree to this balanced approach."
Asked what the public should take away from the state of talks, Reid said, "maybe they should impeach Grover Norquist."
Norquist later tweeted a response to Reid: "Dear Harry Reid: have a nice day. Think nice thoughts. Calm. Breath slowly. Keep hand in own pocket."
The bipartisan panel has until Nov. 23 to pass a proposal, but in order to allow time for the Congressional Budget Office to score the plan, the committee has to reach a deal this week. If it fails to pass something, $1.2 trillion in spending cuts that nobody is particularly happy about will automatically kick in in 2013. And for the moment, Democratic and Republican leaders can't even agree if there is anything on the table at this point.
Reid told reporters that despite there being "all kinds of rumors" about Republicans putting forward a plan, he has yet to see it.
"There's nothing to look at yet," he said. "I don't know what this Republican proposal is."
But moments later, Senate Minority Leader Mitch McConnell (R-Ky.) said Republicans have in fact put forward a debt proposal and have "been waiting for a week for a counter offer" from Democrats.
With time running short, some lawmakers are already taking to finger pointing.
"Super Committee is Sen. Reid's idea however Democrats have no plan other than raising taxes and are stalling the entire process," Rep. Allen West (R-Fla.) tweeted Tuesday.
Sen. John Thune (R-S.D.) noted that President Barack Obama is overseas at a time when the panel is homing in on a crucial point in negotiations. Committee members have gotten "very little input from the White House" during the debt talks, he said shortly after Reid finished speaking.
White House Communications Director Dan Pfeiffer pushed back on the idea that Obama has been absent from negotiations.
"To GOPers who say they haven't [heard] from POTUS re the supercommittee. Here is the 80 pg deficit plan released in September. 1.usa.gov/mV3CGx," Pfeiffer tweeted.

Calling all HuffPost superfans!
Sign up for membership to become a founding member and help shape HuffPost's next chapter