WASHINGTON -- Senate Majority Leader Harry Reid (D-Nev.) will introduce gun control legislation Thursday night that includes a proposal for universal background checks.
"Later tonight, I will start the process of bringing a bill to reduce gun violence to the Senate floor," Reid said in a statement. "This bill will include the provisions on background checks, school safety and gun trafficking reported by the Judiciary Committee. I hope negotiations will continue over the upcoming break to reach a bipartisan compromise on background checks, and I am hopeful that they will succeed. If a compromise is reached, I am open to including it in the base bill. But I want to be clear: in order to be effective, any bill that passes the Senate must include background checks."
The news will cheer up gun control advocates who were left despondent when Reid announced the baseline bill would not include a ban on assault weapons. That measure, which is sponsored by Sen. Dianne Feinstein (D-Calif.), will be considered as an amendment, diminishing its chances of ending up in the final bill produced by the Senate. A provision that would ban the production and sale of high-capacity magazines will also be considered as an amendment.
"The bill I advance tonight will serve as the basis for opening debate. Once debate begins, I will ensure that a ban on assault weapons, limits to high-capacity magazines, and mental health provisions receive votes, along with other amendments," Reid said. "In his State of the Union address, President Obama called for all of these provisions to receive votes, and I will ensure that they do."
Progressives had been bracing themselves for the possibility that a measure expanding background checks, widely considered the most important of President Barack Obama's suggested reforms, would meet the same fate. But Reid will instead go to the floor with background checks as part of the baseline legislation.
Reid will use the background check bill produced by the Senate Judiciary Committee as a starter. That bill, sponsored by Sen. Chuck Schumer (D-N.Y.), includes a provision that requires records to be kept of all gun sales in the nation. The provision had been a sticking point with Senate Republicans, who have argued that it would lead to a federal database of gun owners. Reid will offer senators the opportunity to amend the language bill in order to keep open the option of securing GOP support.
Despite the uphill battle gun control faces in Washington, advocates for reform have continued to pressure Congress to act. On Thursday, Vice President Joe Biden and New York City Mayor Michael Bloomberg urged congressional lawmakers to show courage on an issue that has growing support across the country.
"For all those who said we shouldn't or couldn't ban high-capacity magazines, I just ask them one question: Think about Newtown," Biden said, referring to the mass shooting at Sandy Hook Elementary School in December that left 26 dead, including 20 children.
UPDATE: 7:50 p.m. -- On Thursday evening, Schumer pledged to keep pushing for universal background checks.
"This moves the ball forward on gun safety in the Senate," he said. "We will continue our bipartisan negotiations on background checks over the next two weeks. We hope to have a compromise soon after the Senate returns."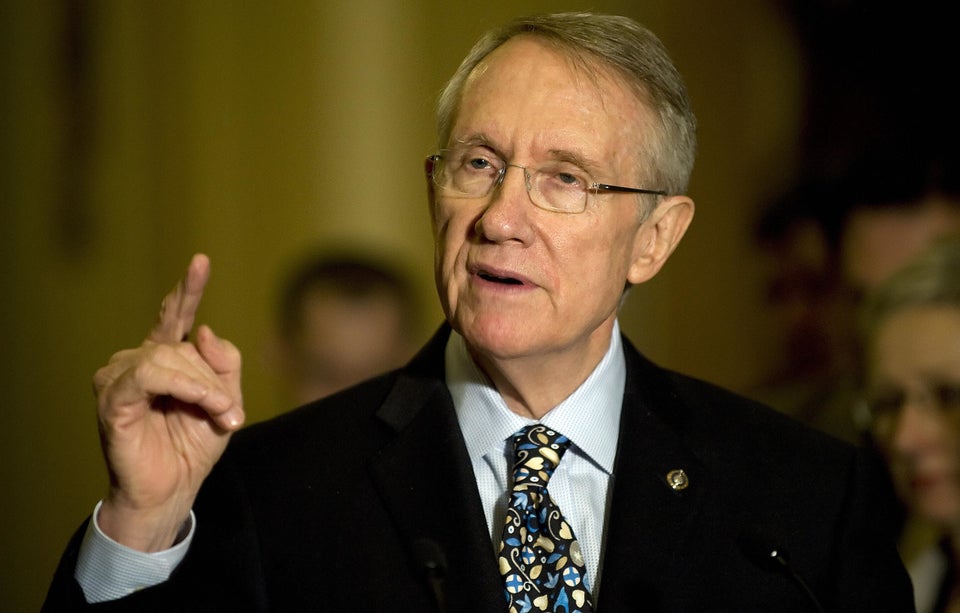 Senate Majority Leaders Through The Years