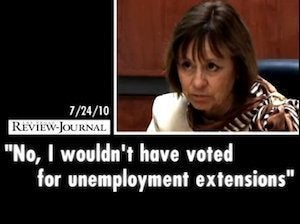 Senate Majority Leader Harry Reid is taking aim at Republican rival Sharron Angle for characterizing the unemployed as "spoiled" and for opposing an extension of jobless benefits to millions of Americans.
In a new 30-second ad from Reid's camp, Debra Harding, who has been unemployed for twelve months, gives her take on the issue.
"I got up everyday looking for a job, the unemployment benefits helped me get through," explains the Las Vegas, Nev. resident. "I'm not spoiled and I don't want to be dependent on anybody. If Sharron Angle doesn't get that, she should be out of work, not people like me."
The spot highlights some of Angle's most provocative remarks on the unemployment issue.
"No, I wouldn't have voted for unemployment extensions," said the conservative contender last month during an interview with the Las Vegas Review Journal editorial board. "We've put in so much entitlement into our government that we really have spoiled our citizenry," earlier she explained on Nevada-based station KRNV.
Last month, Angle apologized for using the word "spoiled" to describe the unemployed, which she called "a mistake."
Of the message conveyed in the ad, Reid campaign spokesman Kelly Steele said, "While most Republicans and Democrats agree that cutting off these struggling Nevadans' very last measure of support is callous and wrong, Sharron Angle continues to insist that 'spoiled' Nevadans like Debra Harding, who have been laid off through no fault of their own, actually want to be dependent on government -- a position that demonstrates either complete ignorance and blind adherence to her extreme ideological agenda, or just plain cruelty on Angle's part."
Nevada boasts the highest unemployment rate of any state in the country.
REAL LIFE. REAL NEWS. REAL VOICES.
Help us tell more of the stories that matter from voices that too often remain unheard.