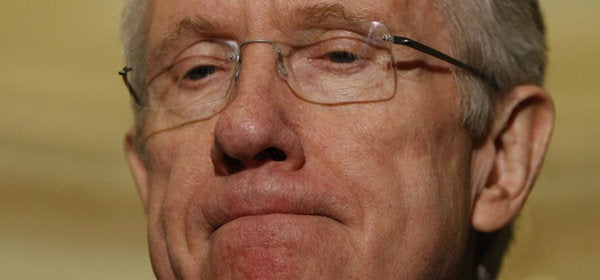 Reid stated, "I don't believe in the executive power trumping everything... I believe in our Constitution, three separate but equal branches of government."

"If Obama steps over the bounds, I will tell him. ... I do not work for Barack Obama. I work with him," he said.
The Nevada Democrat gave a similar quote to Politico. "I like Barack Obama very much. He won a classic election, never have we had a better one," Reid said. "But I don't work for him, I work with him."
Reid went on to criticize Sen. Dianne Feinstein (D-CA) for bucking the party on seating Senate appointee Roland Burris. Feinstein argued that not seating Burris would threaten all gubernatorial appointments. "That's not valid, her statement," he said. "I told her that. OK?"
Reid also said that he planned to lead the Senate Democrats until at least 2015. However, he downplayed his own importance as Majority Leader. "I understand how close I've come to failure a number of times. I've done OK," Reid said. "I've never considered myself Johnny Unitas or anything like that. I am just someone the [Democratic] Caucus has selected and they feel comfortable with."
Popular in the Community