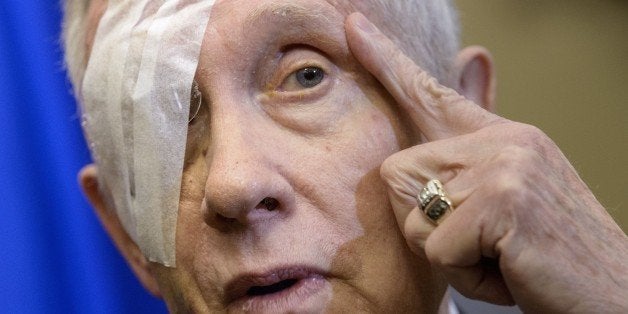 WASHINGTON -- In early April, John Hinderaker, one of the main authors of the conservative blog Power Line, wrote a story alleging that Senate Minority Leader Harry Reid (D-Nev.) had not been injured in an accident involving broken exercise equipment, as he said he was. Rather, Reid was likely involved in a confrontation with his brother Larry, during which he sustained broken ribs and a busted eye socket that had kept him wearing protective sunglasses since.
Hinderaker based all this on a single source: a Las Vegas man named Easton Elliott who claimed to have been at an Alcoholics Anonymous meeting on New Year's Eve in Henderson, Nevada, at which an intoxicated and agitated Larry came in with bloody clothes claiming to have just been in a fight with a family member.
The story was a hoax. Easton Elliott was actually a former nightclub consultant named Larry Pfeifer who wanted to see just how far baseless rumor-mongering could spread among the press.
In an interview with The Huffington Post the morning after the Las Vegas Sun first reported his real identity, Pfeifer said he had done it all on a whim. He had initially contacted Hinderaker to "bitch him out" for an earlier item speculating that Reid's injuries had been the result of a confrontation with the mafia.
On the voicemail, however, Pfeifer said he merely told Hinderaker he had got it wrong. When the two finally connected, Hinderaker asked if he knew what had actually happened. That's when Pfeifer started the yarn. He took cues from an article he had been reading on an actual Larry Reid arrest to pepper seemingly true details into the fiction.
"I'm like, there is no way this guy is going to publish it. But I'm thinking to myself, if he does, he is a complete jerk," said Pfeifer. "He just said, 'Unbelievable, I can't believe it.'"
Clearly, Hinderaker shouldn't have. In an interview with The Huffington Post, Hinderaker said he tried to check the facts, even demanding to know "Easton Elliott's" real name, which Pfeifer eventually gave him. He also argued that he put sufficient caveats in his piece, including lines stating he couldn't independently verify the story. He contemplated the possibility that he was being duped, even wondering if Reid's staff had concocted the whole thing, but ultimately decided it passed the threshold. Reid, he argued, had done the same thing when he infamously stated Mitt Romney had not paid his taxes.
"I'm not critical of anything I did," Hinderaker said. "But if you look at it in hindsight, obviously, you know the guy turns out to be some kind of a fraud. ... So, in hindsight would I do it differently? Heck yes. I wouldn't have even spoken to the guy."
"This guy convinced me that he was telling the truth. And I thought it was appropriate to give him the opportunity to tell his story, not to vouch for it, but for him to tell his story and to see what happens," he added.
By letting the chips fall where they may, Hinderaker allowed a false story to find a larger spotlight. And it didn't end at the point of publication. Behind the scenes, he also put "Easton Elliott" in touch with other reporters and placed him on national radio.
All this was borne out in dozens of pages of emails between "Easton Elliott" and other outlets, which Pfeifer shared on Monday with The Huffington Post. Some of those outlets exhibited more credulity than others. But several cast aside doubts in order to get up a story literally too good to be true.
"The whole time I was thinking about the University of Virginia Rolling Stone story," Pfeifer told HuffPost, referring to the controversial, ultimately discredited magazine feature on a campus rape. "No one is fired, no one is held responsible."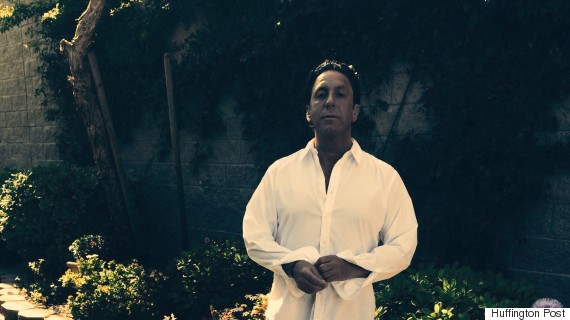 The emails that were shared (and there were some that weren't) began after that first call with Hinderaker. On March 30, Hinderaker wrote a note to "Easton Elliott" saying he was trying to get him on Rush Limbaugh's radio show. (Pfeifer told HuffPost the initial goal was to go on the show and reveal the hoax after 15 minutes or so). Hinderaker emailed again the next day, saying he had set up a time to talk with Limbaugh.
That call, Pfeifer said, would last about 20 to 30 minutes, during which, he says, the radio host repeatedly asked for corroboration for the story, such as the location of the AA event or the name of someone else there. Limbaugh wasn't the only skeptic. On April 1, Hinderaker would email "Easton Elliott" again.

Despite his fears, Hinderaker published his piece on April 3. That day, he put "Easton Elliott" in touch with another conservative outlet, The Daily Caller, that was looking into doing a piece of its own on Reid's now-mysterious injuries.
Curiously, The Daily Caller's Michael Bastasch included Garrett Murch, a communications adviser for Sen. Jeff Sessions (R-Ala.), on an email to Hinderaker, in which he asked to be put in touch with "Easton Elliott." Bastasch told HuffPost he must have included Murch by mistake. "You know autofill on emails?" Either way, he didn't end up writing a story on "Easton Elliott," since it didn't check out, showing that he wasn't "trying to spread rumors about Harry Reid on the Hill."
Over the next days and weeks, others would follow Bastasch's example of checking out the story only to back away suspiciously. Huffington Post Politics Editor Sam Stein and Washington, D.C., Bureau Chief Ryan Grim were emailed about the story and chose not to pursue it.
"I actually didn't think it was a hoax but couldn't get any more sources," Grim told HuffPost, exclusively.
Charles Johnson, founder of GotNews.com, approached "Easton Elliott" on April 10 and after a brief exchange, was openly skeptical.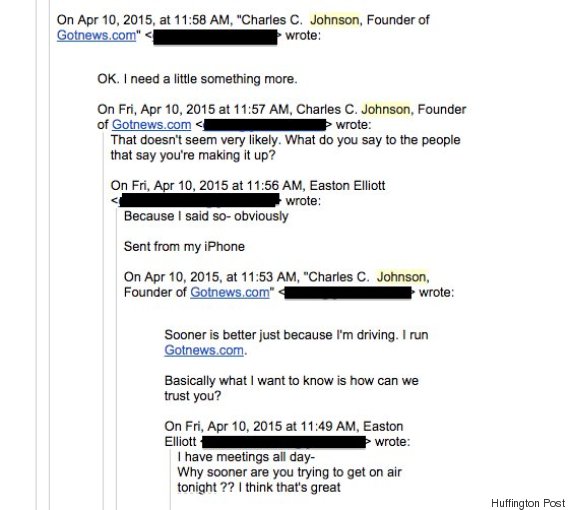 Johnson initially passed along several Fox News email addresses to "Easton Elliott," including one belonging to executive vice president Michael Clemente. But a few hours later, he wrote to Pfeifer, "Something seems fishy about your story." Around the same time, Johnson tweeted that he suspected "Easton Elliott" was not "a straight shooter," and alerted a producer on Fox News' "The Kelly File." Pfeifer, for his part, said he was happy to not have to deal with Johnson because Johnson was making him paranoid.
Jon Ralston, the legendary local Las Vegas political reporter, chased the story too, but never ran anything. He "made a lot of effort. Talked to him several times, exchanged many emails. Was going to meet with him. He told me he had a guy from the group who would corroborate his story. Would hook me up. Night before the meet, he canceled," Ralson told HuffPost in an email. "What I never got past was that Reid has 24/7 security at that house. Were they supposed to have not seen Larry all bloodied up? Or heard the scuffle? But I was willing to check it out."
Ralston said he ran the rumors by his sources close to Reid, but they declined to engage. "I asked Reidworld if Larry was there that night. Three times. No answer. But they probably did not want to dignify it," he said.
While some online outlets smelled a fraud, talk radio threw caution to the wind. On April 9, Hinderaker guest hosted for Laura Ingraham and had "Easton Elliott" on the show, even though he admitted during the program that he had no idea if he was telling the truth. Glenn Beck's site would cover the fictitious account too. And on April 15, the big break occurred, with Limbaugh discussing the story even though he had privately raised doubts just weeks earlier and would note that neither he nor Hinderaker could vouch for it.
"Bottom line," Limbaugh said, "somebody attacked Harry Reid New Year's Eve or New Year's Day."
After that show, others came sniffing. Todd Zwillich, who covers Washington for The Takeaway public radio show from WNYC, reached out through Hinderaker to get in touch with "Easton Elliott" after reading Limbaugh's transcript. He and "Elliott" had a conversation, but when more details couldn't be supplied, Zwillich dropped it.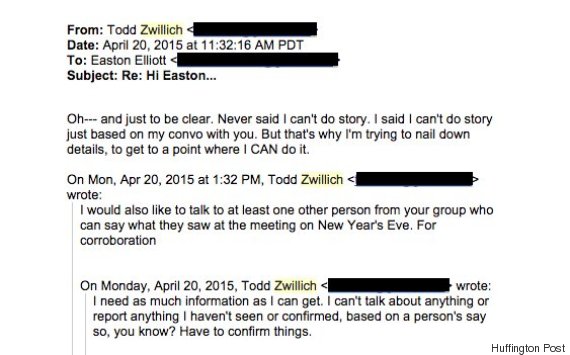 "We talked a couple of times, and once I insisted on corroborating other details he went off my grid," Zwillich told The Huffington Post.
One reporter who plowed forward was Breitbart's Michael Patrick Leahy. He had already written skeptically about the origins of Reid's injury, going so far as to obtain floor plans of the Nevada Democrat's home to make the case that it wasn't due to faulty exercise equipment. He had emailed Hinderaker on April 3 to ask to be put in touch with "Easton Elliott," and initially was skeptical.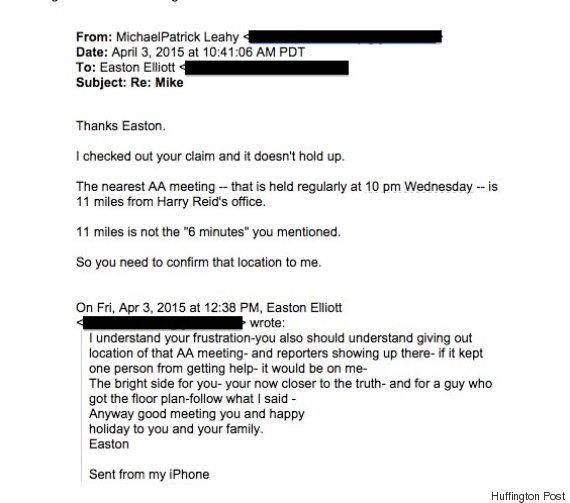 But after Limbaugh's show, Leahy felt more emboldened to write a piece. He sprinkled in qualifiers and caveats, like: "Limbaugh was careful not to vouch for 'Elliott's' story." And he put the onus on Reid to "prove otherwise" that it wasn't true. Later that day, he emailed Elliot to ask if he "could add a fact not already known that would be helpful" and, the next day, to ask if he could be put "in touch with one person who can corroborate your story?"
"You already ran story," Elliot replied.
When it was finally reported that it was all a hoax, the exchanges became acrimonious.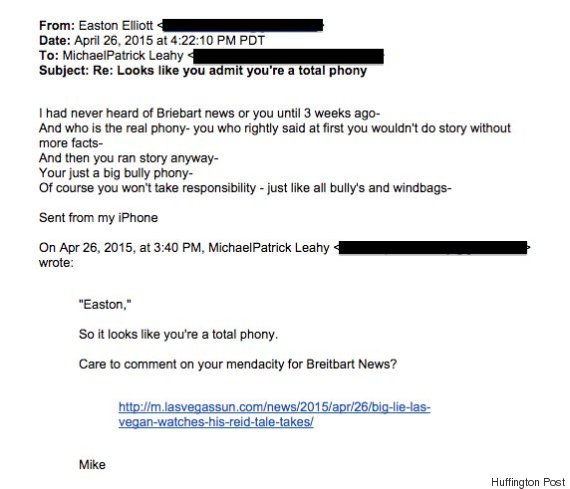 Asked about it on Monday, Leahy defended his decision to publish Limbaugh's commentary even when he had his own internal doubts.
"I just relayed what Rush was talking about," he said. "At that time I was very skeptical of this character and I suspected that it was phony but, you know, all of the information was not known at the time. I certainly wasn't going to write about it on my own as a story that has merit. But Rush Limbaugh mentioning it in the same context of Harry Reid and giving him a dose of his own medicine, I think, was quite relevant."
A week earlier, Pfeifer had actually tried to give Leahy the real story -- the hoax one -- but grew convinced that Breitbart would never publish it. He also reached out to a CNN producer the day of the Limbaugh broadcast, saying he had "saved all emails to show how preposterous this whole thing is including my story- which I didn't think would go as far as it has." The producer thanked him for his pitch and promised to forward it along.
Nothing came of it. The Sun article would come out 11 days later.
Having found himself in the midst of a bizarre catfishing frenzy involving one of the most powerful Democrats in the country and several major conservative media figures, Pfeifer expressed some shreds of regret, mainly for Larry Reid, whom he painted in a terrible, false light.
By late Monday evening, Pfeifer was trying to make amends, developing plans to morph his stint in the media circus into a full-blown cause. The idea, he said, was to start a movement to call out press malfeasance. He asked The Huffington Post to include an email address for "those who want to join me against irresponsible journalism." His newly created account is werenotgoingtotakeitanymore@gmail.com
Michael Calderone and Ryan Grim contributed reporting.
Support HuffPost
The Stakes Have Never Been Higher
Related
Popular in the Community