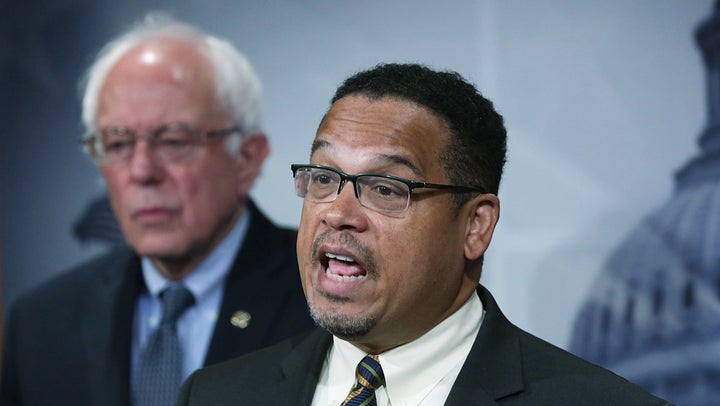 Senate Minority Leader Harry Reid (D-Nev.) on Sunday endorsed Rep. Keith Ellison (D-Minn.) as the next chairman of the Democratic National Committee.
"My friend Keith Ellison is a terrific leader and a strong progressive who knows how to get things done," Reid said in a statement provided to The Huffington Post. "Now is the time for new thinking and a fresh start at the DNC. Now is the time for Keith."
Ellison has not formally declared his candidacy for the DNC post, which would make him the formal head of the Democratic Party. But he has been building support for a bid among party insiders, according to multiple sources. Reid's successor as Senate Democratic leader, Chuck Schumer (D-N.Y.), has endorsed Ellison, as has Sen. Bernie Sanders (I-Vt.). Sen. Elizabeth Warren (D-Mass.) told MSNBC Thursday that Ellison "would make a terrific DNC chair." A Sanders petition backing Ellison has already garnered over 520,000 signatures, according to a source close to Sanders.
The DNC post is widely viewed as the opening skirmish in a battle over the future direction of the Democratic Party. Though she shifted left during the 2016 election, Hillary Clinton hailed from a centrist, corporate-friendly Democratic wing that has long dominated the party's leadership. Progressives believe that faction was discredited by Clinton's loss to Donald Trump.
Ellison co-chairs the Congressional Progressive Caucus and has been a steadfast supporter of workers over corporate interests during his time in office. He would be the first Muslim DNC chair and the third black person to hold the position.
The head of the DNC is typically anointed by a Democratic president, and is often a figurehead primarily responsible for fundraising, rather than major strategic decisions. With Republicans controlling both chambers of Congress and the presidency, however, the head of the DNC will play a much more influential role in Democratic politics. The formal selection of the chief is decided by a complex voting process involving state party leaders, who drifted strongly for Clinton over Sanders in the presidential primary. Endorsements from Reid and Schumer suggest that the thinking in establishment circles has become more sympathetic to Sanders supporters following Clinton's loss.
Not every Democratic leader is on board with Ellison, however. On Saturday, former Obama confidant David Axelrod tweeted that Democrats need a "full-time party chair," adding that "the job just became infinitely more demanding and important." The tenure of Debbie Wasserman Schultz as DNC chair is widely regarded by party insiders as a debacle, and some Democrats cite her dual status as DNC Chair and congresswoman from Florida as a contributing factor in her failure. She is also deeply unpopular with progressives.
In a Sunday appearance on ABC's "This Week," Ellison diagnosed the party's recent electoral troubles.
"You've got to have a vision to strengthen the grass-roots," Ellison said. "Make the voters first, not the donors first. I love the donors and we thank them, but it has to be that the guys in the barbershop, the lady at the diner, the folks who are worried about their plant is going to close ― they've got to be our focus."
Popular in the Community