WASHINGTON -- Senate Majority Leader Harry Reid (D-Nev.) kept up his concerted campaign against the oil billionaire Koch Brothers Tuesday, saying on the Senate floor that "Republicans are addicted to Koch."
Reid went after the billionaire brothers, David and Charles, repeatedly last week, arguing that they are trying to buy the United States Congress.
He elaborated on that charge Tuesday, saying that the Koch duo got an excellent return on their investment in helping to elect a GOP majority in the House of Representatives in 2010. That majority, Reid said, has helped block regulations and laws that would protect the health of Americans at a relatively minor cost to oil magnates.
Watch the video of Reid above.
Now, Reid charged, the wealthy pair wants to improve their investment -- and buy the Senate.
"Senate Republicans have opposed asking billionaires to pay the same higher tax rates as middle-class families," Reid said, referencing Warren Buffett's advocacy around the fact that he pays lower tax rates than his secretary. "Senate Republicans have opposed workplace standards that might cost the Koch brothers a few extra dimes, a few extra dollars, maybe. And the Koch brothers are returning the favor with huge donations to Republican Senate candidates, either directly or indirectly. Senate Republicans, madam president, are addicted to Koch," Reid said, addressing Sen. Tammy Baldwin (D-Wis.), who was presiding.
Senate Minority Leader Mitch McConnell (R-Ky.) was not impressed with Reid's attacks on the billionaires, saying they have every right to spend whatever they want on politics.
"These American citizens have a Constitutional right to participate in the political process," McConnell said. "And it strikes me as curious that we are going to demonize people for exercising their constitutional rights to go out and speak and participate in the political process."
Before You Go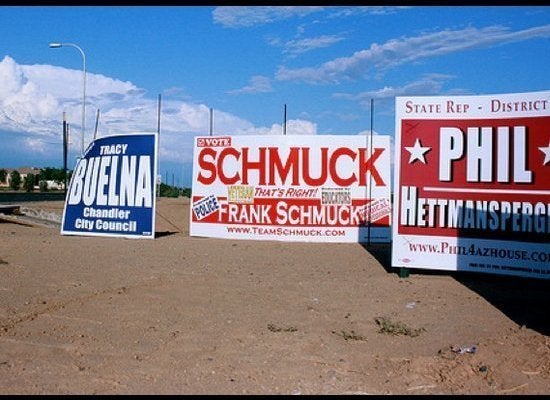 Unfortunate Politician Names
Popular in the Community