WASHINGTON -- Senate Majority Leader Harry Reid (D-Nev.) took to the Senate floor Tuesday morning to rip into the political machinations of Charles and David Koch, the wealthy industrialists who have heavily funded conservative causes and campaigns.
Reid has routinely bemoaned the endless series of anti-Obamacare ads that groups associated with the brothers have financed in various Senate races. He's gone so far as to call the Koch brothers' actions "un-American" and accused Republicans of being "addicted to Koch."
Still, Tuesday's speech -- or rant -- had a certain edge. Perhaps it's because the Koch brothers are now funding an organization in Nevada to run ads targeting Reid himself, though he refuted such a suggestion. "There have been times in my life I've been a little afraid," Reid said of the venture. "But I'm not afraid of them."
Maybe Reid was just taking a certain delight in the morning's news that a reported 7 million Americans have chosen health plans through the Obamacare exchanges. Or maybe he was trying to pre-frame the House GOP budget -- which he called a "Koch budget" -- that was being unveiled shortly after he finished speaking. Either way, a certain gleeful antagonism was apparent throughout his speech. The Huffington Post broke down the transcript below:
The various ways Reid described the Koch brothers:
"Moguls" (twice)
"Oil barons" (three times)
The various ways Reid described the Koch brothers' political network:
"Puppet organizations"
"Kochtopia" (twice)
The various ways Reid described the Koch brothers' actions:
"unscrupulous acts"
"false, misleading, fear-mongering ways"
"everything they do is so selfish, so self-centered"
"the gall of these two brothers is staggering"
"brainwash"
"Attempt[ing] to rig democracy and hand it over to a couple of power-hungry tycoons"
Keep in mind, this all happened in less than 10 minutes and Reid is a bit of a slow talker.
Before You Go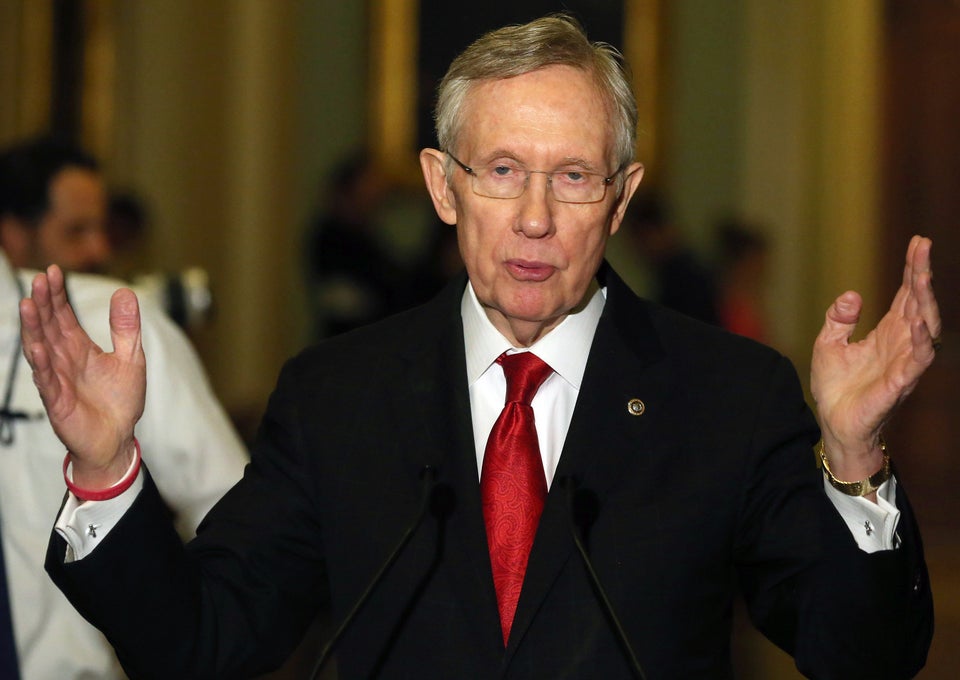 Harry Reid
Popular in the Community