WASHINGTON -- Senate Majority Leader Harry Reid (D-Nev.) has sure touched a nerve.
In recent weeks, the soft-spoken former boxer has been aggressively criticizing Charles and David Koch, the billionaire brothers who have thrown millions into conservative and Republican causes. He's gone so far as to call the Koch brothers' actions "un-American" and accuse the GOP of being "addicted to Koch."
Conservatives have been hitting back and standing up for their benefactors. Charles Koch himself wrote an op-ed in the Wall Street Journal this week saying that his involvement in the political process was simply standing up for "the principles of a free society." Although he never specifically named Reid, Koch went after his critics, writing, "Instead of encouraging free and open debate, collectivists strive to discredit and intimidate opponents. They engage in character assassination."
National Republican Senatorial Campaign Chair Sen. Jerry Moran (R-Kan.) then praised the Koch brothers in the Senate on Thursday and read Charles' op-ed into the congressional record.
Reid has also come under fire from conservatives for going to the Senate floor and calling many of the Obamacare horror stories contained in ads funded by the Koch brothers' network "untrue."
But the criticism of Reid has become increasingly personal -- not just on the Koch issue -- with critics questioning his mental capacity. Some examples:
Sharron Angle, former GOP Senate candidate who lost to Reid in 2010: "There's something going on with Harry Reid's mental state and we need to really be concerned about it. ... He can't remember ... and that's the onset of something more serious, and as you say, there's something mentally going on here, when you can't remember." [Conservative Commandos, 4/3/14]
Bo Dietl, Fox News contributor: "Look at that moron there. That guy from Nevada. Uhhhlll. What's his name there. ... Harry Reid is brain dead. He's trying to talk. He isn't well. You know what? It's time. It's time to put the dog bell ... and put a ticket on him and put him onto the dog track and let him walk around in circles. He's got to be wearing Depends the way he talks because he doesn't remember when he went to the bathroom last." [Fox Business Network, 3/12/14]
Mike Huckabee, former Arkansas governor: "Poor Harry Reid. Either he is off his meds and he clearly needs some assistance immediately -- he needs to be rushed to an emergency room -- or the man is just brazenly unable to tell the truth." [Fox News, 3/29/14]
Rep. Trey Gowdy (R-S.C.): "I didn't think Mormons used drugs. ... I think the longer you stay in political office, the more detached you become from reality." [Mike Gallagher Radio Show, 3/28/14]
Steve Doocy, Fox News host: "It does look like Harry Reid is a very powerful guy who is either -- I read one blog that said he's either having a nervous breakdown or he's simply somebody who lies about lies." [Fox News, 3/28/14]
Watch a compilation of the criticisms of Reid in the video above.
Reid, however, seems to have few regrets about getting into a battle with the Koch brothers and their allies. On Thursday, he said, "Most people here are familiar with the Koch brothers. I've helped make them a little more infamous or famous, and I'm glad I've done that. These two men are a pair of shadowy billionaires spending millions of dollars to rig our political system. And who does it help? Them."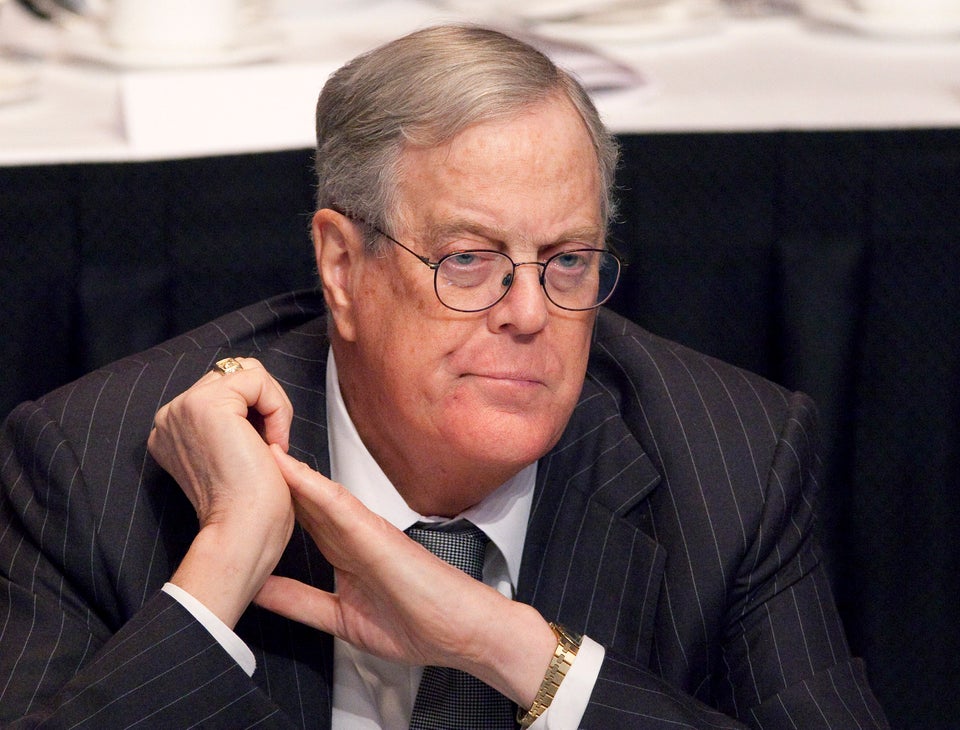 David Koch
Popular in the Community