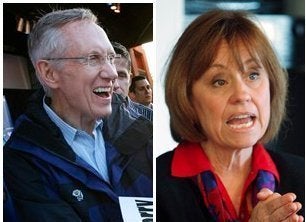 EDITOR'S NOTE: The story below includes references to polling conducted by the firm Research 2000. The reliability and accuracy of Research 2000's polling has since been called into serious question by a report published in June 2010 by a group of statistical analysts.
A Daily Kos/Research 2000 poll released Thursday shows Senate Majority Leader Harry Reid (D-Nev.) leading all potential GOP challengers in general election match-ups.
Reid is ahead of Tea Party-backed candidate Sharron Angle 43 percent to 37 percent, he leads Republican Sue Lowden 42 percent to 38 percent as well as long-shot GOP challenger Danny Tarkanian 43 percent to 39 percent, according to the Kos/Research 2000 poll.
Meanwhile, on the Republican side Angle is surging ahead in her fight to win the June 8 primary, according to both the Kos poll as well as a new survey from the Suffolk University.
Here are the results from the Kos/Research 2000 poll:
Sharon Angle: 34 %

Sue Lowden: 25 %

Danny Tarkanian: 24 %
The Suffolk poll shows Angle leading with 33 percent of the vote, followed by Tarkanian and Lowden, who trail the Tea Party favorite with 26 percent and 25 percent of the vote, respectively.
DailyKos founder Markos Moulitsas writes of the latest numbers to come out on the Nevada primary:
Ouch... Sue Lowden was riding high, queen of the world against two little-known irrelevant opponents. Then she opened her flap, ranted on and on about chickens, took illegal gifts from her supporters, spent general election money illegally on the primary, and now she's en route to a third-place finish in next week's primary.
Popular in the Community