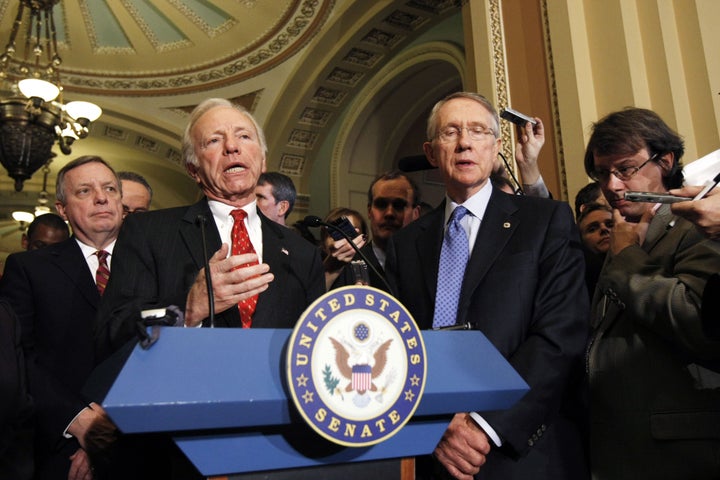 In an article set to appear in Sunday's New York Times magazine, Senate Majority Leader Harry Reid says that Sen. Joe Lieberman blindsided him on health care reform.
Lieberman's announcement, which torpedoed a compromise that Reid helped to midwife, caught the Senate majority leader by surprise. Reid had spoken with Lieberman two days earlier, and one of Lieberman's top aides participated in the Saturday-afternoon conference call that Reid orchestrates for Democratic senators who will be appearing on the Sunday talk shows. "He double-crossed me," Reid said stiffly, associates later recounted. "Let's not do what he wants. Let the bill just go down."
Reid and Lieberman had a face-to-face discussion shortly after the CBS interview. But according to the Times, it was a conversation with White House Chief of Staff Rahm Emanuel that convinced Reid to drop a Medicare buy-in, which itself was a retreat from the public insurance option.
Rahm Emanuel, the president's chief of staff, arrived at Reid's office not long afterward -- casually dressed, a cup of coffee in one hand -- and after a brisk meeting, a decision was reached: Reid would abandon his compromise, which was intended to appease proponents of a government-run insurance plan ... As it turned dark outside, Reid began pulling senators aside in the lobby just off the Senate floor, speaking in a strained whisper as he presented the case in characteristically pragmatic terms. "I'm with you; I'm for you," he told Tom Harkin of Iowa, one of the Senate's traditional New Deal Democrats, who was pained that the public option was dying.
Sources told the Huffington Post in December that Emanuel urged Reid to cut a deal; the White House denied the report.
Lieberman is pushing back against the story, saying he didn't betray Reid at all. As proof, the senator gave Politico a letter he sent to Reid before the interview. But the paper reports that, "In it, Lieberman voices objections to the deal, but stops short of explicitly saying he would vote against it." That jibes with what a Senate Democratic aide told the Huffington Post at the time:
"Leadership was definitely a bit surprised with the lines being drawn in the sand the way they were," said the source. "We expected that he would say critical things about [the bill]. But he is not even giving us a chance to get it scored."
Calling all HuffPost superfans!
Sign up for membership to become a founding member and help shape HuffPost's next chapter