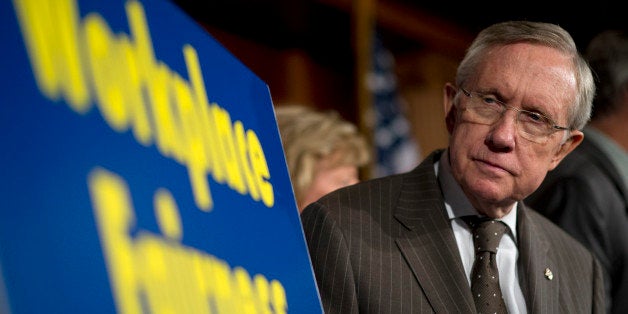 WASHINGTON -- Members of the Mormon Church were key backers of the Employment Non-Discrimination Act in the Senate, reflecting what Majority Leader Harry Reid (D-Nev.) says is a shift in attitudes toward the LGBT community.
The Senate voted 64-32 on Thursday to ban workplace discrimination on the basis of sexual orientation or gender identity. Ten Republicans backed the measure, including three Mormons -- Sens. Jeff Flake (R-Ariz.), Orrin Hatch (R-Utah) and Dean Heller (R-Nev.). And Reid, the Mormon Church's highest-ranking member in the federal government, was the man responsible for making sure the legislation received a vote.
It's a big change from just five years ago, when the Mormon Church supported Prop. 8, the ballot measure to ban marriage equality in California. Mormons contributed more than $20 million to support the initiative, leading to a significant backlash against the church.
In an interview with a small group of reporters this week, Reid opened up about his faith and how it fit with his support for LGBT equality, saying he had warned the church not to throw its support behind Prop. 8.
"I told one of the leaders of the Mormon Church, 'Don't do this, don't stop this stuff in California. It's nothing but trouble. It's not going to work. You go back and tell everybody back in Salt Lake what I said, because it's not going to work here. You're not creating a good, positive example for the church,'" he said.
Reid said he was comfortable with the fact that he and his church "may think differently on social issues. "But take for example, where I go to church here in Washington, D.C., I bet there are more people who agree with me here than disagree with me. So the church is changing."
"As the Church has said before, elected officials who are Latter-day Saints make their own decisions and may not necessarily be in agreement with one another or even with a publicly stated Church position," the church said in a statement statement. "On the Employment Non-Discrimination Act (ENDA), the Church has not taken a position. On the question of same-sex marriage, the Church has been consistent in its support of traditional marriage while teaching that all people should be treated with kindness and understanding. If it is being suggested that the Church's doctrine on this matter is changing, that is incorrect."
But other prominent Mormons are also speaking out. In September, Hall of Fame quarterback Steve Young made news when he urged tolerance and acceptance of the LGBT community at a conference for gay Mormons.
"The church does want to be helpful where we can be, without violating our own conscience," Smith, a former bishop, told the Times.
One area where Congress -- and the public -- has significantly evolved is on the issue of gender identity. In 2007, the House approved a version of ENDA that did not include protections for transgender individuals. But this time was different. Multiple senators asked Sen. Jeff Merkley (D-Ore.), the lead sponsor of the bill, to get rid of these protections in the current version. Merkley refused. When one senator asked whether he was standing firm because of pressure from LGBT advocates, Merkley replied that it was a matter of conscience, according to a Democratic staffer.
In an earlier interview with The Huffington Post, Merkley said he felt it would "be wrong to leave any particular group behind on this."
Flake voted for ENDA, although even hours before the vote, he continued to express discomfort with the inclusion of gender identity protections and worried they may result in more litigation. Flake eventually agreed to back the bill when Merkley assured him that businesses would receive guidance on how to deal with gender transition.
Reid, meanwhile, has cited personal reasons for his belief that LGBT equality is something that needs to be fought for. His niece, for example, is a teacher, and she's also a lesbian. He said she shouldn't have to be worried about being fired for her sexual orientation.
"I have three adult grandchildren now, in addition to my adult children," Reid said. "For me to feel any different about this, they wouldn't be proud of their grandfather. It's just with my five children, it's a non-issue. But for my three adult grandchildren, it's a non-non-issue. They can't imagine why anyone gives a damn."
This article was updated with comment from the Mormon Church.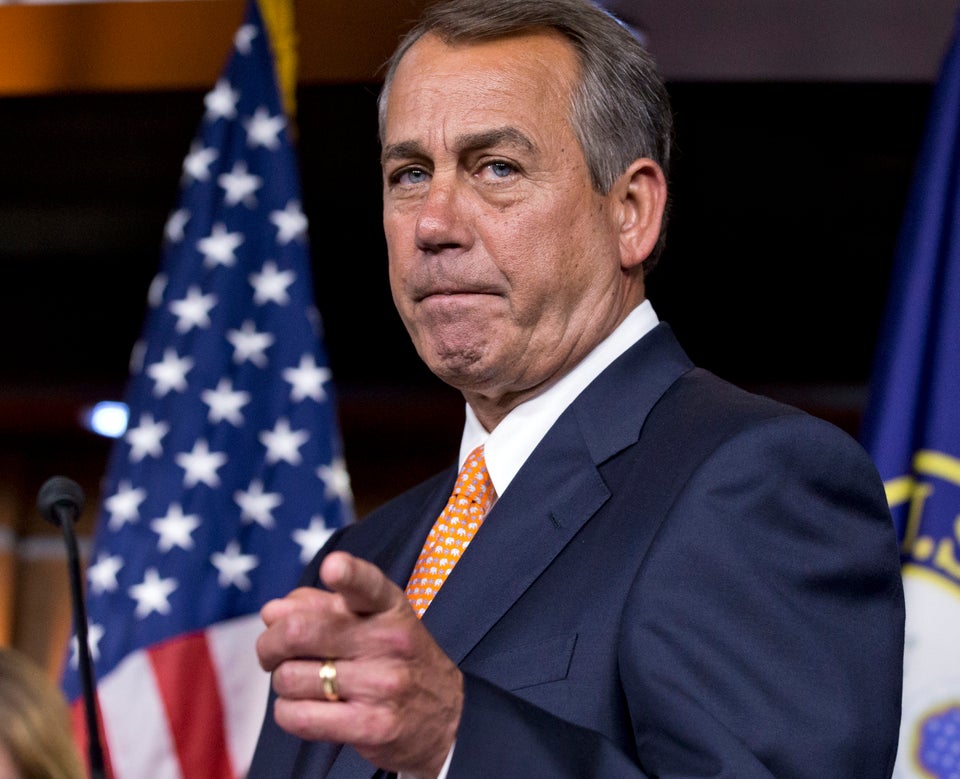 Conservatives Pointing Fingers
Popular in the Community