WASHINGTON -- Senate Majority Leader Harry Reid (D-Nev.) chastised lawmakers on Tuesday for claiming they had not been briefed on the National Security Agency's sweeping surveillance programs, saying it's their own fault if they didn't know.
"For senators to complain that 'I didn't know this was happening,' we've had many, many meetings that have been both classified and unclassified that members have been invited to," Reid told reporters at his weekly Capitol Hill briefing.
"If they don't come and take advantage of this, I can't say enough to say they shouldn't come and say 'I wasn't aware of this,' because they've had every opportunity to be aware of these programs," Reid added.
Reid's remarks came in response to complaints from numerous legislators who have said they didn't know about the programs, including Sen. Susan Collins (R-Maine), a member of the Senate Intelligence Committee and the former top Senate Republican on the Homeland Security Committee.
Other senators declared again Tuesday that they did not know about the sweep of the programs.
"I'm still learning more about what they're doing over at the NSA. We haven't really been as briefed on that as some would claim we have been," Sen. Mike Johanns (R-Neb.) told The Huffington Post.
"The intelligence committees were briefed on some of what they're doing, but the rest of us were not," said Sen. John Hoeven (R-N.D.), adding that he had concerns about the surveillance and might be open to changes upon a more thorough review of the programs.
Sen. Chuck Grassley (R-Iowa) acknowledged that he sat in at least one briefing, but said he was unaware that the NSA was gathering call data from millions of Americans.
"It's a rude awakening to most of us that they're collecting three billion phone records a day," Grassley told HuffPost. "When I've had these briefings, you leave the briefings with an idea -- you think they're tracking terrorists, not the sweeping thing we're doing."
A senior administration official told HuffPost there were at least 13 briefing sessions with the administration and members of Congress on the Patriot Act and its provisions. Three of those meetings, according to the White House, went beyond Intelligence Committee members in the House and Senate: One was for the House Republican Conference, another for the House Democratic Caucus, and one was a meeting to which all senators were invited. It remains unclear, however, if the NSA data-mining operations were discussed.
Obama administration officials also held 22 separate briefings or meetings for members of Congress on Section 702 of the Foreign Intelligence Surveillance Act (FISA) Amendments Act, the law that has been used to justify the controversial monitoring program of electronic communications known as PRISM.
Again, lawmakers called into question the extent to which members were briefed and whether discussions were held on the actual program or the law in general.
Collins told reporters Monday that only Senate leaders and top Intelligence Committee members got briefings.
"The rest of us did not. At the time, I was the ranking member of the Homeland Security Committee, so I'd think that I would've had more information about that since I had, along with Joe Lieberman, a monthly threat briefing," Collins said. "But I did not have access to this highly compartmentalized information. If they're talking about there being widespread knowledge [of PRISM in Congress], there was not."
She also noted that it was hard for senators to quiz intelligence officials. "How can you ask when you don't know the program exists?" she said.
Sen. Jeff Merkley (D-Ore.) told MSNBC last week that he knew about the phone surveillance because he "specifically sought it out," but he had not been briefed on the monitoring of emails.
Nevertheless, Democratic leaders appeared to be united in the argument that Congress was briefed. House Minority Whip Steny Hoyer (D-Md.) told reporters at his weekly briefing Tuesday that although he did not remember the specifics, the entire House got a briefing on the Patriot Act -- which authorizes the NSA's activities -- in May of 2011.
Before You Go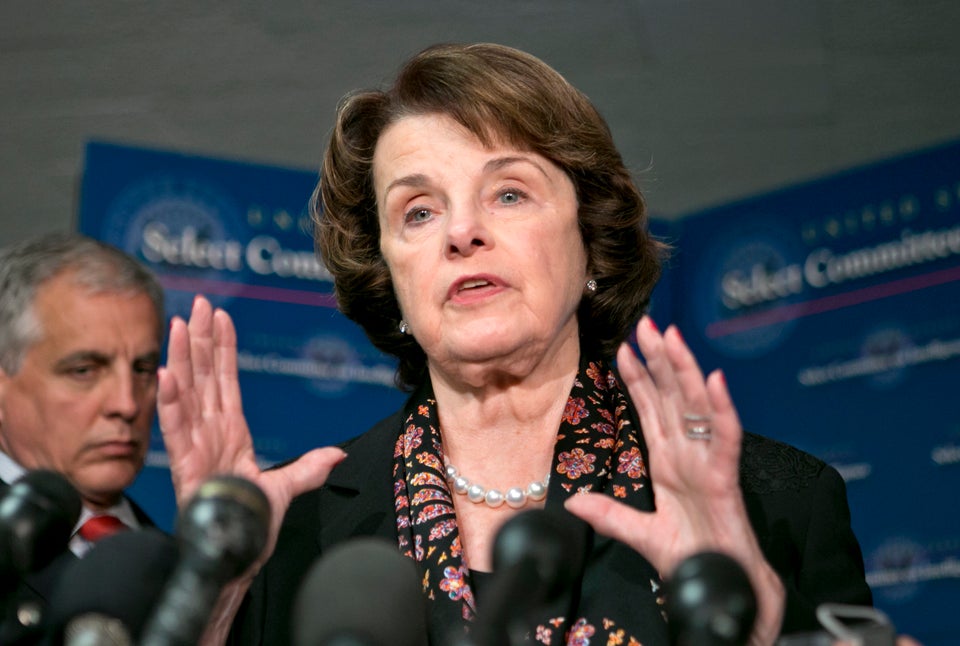 Politicians React To NSA Collecting Phone Records
Popular in the Community