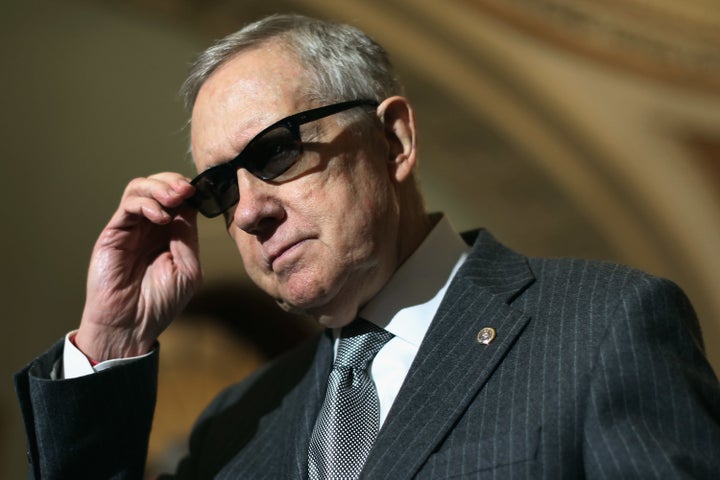 WASHINGTON -- Democratic lawmakers, joined for the first time by Senate Minority Leader Harry Reid (D-Nev.), have a message for President Barack Obama: Sign an executive order requiring federal contractors to disclose their political contributions, including those to groups not bound by campaign finance disclosure laws.
A video released on Wednesday by the liberal group American Family Voices shows 19 Democratic members of Congress reading a letter to the White House penned by Sen. Sheldon Whitehouse (R.I.) back in June. Reid's appearance in the video is his first public statement urging the president to sign the executive order.
Reid's endorsement of the movement, and the video, are part of a delivery of more than 800,000 petition signatures to the White House by groups supporting a political disclosure executive order that occurred on Tuesday. The groups include American Family Voices, Public Citizen, Every Voice, Brennan Center for Justice, Common Cause, MoveOn.org and Sierra Club. Supporters are encouraged to call the White House to support the disclosure order.
Proponents of the order see it as a potential piece to the president's fourth quarter agenda of executive actions. They argue it will allow Obama's administration to put a stamp on an issue that he has largely ignored, aside from opting out of public financing for his general election run in 2008, which helped increase the amount of money in politics.
"Their legacy on this issue is something that they haven't established yet," said Lisa Gilbert, director of Public Citizen's Congress Watch.
The campaign to pressure Obama to sign an executive order mandating disclosure of political contributions by federal contractors began after a proposed draft leaked from the White House in 2011.
In the 2010 Citizens United decision, the Supreme Court opened the door to unlimited election spending by corporations, unions and wealthy individuals. A side effect of the decision, later bemoaned by Justice Anthony Kennedy, the opinion's author, was a dramatic decrease in the transparency of election spending as a large portion of the newly allowed unlimited spending flowed through nonprofit corporations that are not required to disclose their donors. This practice came to be known as "dark money."
Later in 2010, the Democratic-controlled Congress attempted to close this disclosure loophole, only to have their Disclose Act fail to clear a Republican filibuster by one vote. Democrats lost control of the House in the 2010 elections, dashing hope of post-Citizens United disclosure measures.
The idea for an executive order grew out of this failure. As the president demonstrated on issues from paid sick leave to the minimum wage, the ability to use executive authority over the contracting process provides great leeway for the expansion of policies blocked in Congress.
An executive order mandating contractor disclosure of political donations, including to trade associations and dark money nonprofits, would cover many politically active companies. Koch Industries, Exxon Mobil, JPMorgan Chase, Dow Chemical, Chevron and General Electric all hold or have received government contracts in recent years. Even News Corp., the parent company of Fox News, holds government contracts.
These companies and many others would be required to disclose their contributions to entities that currently are non-disclosing, like the Koch brothers' Americans for Prosperity, the U.S. Chamber of Commerce, or the environmental group League of Conservation Voters.
When the proposed executive order leaked out of the White House in 2011, conservatives and business lobbyists vociferously objected.
Bruce Josten, the top lobbyist for the U.S. Chamber of Commerce, the nation's largest pro-business trade association, told The New York Times it was an attempt to silence the business community.
"We will fight it through all available means," Josten told the Times.
Republicans in Congress sought to prevent the White House from issuing the order by trying to slip riders onto spending bills banning the use of funds to enforce such a rule. A similar rider has already been floated for the end-of-year omnibus spending bill to come up in December.
Reformers said they're encouraged that Obama will respond to the petitions and to the letter from congressional Democrats.
"We hope that he seizes the sixth anniversary [of Citizens United] to do something meaningful," Gilbert said.
Popular in the Community