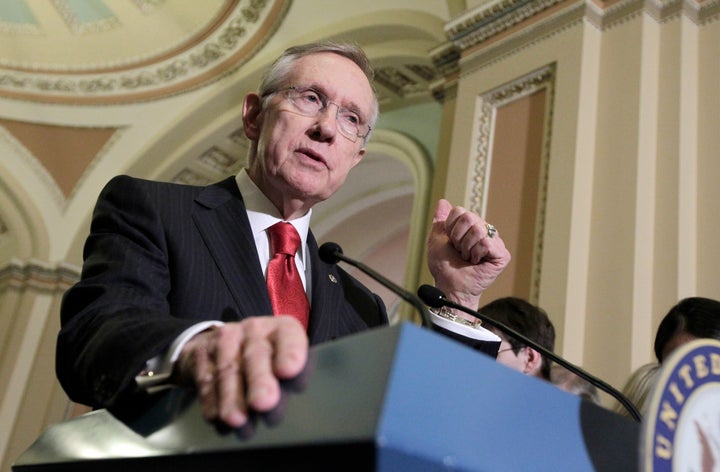 WASHINGTON -- Senate Majority Leader Harry Reid (D-Nev.) warned House Republicans that he would not make another legislative move on the payroll tax cut until they first passed his chamber's bipartisan bill extending the tax holiday by two months.
"My House colleagues should be clear on what their vote means today. If Republicans vote down the bipartisan compromise negotiated by Republican and Democratic leaders, and passed by 89 senators including 39 Republicans, their intransigence will mean that in ten days, 160 million middle class Americans will see a tax increase, over two million Americans will begin losing their unemployment benefits, and millions of senior citizens on Medicare could find it harder to receive treatment from physicians," Reid said.

"Senator McConnell and I negotiated a compromise at Speaker Boehner's request," he added. "I will not re-open negotiations until the House follows through and passes this agreement that was negotiated by Republican leaders, and supported by 90 percent of the Senate."
The last line was the most critical. One top aide to Democratic Senate leadership stressed that it included "no wiggle room," explaining that Reid would only discuss a year-long extension to the payroll tax cut, as Boehner has requested, if House Republicans passed a two-month extension first.
"Pass the two-month and then we will talk about the year-long," the aide said.
House Republicans are expected to vote down the Senate measure on Monday evening, after which they will likely call for Senate and House negotiators to meet and hammer out a deal. A top Democratic Senate aide said Reid would refuse to appoint conferees if that were to happen.
At least one Senate Republican is in Reid's corner. Sen. Scott Brown (R-Mass.) put out a statement on Monday calling the House GOP's tactics "irresponsible and wrong."
"I appreciate their effort to extend these measures for a full year, but a two-month extension is a good deal when it means we avoid jeopardizing the livelihoods of millions of American families," the statement read. "The refusal to compromise now threatens to increase taxes on hard-working Americans and stop unemployment benefits for those out of work."
Only ten senators voted against the two-month payroll tax cut extension, six of whom were Republicans. One senator, Rand Paul (R-Ky.), did not vote at all. The Huffington Post reached out to several Republican senators who voted for the bill, and none immediately returned a request for comment. But Sen. Richard Lugar (R-Ind.), a vocal supporter of the Senate compromise, went on Monday urged the House to pass it.
"I'm hopeful -- maybe without basis -- that the House of Representatives will pass the bill the Senate passed and they will do so tonight," Lugar told MSNBC's Andrea Mitchell. "Speaker Boehner is under enormous pressure. He's obviously gotten a lot of feedback from many Republicans who say we simply don't like it. As a matter of fact, many Republicans would say we don't really want the extension of the unemployment compensation or the rest of it any way. But I'm hopeful that our majority, Republicans and Democrats, today will proceed, because, it seems to me this is best for the country as well as for all the individuals who are affected."
Don Stewart, a spokesman for Senate Minority Leader Mitch McConnell (R-Ky.), offered the following statement on Sunday, seemingly giving Boehner the go-ahead to restart negotiations.
"The House and Senate have both passed bipartisan bills to require the President to finally make a decision on the Keystone XL jobs, and to extend additional unemployment insurance, the temporary payroll tax cut and seniors' access to medical care," the statement read. "The House and the President both want a full-year extension. The best way to resolve the difference between the two-month extension and the full-year bill, and provide certainty for job creators, employees and the long-term unemployed, is through regular order, as the Speaker suggested."
Amanda Terkel contributed reporting.
Popular in the Community