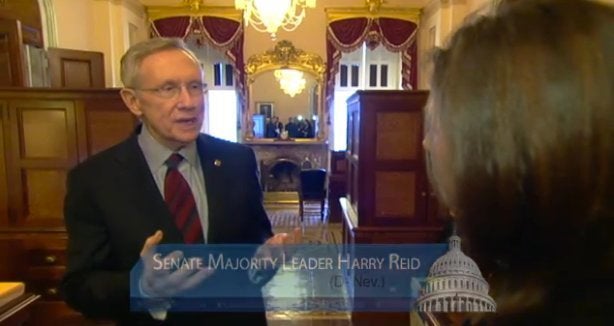 In an exclusive interview with CBS News on Friday, Reid asserted that he and his democratic colleagues "are not budging" on the issue. "I have nine granddaughters and I want them to have the peace of mind that if something later goes on I can't help them with, that they can go get a cancer screening, have some information that they can't get at home and we're not going to violate that," he said.
HuffPost's Elise Foley reported earlier in the day:
Senate Majority Leader Harry Reid (D-Nev.) gave a statement on the senate floor on Friday, blaming a possible shutdown on Tea Partiers and other Republicans who would not budge from their stance on Planned Parenthood funding. Senate Democrats will meet for a caucus meeting at 1 p.m. to discuss how to move forward, he announced.

Reid again said a deal had been reached on spending, with Democrats agreeing to record discretionary spending cuts. He said the final issue is over a rider that would block Title X funds to Planned Parenthood, which are used for pap smears, cancer screenings and other women's health services.

No funding from the government can be used for abortions, Reid noted. "Anyone who says this debate is over abortion is being untruthful," he said.
The Senate leader said, "Republicans want to shut down the government because they think there's nothing more important than getting cancer screening?" adding, "This is indefensible."
In the end, Reid said he's hopeful an agreement can be reached; however, he said whether that happens is not up to him. Of Republicans, he said, "We've agreed, we've agreed. It's up to them to drop this very, very mean-spirited attack on women."
Female Democratic senators spoke out on Republican efforts to defund Planned Parenthood on Friday afternoon.
Click here for live coverage of the latest developments to unfold ahead of a midnight deadline to avert a government shutdown.
Popular in the Community