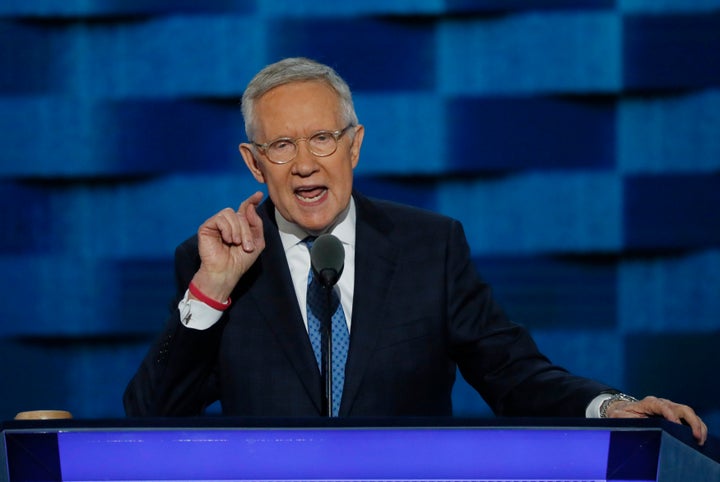 PHILADELPHIA ― As he prepares for the post-Senate phase of his life, Minority Leader Harry Reid (D-Nev.) is more certain of what doesn't come next than what does.
"I'd rather be taken to Singapore and caned," he told The Huffington Post. "I actually feel that way."
And though there is a perch now open at the top of the Democratic National Committee ― which would certainly qualify as a demotion, but would prove less stressful than Reid's current gig ― he'd again prefer physical punishment.
"I'm about as interested at doing that as seeing if I could flip backwards out the window," he said.
Reid's next step remains a mystery, just five months before he will take it. For those who have followed the man's career, it is hard to imagine him not strolling the halls of Congress on the way to the floor, scheming how to whip his next vote, or sitting at his desk with a drawing of Mark Twain on the wall behind him. He is a creature of the institution, having led his party as long as anyone not named Mike Mansfield. But he says he has no regrets about his decision to retire. His injury, obtained while exercising, left him blind in one eye and sparked a process of introspection about how to spend the later years of his life.
"I could not have done a campaign when the Koch brothers are spending their millions against me," he said. "I couldn't do that. So I'm satisfied with the decisions I've made. I'm not going to run off into the sunset and never be heard from again. I'm not going to be hanging out in the cloakroom trying to be involved. If somebody calls and asks me a question, I'll be able to answer that. But I won't be in the Senate after the first of January."
Reid is confident that Senate Democrats will be left in the capable hands of Chuck Schumer (D-N.Y.) a man who, on the surface, is his diametric opposite, but with whom he has developed a close relationship. But Reid seems equally, if not more, intrigued by the what the future has in store for another Democrat heading back to the chamber.  
"I've told Bernie, 'Reflect on what you've accomplished in the Senate and as running for president,'" he said of Sen. Bernie Sanders (I-Vt.), a colleague he clearly regards sympathetically. "There are major committee assignments awaiting him. And I think Bernie Sanders will do as well there as he has previously."
I'd rather be taken to Singapore and caned.

Harry Reid, on the prospect of becoming a lobbyist
Up to this point, Reid's last year in office has been relatively understated, if not altogether free of pomp and celebration. Perhaps that's because of the pace of the institution in which he serves. The Senate has produced some notable legislation this Congress. But it's also on a lengthy vacation through the summer and unlikely to do much, if anything, before the election.
Reid's biggest objective has been to confirm President Barack Obama's Supreme Court nominee, Merrick Garland. But there is little evidence to suggest that he'll break through the GOP's obstruction, frustrating him to the point that he suggested his successors may further the rules changes to the confirmation process that they passed in 2013.  
"We changed the rules, and it helped this country forever. We approved 98 judges as a result of those rules changes," Reid said. "And there may have to be a time, if the Republicans continue on the path of destruction that they've chosen, we may have to change some more."
Reid will also have some role to play in helping find a successor to Sen. Tim Kaine (D-Va.), should he end up being elected vice president. Though Virginia Gov. Terry McAuliffe (D) will ultimately make the decision, Reid said he had a personal preference. He wouldn't give the name. But he offered an intriguing hint about who it might be.
"There is a woman who is very, very interesting," he said. (Kaine's wife, Anne Holton, is the daughter of a former governor, a former secretary of education for the commonwealth, and a fashionable option to succeed her husband).
To get to the point of filling that seat, however, Hillary Clinton must first be elected president. Reid didn't seem particularly concerned that Sanders supporters would refrain from voting for her, noting that the number of Bernie-or-Bust voters is disproportionate to the coverage they receive. But Reid's lack of panic should not be confused with indifference to their motivations.
"If that's what they want to do, they can do it," he said of the possibility that Sanders fans would support a third party ticket. "We've had experiences with some of those. I lost my stomach for Ralph Nader when he stopped us from electing a Democratic president. He's never entered my office since then."
And with Reid soon entering private life, Nader never will.
REAL LIFE. REAL NEWS. REAL VOICES.
Help us tell more of the stories that matter from voices that too often remain unheard.
BEFORE YOU GO
PHOTO GALLERY
Best Photos From The Democratic National Convention