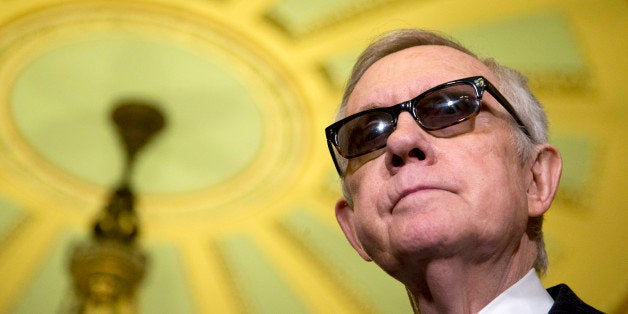 Harry Reid really, really doesn't like former Sen. Scott Brown (R-Mass.).
After repeatedly clashing with Brown in the Senate, the retiring minority leader took one last shot at him in a New Yorker article about the legacy of Elizabeth Warren, who succeeded Brown in Congress. Reid told Ryan Lizza that, when all was said and done, he was glad Republicans rallied against the nomination of Warren as Consumer Financial Protection Bureau chief because it led to Brown's demise.
"Republicans were afraid of her," Reid said of Warren. "So what did they do? They said they would block her nomination. And thank goodness they did. Because after that I worked with Elizabeth and others to see if she would run against Scott Brown, who I thought was one of the worst senators in the history of my being around here. I mean, what a phony. In 2011, we worked hard to get her to run."
The tough talk is characteristic of Reid's time in the Senate as a partisan bomb-thrower. It also follows recent remarks that have incensed Republicans, including his referring to his counterpart, Senate Majority Leader Mitch McConnell (R-Ky.), as a "lump of coal" over his support for the coal industry, and calling the 2016 Republican presidential field "losers." Reid topped it off again by refusing to admit any regret over his unfounded allegations during the 2012 presidential election that Mitt Romney paid no taxes in the last decade.
"Romney didn't win, did he?" Reid said in a recent interview.
UPDATE: 4/29 -- Brown fired back with a tweet Tuesday night.
Calling all HuffPost superfans!
Sign up for membership to become a founding member and help shape HuffPost's next chapter
BEFORE YOU GO