WASHINGTON -- Over the past few weeks, Senate Majority Leader Harry Reid (D-Nev.) has privately and publicly pushed his fellow lawmakers to replace cuts to basic scientific research, one of the most insidious impacts of sequestration.
Reid's efforts have yet to produce any legislative breakthroughs on the Hill. But aides and associates of the majority leader say he is committed to finding a way to replace the $1.7 billion in cuts facing the National Institutes of Health or at least soften the blow.
One aide said that Reid is meeting with members of the Senate Appropriations Committee to "figure out a way to get something through the Senate that increases NIH funding" from its current level of $29 billion. Publicly, he's been greasing the wheels for weeks.
He has twice gone to the floor of the Senate to warn that forcing the NIH to award 700 fewer competitive grants will have generational consequences, setting back research on gene sequencing, brain treatments and anti-viral therapies.
Reid's also met personally with the head of the NIH to talk about what the organization will do to help fill the void. On June 17, he spent half a day at the agency's campus talking with doctors there about the restrictions sequestration would place on their research.
Following that visit, Reid came back to the Senate to tell reporters about his experience. He remarked that the doctors had provided him with a list of countries who were investing in medical research rather than cutting it.
It's not uncommon for senators, including members of leadership, to become obsessively focused on certain legislative topics. Usually, however, those topics have a direct impact on a lawmaker's home district or state.
In this case, aides to Reid say that his focus on the NIH is driven by a sincere concern that the situation facing the scientific and medical communities could soon turn very dire. Already, research projects around the country have been scaled back as money has dried up, while several scientists recently told The Huffington Post that they would begin exploring other professions -- or countries in which to work -- if the financial situation didn't improve.
The sense of despair within the NIH is such that at a recent awards ceremony, its director, Francis Collins, grabbed a guitar and sang the "sequester blues."
"He has always believed in this kind of basic research. And it is obviously one of the best examples of how shortsighted and arbitrary the sequester is," said Jim Manley, Reid's former top spokesman. "In past meetings with the NIH, he came to realize that they are the premier health research organization in the world ... What I don't know is whether his wife's personal health history may be a factor."
"It's personal for him," is how another Reid confidant put it.
Regardless of his motivation, Reid's advocacy has given members of the science community some hope that they might actually be spared the pain of sequestration. And Reid is far from the only high-profile pol coming to the NIH's defense. In one of her first domestic policy speeches since leaving the State Department, Hillary Clinton warned about the impact the sequester would have on basic research.
Officials at the NIH have also begun taking a more proactive approach to the situation, dispatching leadership to the Hill to personally lobby lawmakers.
"NIH Director Dr. Francis S. Collins and other NIH leadership engage with members of Congress frequently to keep them apprised of scientific advances and issues of importance to the NIH," said Pat White, associate director for legislative policy and analysis at NIH. "Dr. Collins appreciates Majority Leader Reid's remarks this morning."
Still, the prospects for a resolution seem far off. As lawmakers work through the appropriations process –- which remains the most likely avenue for restoring some funding –- the two sides remain far apart. Senate Democrats have introduced a spending top line of $1.058 trillion for fiscal year 2014, while Republicans remain at $967 billion.
"I am not willing to accept that sequester is 'the new normal,'" said Sen. Barbara Mikulski (D-Md.), who chairs the Senate Appropriations Committee. "The $967 billion ceiling in this alternative spending allocation and the Ryan budget is the sequester level for fiscal year 2014. It does not meet the needs of a growing nation."
The other possible solution would be to pass a standalone bill to increase NIH funding. But that would be even more unlikely than passing a catch-all appropriations measure. As attention has turned to scandals elsewhere, sequestration has faded from view, and aides on the Hill have begun conceding that the pressure to get a replacement through Congress is far less acute than it was several months ago.
"Figuring out a way to actually get something passed is a heavy lift," said a top Senate aide.
Before You Go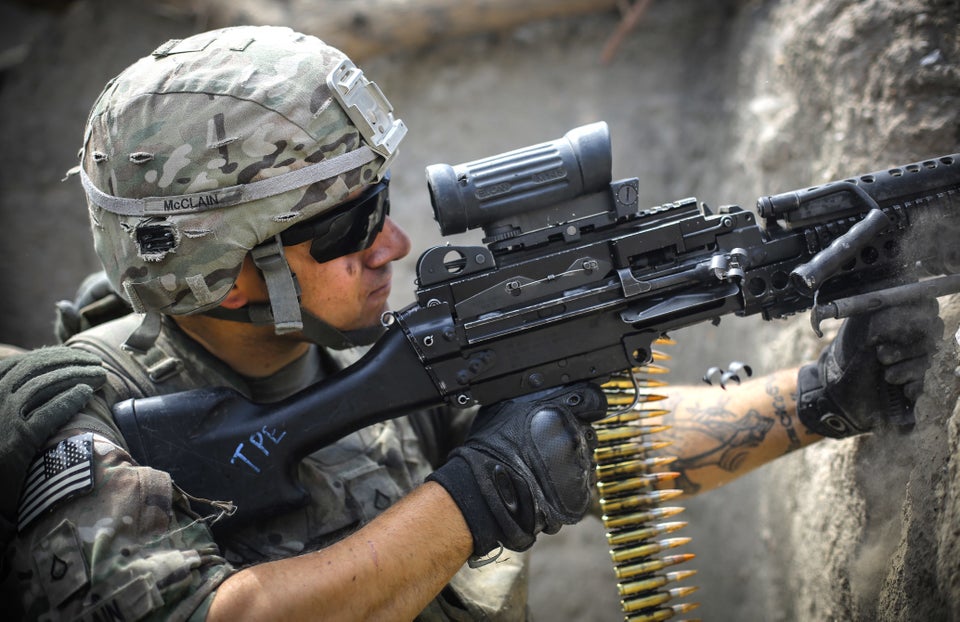 What Sequestration Would Cut
Popular in the Community