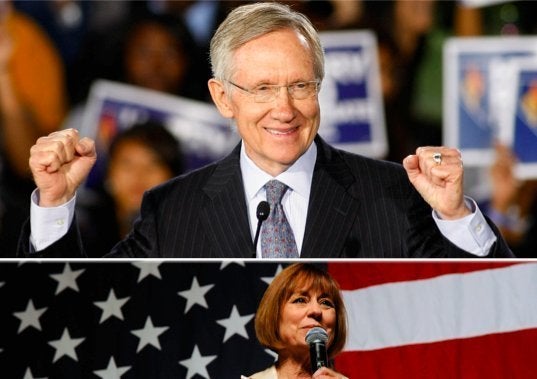 Senate Majority Leader Harry Reid toppled Republican rival Sharron Angle in Nevada's midterm election last month with support from a perhaps surprising voting bloc, the Las Vegas Review-Journal reports.
Preliminary figures show just 2,000 more Democrats than Republicans voted in Nevada's general election, the secretary of state's office said Monday.

Because there were 60,000 more registered Democrats than Republicans at the time of the election, the figures are a clear indication that many Republicans cast votes for Democrat U.S. Sen. Harry Reid rather than for his Republican opponent, Sharron Angle, a secretary of state spokeswoman said.
While Reid ultimately defeated Angle by a 41,424-vote margin, the Associated Press noted following the election:
Reid's margin was a surprise in a race where a succession of polls showed a dead heat. But he had been there before, re-elected by 428 votes in 1998.

Reid's platform was power.
HuffPost's Mark Blumenthal reported last month:
In Nevada, polls predicted the wrong winner of this week's Senate election. Or did they? While public media polls in late October consistently gave a slight advantage to Republican Senate challenger Sharron Angle, the internal campaign polls gave Democrat Harry Reid the edge and campaign pollsters on both sides attribute the difference to a combination of greater care in modeling the demographics of the electorate, more persistence in reaching all sampled voters and the added value of registered voter lists.