WASHINGTON -- Senate Minority Leader Harry Reid (D-Nev.) and Sen. Elizabeth Warren (D-Mass.) met with progressive activists Tuesday, pledging to stand by Planned Parenthood in the face of Republican attempts to defund it. 
Representatives from CREDO Action, Daily Kos, Democracy for America and MoveOn.org met with Reid in his office in the Capitol, delivering the message that they had collected 1.2 million petition signatures to "make sure Democrats make no compromises when it comes to Planned Parenthood."
"The issue is this. It's more than what the Republicans are doing," Reid told the small group of attendees. "It's more than cutting money for Planned Parenthood. It would cut [funds] for everything. Everything. They're willing to try to close the government." 
"No compromise on this. No backing up on this," Warren added. "No saying, 'Well, maybe we can do a little here or a little there.' Nope. Not even a little."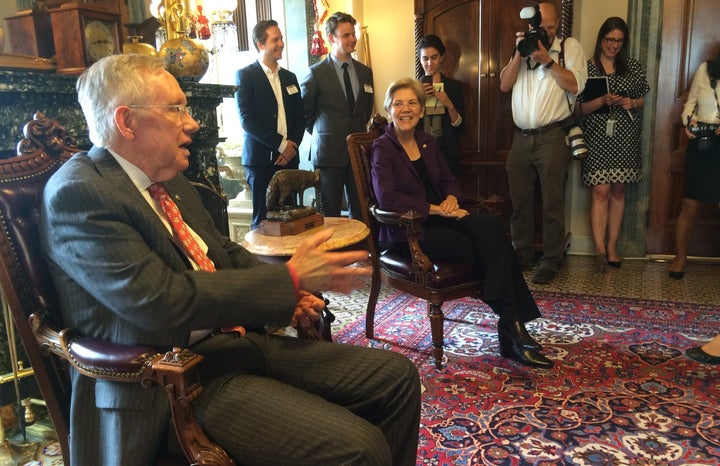 The federal government will run out of money at the end of the month unless Congress passes legislation to keep it funded.
A functional, operational government is in jeopardy right now because Republicans, led by a conservative faction in the House, are pushing their leaders to link federal spending with a push to defund Planned Parenthood. 
On Tuesday, Senate Majority Leader Mitch McConnell (R-Ky.) offered a bill that would do just that, giving in to the hard-line members of his party. A procedural vote on the measure, which would fund the government through December, is scheduled for Thursday.
The problem with this approach is that Republicans need Democratic support to pass the measure -- not to mention the signature of President Barack Obama -- and Democrats have long said they will not back any legislation that goes after the family planning provider. 
That means the government is on course to shut down, unless McConnell also brings forward a clean funding measure in the next few days -- as Reid and others expect him to do.
Planned Parenthood and the possible shutdown was, not surprisingly, the focus of Senate Democrats' closed-door caucus meeting Tuesday. 
Reid said Sen. Dianne Feinstein (D-Calif.) was one of the lawmakers who spoke during that meeting about the importance of ensuring that women have access to reproductive rights services. According to Reid, Feinstein stood up and told the group that when one of her friends in college became pregnant, her friends took up a collection to raise money so she could go to Mexico and have an abortion -- since this was still quite some time before the Supreme Court would issue its landmark Roe v. Wade decision. 
"It was really quite moving in the caucuses," Reid said.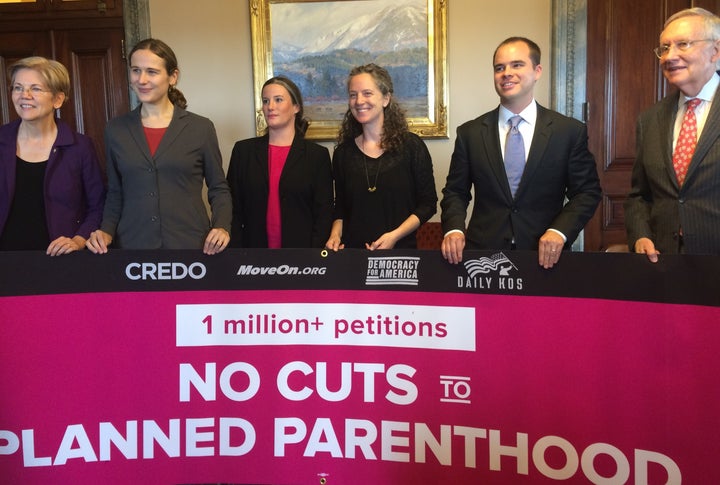 Republicans have renewed their offensive against Planned Parenthood in recent weeks after an anti-abortion group released heavily edited, misleading videos that supposedly showed Planned Parenthood employees bargaining to sell fetal parts. State investigations, however, have cleared the group of wrongdoing; laws allow women to donate aborted fetuses to medical research.
McConnell himself has said -- as recently as earlier this month -- that using the government funding fight to go after Planned Parenthood would be an "exercise in futility." But on Tuesday, he said Democrats are the ones who should be ashamed.
"I know Democrats have relied on Planned Parenthood as a political ally, but they must be moved by the horrifying images we've seen," McConnell said. "Can they not resolve to protect women's health instead of powerful political friends?"
Calling all HuffPost superfans!
Sign up for membership to become a founding member and help shape HuffPost's next chapter