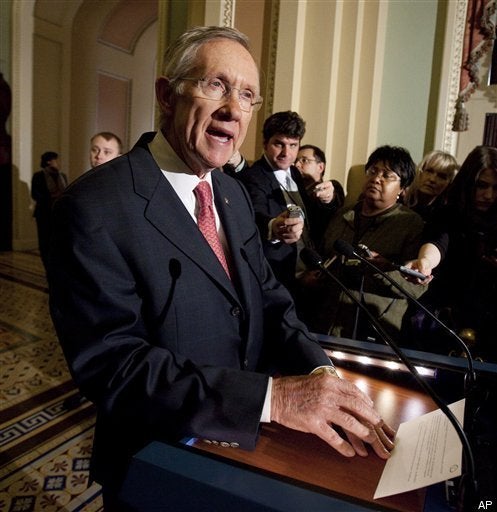 As Congress debates measures to reduce the deficit, Senate Majority Leader Harry Reid (D-Nev.) declared Social Security "off the table" in a web video posted Monday.
Reid's sweeping rejection comes as congressional Republicans are calling for reductions in Social Security benefits, arguing that cuts to the program should be part of any long-term deficit reduction plan.
"The reason they're going after Social Security is that's where the money is," Reid said. "They want to take money that isn't theirs."
The video is of a Capitol event with the Progressive Change Campaign Committee, a frenemy of the majority leader that accused him of being a weak leader during the public option fight. Reid and the PCCC -- an online progressive advocacy group that claims more than half a million members -- are in full agreement, however, when it comes to Social Security. The PCCC held the event to thank Reid for taking an aggressive stand recently in defense of the old-age and disability insurance program.
"As long as I'm the majority leader, I'm going to do everything within my legislative powers to prevent privatizing or eliminating Social Security -- put simply, say, 'It's off the table,'" said Reid in remarks that will likely be referenced in the future as the debate over Social Security continues.
The program's actuaries say it can pay full benefits at least until 2037 and roughly four-fifths of benefits in the decades after. "The most successful social program in the history of the world is Social Security," Reid said.
Popular in the Community