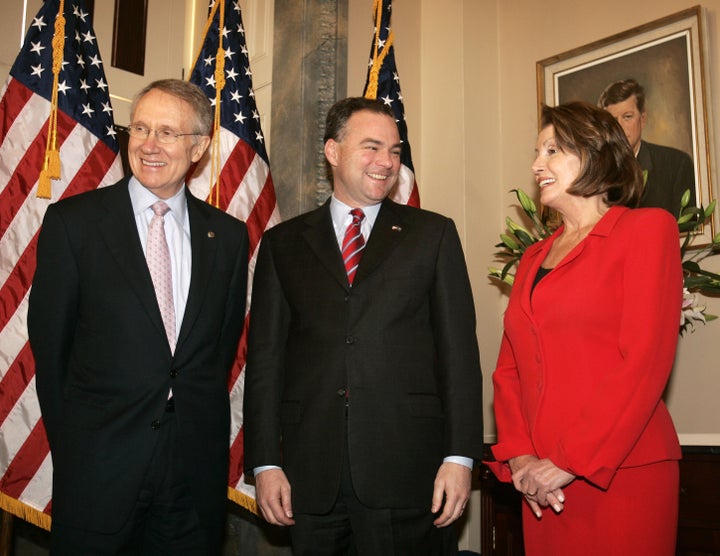 WASHINGTON -- Senate Majority Leader Harry Reid (D-Nev.) has privately encouraged Democratic National Committee Chairman Tim Kaine to launch a bid for the Senate seat soon to be vacated by retiring Sen. Jim Webb (D-Va.), Democratic sources tell the Huffington Post.
The DNC chairman and former Virginia governor is already scheduled to have talks with President Barack Obama about leaving his current post and making a run for Congress. But the talks with Reid suggest that the private push to get him into the race is farther along than previously reported.
That said, Kaine is some time away from making up his mind, according to several Democratic sources familiar with his thinking. He has not "embraced it yet," said one Democrat. "He needs time to think about it."
Kaine is set to speak at the annual Jefferson-Jackson Dinner in Richmond this weekend. Sources say a decision on a Senate run won't come before that fundraising event.
Clearly, however, he is considered the top get among a potentially deep pool of Democratic candidates in the state, a pool that also includes former Reps. Tom Perriello and Rick Boucher.
"[Kaine] is an obvious top choice," said one top party strategist. "With him you are going with a guy that not only has high favorability but is a known quantity statewide..."
Helping matters, however slightly, is a somewhat uncertain field on the Republican side of the ledger. Former Sen. George Allen has already announced that he will run for his old seat, but Richmond tea party founder Jamie Radtke has said she will challenge Allen for the nomination.
The Washington Post reports on Rep. Perriello's potential interest in the seat:
And if Kaine doesn't run, Perriello said, "I will consider it. Part of what I'm asking as a question is whether you can make more of an impact on people's lives from inside the system or outside the system."
Popular in the Community