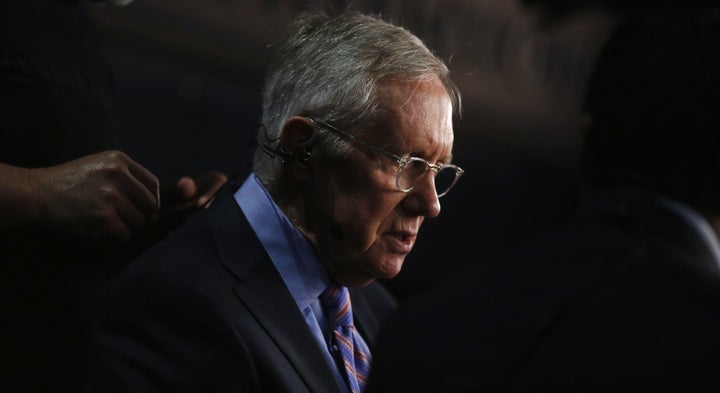 Republican presidential nominee Donald Trump won't release his tax returns because he isn't even rich, at least according to Senate Minority Leader Harry Reid (D-Nev.). 
"Donald Trump can't show us his tax returns. Why? Because he's a fraud," Reid told The Huffington Post at the Democratic National Convention in Philadelphia this week.
(Listen to an excerpt from the interview on "So That Happened," the HuffPost Politics podcast.)
Four years ago, Reid famously said a source had told him that Mitt Romney, the Republican presidential nominee at the time, wouldn't release his tax returns because he hadn't paid any taxes for 10 years. Reid endured harsh criticism for the claim, which he couldn't prove. 
Romney had opened himself to Reid's attack because, at that point in the summer of 2012, he had only released a return for the 2010 tax year ― less than is typical for a presidential candidate. (He later released his 2011 return and an estimate of his past average tax rate.)
But Trump's campaign has said the reality TV star wouldn't release any returns at all, despite the fact that his entire candidacy is premised on his claim that he's really rich. "Mr. Trump has said that his taxes are under audit and he will not be releasing them," campaign chairman Paul Manafort said this week, even though an audit by the Internal Revenue Service doesn't preclude taxpayers from sharing return documents. 
Though he hasn't got a secret source this year, Reid elaborated on his suspicions of Trump's tax situation during this week's interview with Sam Stein and Ryan Grim.
"First of all, Donald Trump, I'm sure he has some money, but he's not in the class of really rich people," Reid said. "He's a leverage guy. If he'd taken the money his dad gave him, which was millions, and just put it in the bank, he'd be rich now. But he's wasted all that money."
Trump loves boasting that he's got billions and billions of dollars, though he's never proved it. He once sued a journalist who reported Trump was worth as little as $150 million.
Trump's tax returns would prove how rich he is. The documents would reveal information about his income, business dealings, how much he pays the government in tax and how much he's given to charity ― possibly very little, contrary to much of his bragging. Even Romney has said Trump ought to cough up the returns. 
"It is disqualifying for a modern-day presidential nominee to refuse to release tax returns to the voters, especially one who has not been subject to public scrutiny in either military or public service," Romney said in a May Facebook post. 
"So, That Happened" is hosted by Jason Linkins, Zach Carter and Arthur Delaney. Joining them this week: Huffington Post reporters Akbar Ahmed and Mike McAuliff. 
This podcast was produced, edited and engineered by Christine Conetta with assistance from Zach Young.
To listen to this podcast later, download our show on iTunes. While you're there, please subscribe to, rate and review our show. You can check out other HuffPost podcasts here.
Calling all HuffPost superfans!
Sign up for membership to become a founding member and help shape HuffPost's next chapter