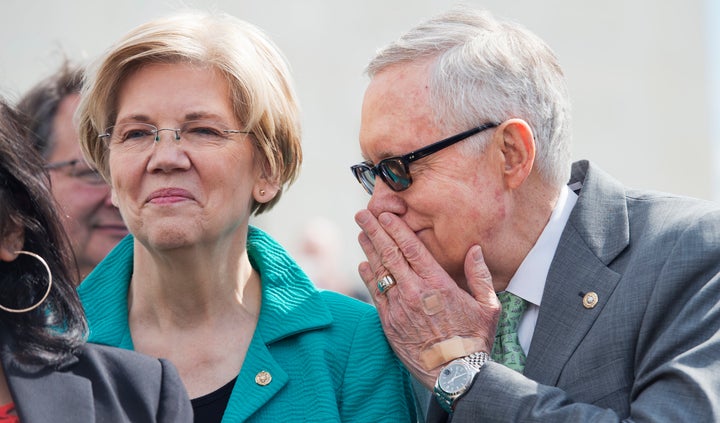 WASHINGTON -- Senate Minority Leader Harry Reid (D-Nev.) believes Elizabeth Warren should be the running mate of presumptive Democratic presidential nominee Hillary Clinton, according to four Senate sources familiar with Reid's thinking.
Reid had initially been skeptical of the chatter around Warren, publicly warning that Democrats couldn't afford to lose the seat the Massachusetts senator currently occupies. But The Boston Globe reported last week that he tasked attorney Marc Elias with studying how manageable the loss would be. Elias is, not coincidentally, the general counsel for Clinton's campaign.
As Reid has examined the issue in recent weeks, he has grown confident the Democrats could hold onto Warren's Senate seat and retake the upper chamber, according to sources. He also believes they could even put the House in play for Democrats, the sources said.
The case for Warren is straightforward: She's an outspoken populist-progressive who could rally supporters of Sen. Bernie Sanders (I-Vt.) to Clinton's cause. Her grassroots fundraising prowess is legendary and could offset whatever loss of campaign revenue came from financial industry leaders souring on Clinton. And Warren's appeal goes far beyond the Sanders camp: A January 2015 focus group of independents and Republicans found that she and her message resonate strongly with working and middle class voters of all stripes.
Sen. Jon Tester (D-Mont.) is among the lawmakers to have questioned whether the country would be ready to elect an all-woman ticket. Reporters asked Reid about Tester's open question on Tuesday -- and he said he thought the ticket would do just fine.
One source close to Reid said that "he's been back and forth on this" and is still concerned about the slim risk it puts Warren's seat in. "Lately, he's been leaning toward and sending signals for HRC to make the ask," the source added.
Reid and Warren have a history. As majority leader, he plucked Warren from Harvard Law School to name her chairman of a panel overseeing the Wall Street bailout. She used that visibility that came with that platform to push the Consumer Financial Protection Bureau into law. Warren then was given the task of standing the institution up. Republicans and some bank-friendly Democrats blocked her from becoming the permanent head of the agency she created, but what they got instead was a powerful senator from Massachusetts, and now a leading contender for for vice president.
The most important role of a vice president in a modern campaign has been to serve as an attack dog, and Warren has savaged Donald Trump on Twitter. Clinton seemed to be echoing one particularly effective line of Warren's -- calling Trump "small" -- in her victory speech Tuesday night. On the other hand, maybe not: Clinton gets terribly annoyed when people suggest she's starting to sound a lot like Warren, sources close to the former Secretary of State say. As far as Clinton is concerned, she and Warren have always been fighting for the same things. However true that is, they may soon have the chance to do it as part of the same administration.
A spokeswoman for Reid declined to comment.
Before You Go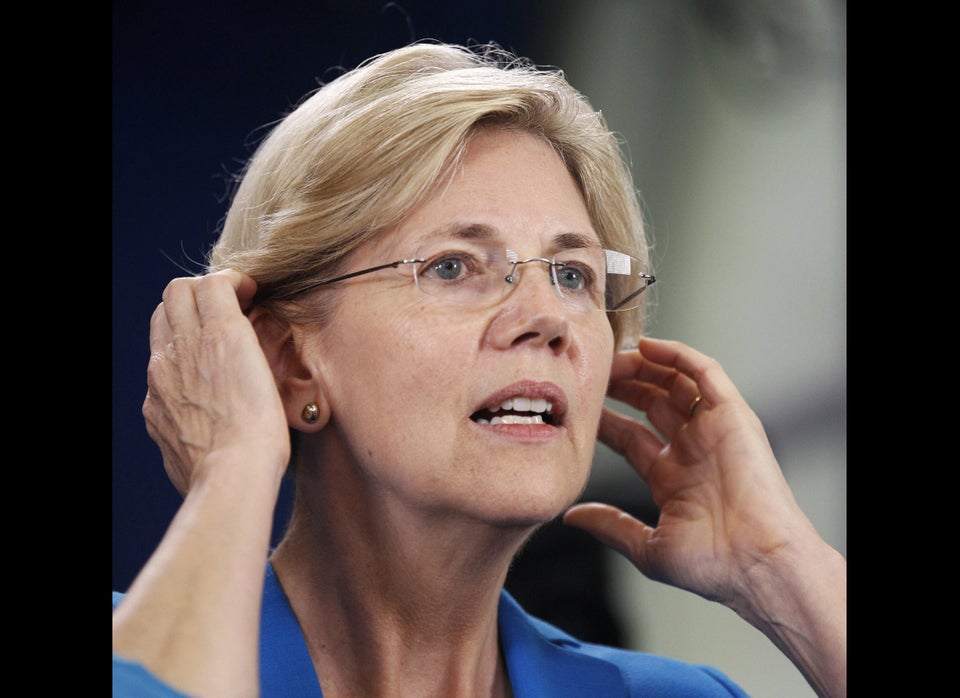 Elizabeth Warren
Popular in the Community