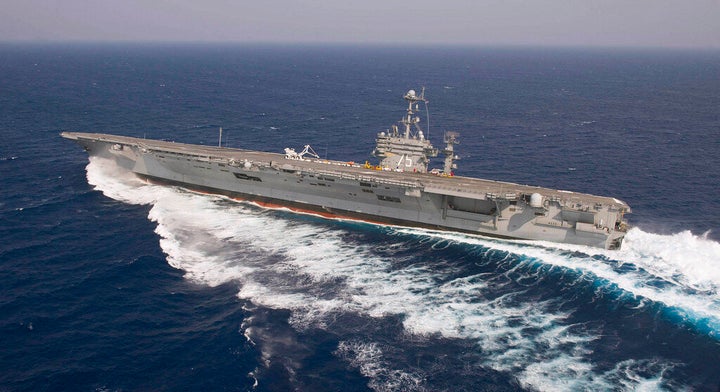 As our C-2A Greyhound transport plane landed on the USS Harry S. Truman aircraft carrier last week, our group had no idea what to expect for the next 24 hours we were spending aboard the nuclear-powered Nimitz carrier.
Indeed, we were ill-prepared for what was to happen less than a split second later as one of the carrier's arresting cables took hold of our plane's tailhook and slowed our plane from 150 mph to 0 in less than a few hundred feet. The heartwrenching exhilaration of landing on an aircraft carrier eclipses many of life's experiences.
Then again, life on an aircraft carrier is unlike anything the average American experiences. As participants of the Navy's Distinguished Visitor Program, we soon discovered the intricacies involved with keeping an aircraft carrier functioning.
The sheer size of a carrier is overwhelming. Its height from the keel to the top of the bridge is equivalent to a twenty story building. In length, the carrier is a little more than three football fields combined. No wonder that many affectionately refer to the carrier as the world's largest Stairmaster or 4.5 acres of sovereignty whenever or wherever you need it!
Yet, every square foot is needed. When deployed, the carrier houses 66 fighter jets and at least a dozen helicopters. The jets need to be able to take off and land within seconds of each other. In addition, the planes need constant oversight, including mechanical repairs, refueling and loading of weaponry. As the carrier's commanding officer explains, a carrier is all about managing space and time with great precision and clear communications.
Beyond the machinery, the carrier needs to house, feed, shower and provide health and dental services for the 5,000 personnel aboard for months at a time. The carrier transforms into a vibrant community. Take dental services. The carrier's dental clinic provides for one annual cleaning and one annual checkup for everyone aboard and typically handles 30 scheduled and another 20 unscheduled appointments daily.
Today, the U.S. Navy relies on 11 aircraft carriers to project U.S. presence worldwide. At any given time, about half of these carriers are deployed worldwide while the others are undertaking training or being upgraded. The USS Harry S. Truman is currently spending several months in the Atlantic as it prepares for its official deployment next year. Once it starts its deployment, the carrier will move in a strike crew that will likely include a destroyer, a support ship and a submarine.
The armed services overall budget must always be subject to scrutiny. Aircraft carriers are expensive to build and manage. For example, the USS Harry S. Truman reportedly cost over $4 billion to build almost 15 years ago and requires periodic overhauls costing hundreds of millions of dollars. Carrier operations also cost hundreds of millions of dollars when you consider the personnel, the planes, fuel and more. But a carrier's return on investment must be calculated over the carrier's 50-year lifetime value. Given the need to maintain a global presence and respond to hot spots worldwide, we do yield significant "bang for the buck" for each aircraft carrier.
As awed as I was with the carrier, the 5,000 men and women aboard the carrier deeply touched my heart. Away from family and friends for almost a year at a time, these personnel give the ultimate sacrifice for our country. They are often assigned to a ship for up to four years before receiving a two year sea side rotation. Life aboard the carrier is perpetual 24/7 nonstop hard work. These young men and women (most between 18 and 25 years old) work constantly, typically holding two jobs over more than a 12 hour shift and at compensation much below the private sector. The pilots who run training missions into the late night spend up to 10 hours daily working on administrative work, including paperwork and spreadsheets. The media personnel perform double duty in maintenance as well as oversight of the safety areas. They are all navy sailors first!
These young enlistees also fully understand they are handling very expensive equipment paid for by taxpayer dollars. Everyone has a seriousness of purpose, no matter how menial the work seems. They recognize that their work is interdependent with others and that even the slightest mistake can cost tens of millions of dollars, or worse, someone's life.
These heroic men and women who are the fabric of a carrier's community exude such amazing pride. Their dedication and service are truly awe inspiring. As they prepare for their deployment and to "give 'em hell", we need to keep their commitment in mind.
REAL LIFE. REAL NEWS. REAL VOICES.
Help us tell more of the stories that matter from voices that too often remain unheard.