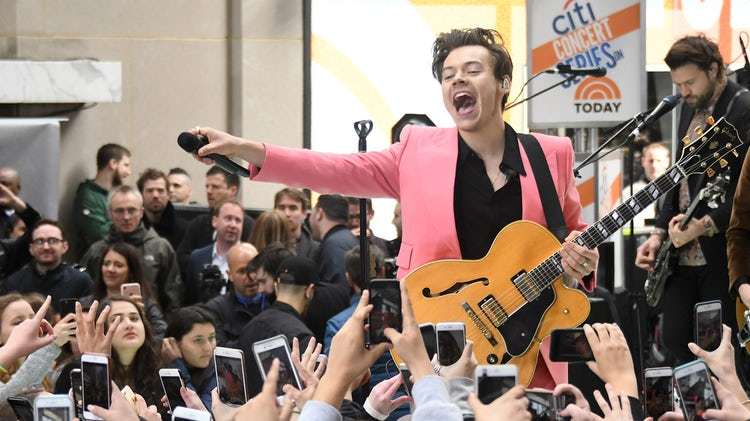 As a music journalist, it is sort of my job to stay impartial. However, I am not exaggerating when I say that the rise of Solo Harry Styles and the release of his self titled first album have been the biggest blessings of 2017.
Harry Styles, best known for being in One Direction, released his debut single "Sign of the Times" on April 7th. It was also the day that millions realized that their "inner middle school fangirl" had never died. Broken relationships were fixed with a simple link to the Youtube audio. Fighting friends waved the white flag for five minutes and forty-two seconds to revel in this new era of Solo Harry.
The 23 year old continued making young adults cry uncontrollably when he performed on Saturday Night Live. It was in New York where he treated America to the premiere of "Ever Since New York." This was his first solo performance, and along with proving he can hold his own, he showed he can look exquisite in plaid pants and a white tunic.
After an extensive press tour, Styles released his eponymous debut album on May 11th.
Every track is a diverse side of a never before heard soft British voice that had captivated millions. The album kicks off with "Meet Me in the Hallway," an acoustic guitar heavy song with enough reverb to imbue it with a heavenly vibe.
Country influenced "Carolina" had me shook. To be completely accurate, the campfire-esque soundscape had me in a state of shock for around twenty minutes. I am not the type to listen to country music. Honestly, I am the first person to trash the beer-laden, truck-heavy genre, but I am completely here (and have been for six years) for Harry Styles.
Styles continues his reinvention of pop music with the track "Sweet Creature". Not to be "that girl," but the first ten seconds of the track are better than the Beatles' entire discography.
"Sweet Creature" is in the same vein as "Ever Since New York," guitar centric with cute lyrics. And it is reassuring to know that the English singer has retained his One Direction-era ability to make people swoon with his pronunciation of "belong," but has beefed up his musical chops.
While Harry Styles has the classic Sheeran-esque singer-songwriter tracks,"Only Angel" is more reminiscent of Peter Green's Fleetwood Mac than Shawn Mendes. Styles continues his rocker streak with "Kiwi." Styles talks of sex, smoking, and drugs: long gone are the days of strict censorship and clean-cut British boys.
The closing track, "From the Dining Table" is a literal gift from God. It wraps up the album and proves Styles' talent and authenticity. The track is soft where it needs to be with refreshingly candid lyrics about heartbreak, love, and even masturbation.
This final track is the perfect encapsulation of what Harry Styles is. Styles is not always the heartbreaker, he has been the heartbroken. Styles is not always the British charmer on the cover of People, he is just a person.
Since 2010, fans have felt a faux intimacy with lyrics and tunes that were carefully crafted by a record and management label. It only seems fitting that Harry Styles would end with song about the messiness of life: because Harry Styles is living the same life as all of us.
REAL LIFE. REAL NEWS. REAL VOICES.
Help us tell more of the stories that matter from voices that too often remain unheard.
This post was published on the now-closed HuffPost Contributor platform. Contributors control their own work and posted freely to our site. If you need to flag this entry as abusive,
send us an email
.