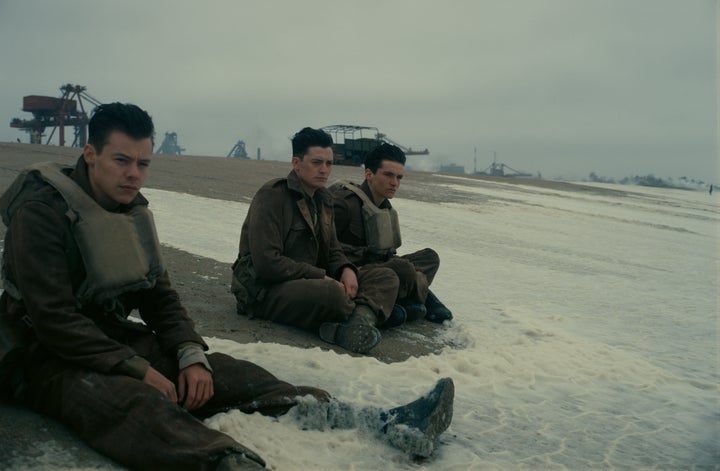 "Dunkirk" is a towering movie about the horrors of combat. It's a 107-minute race for survival, shepherded by a score every bit as piercing as the strings in "Psycho." It rockets through the center of a chaotic World War II operation, plunging us into the middle of cramped ships, crowded piers and soaring planes. It underscores the mob mentality that dictates warfare, where any one man's fear is irrelevant to the mission at hand. It is a feat of filmmaking that demands to be experienced on a big screen.
Most important of all? It boasts the acting debut of one Harry Styles.
That's right: About 20 minutes into battle-torn terrors featuring Oscar nominees Kenneth Branagh, Tom Hardy and Mark Rylance, Sir Styles arrives, wet and scared, part of the Allied armies scrambling to flee German infiltration on the beaches of Dunkirk, France, in 1940. In a movie where panicked action trumps individual character growth, it is both jarring and thrilling to see a face as famous as Styles'. That visage and its splendid mane remain soaked throughout most of the film, praise be.
In 2017, pop's preeminent prince is doing it for himself. On the heels of his assured new solo album, the One Direction alum continues his post-boy-band maturation with a role in the latest blockbuster from "Dark Knight" and "Inception" maestro Christopher Nolan, who has admitted he'd somehow slept on the magnitude of Styles Mania when he hired the now-23-year-old ornament. "I cast Harry because he fit the part wonderfully and truly earned a seat at the table," Nolan told The Associated Press earlier this month.
Having seen "Dunkirk," I can now say that Nolan's assessment was correct: Styles earned his seat and then some.
"Dunkirk" isn't heavy on dialogue, but Styles plays one of the few soldiers with a distinct personality. His character ― named Alex, per IMDb; you'd hardly know it from the movie ― is a hold-on-for-dear-life combatant with a hardened face and no time for nonsense.
When we first meet Alex, he's escaping a sinking ship. The film's protagonist, a British private named Tommy (newcomer Fionn Whitehead), pulls him to safety. Alex is sopping wet, his chest heaving with hysteria and fatigue. Moments later, the troopers huddled in a boat and scarfing down white bread covered in jelly, Tommy goes searching. "What's wrong with your friend?" Alex asks Tommy's pal Gibson (Aneurin Barnard) while eating. "He's looking for a way out in case we go down," Gibson responds. Immediately, Styles earns his paycheck, bearing conflict and dread in the same subtle expression. He furrows that velvety brow of his, torn between skepticism about these strangers' intentions and fear for the Nazi threat they face together.
Those twin emotions follow Styles throughout Nolan's expertly crafted film, in which the pop darling dares to remain handsome in the midst of such ugly sights. When his ship is torpedoed, Alex swims to a rescue boat with ferocious frenzy ― look at Harry go! He eventually makes it to shore, where the poor buttercup stumbles onto the sand, seemingly ready to collapse at any second. He sits on the bank, surveying the billowing smoke and human tragedy mere feet away. He's too dumbstruck to muster an expression; what he's experienced is that harrowing, and it's hardly begun. Styles' dark brown hair ripples in the wind, and we know the fight inside of Alex makes him worth rooting for. Styles' cherub cheeks belie the character's tough edges, giving Alex a sympathy best described as "not a boy, not yet a man." It almost ― almost ― doesn't matter that it's Harry Styles in those army fatigues.
From there, it's hard to talk about Styles' performance without giving away too much. Just know that our Adonis gets put through the ringer, including a bombing at sea. Nolan's best work to date, "Dunkirk" is a movie where characters are prongs in the overall fever: Even if it doesn't result in death, war's trials spare no one. Unlike traditional combat movies, backstories and melodrama have no place in this particular narrative. It's a tale of mounting horrors and relentless chaos, punctuated by Nolan's affinity for intense sound effects. The theme can be surmised from something Alex hollers in a moment of strife: "Survival's not fair."
Using "Dunkirk" as our sole evidence, Styles' side gig as a burgeoning actor is promising. Even with panic splayed across his face, he has the good looks of a 1940s-era leading man and the delicacy of a contemporary movie star. Because Alex and the other infantrymen are so embedded in Nolan's fast-paced suspense, there's no guarantee that a more singular role would befit Styles. But he emerges an important character, and Nolan is wise to give Alex compassionate moments amid the precarious machinations of war, like when he covers a dead hero with a blanket.
The "Dunkirk" soldiers do not waste their breath on trite monologues about bravery and camaraderie. In Nolan's hands, war is not a petri dish for humanity's peaks and valleys. It is an all-out nightmare; as quickly as one shock subsides, another arises. Placing someone as famous as Styles in the fray, and giving him a fair share of close-ups and commanding dialogue, bonds him with the audience. Styles' familiar face becomes a metronome for the movie's adrenaline ― because we long for its survival, there's a tick of relief each time Alex appears.
Styles will launch a concert tour in September, traveling the globe for nearly a year to perform for devout mobs who may be disappointed that he isn't much more than a cog in the time-shifting "Dunkirk" action. He has no other announced acting projects, which makes his Nolan apprenticeship all the more interesting. Whether or not he parlays it into a full-blown screen career, Styles proves that his suave presence is arresting but not distracting. Of course this dreamboat can do everything, of course.
It's a sign of the times. Harry Styles is out for cultural domination and bold career maneuvers. The end is far from near.
"Dunkirk" opens in theaters July 21.
Before You Go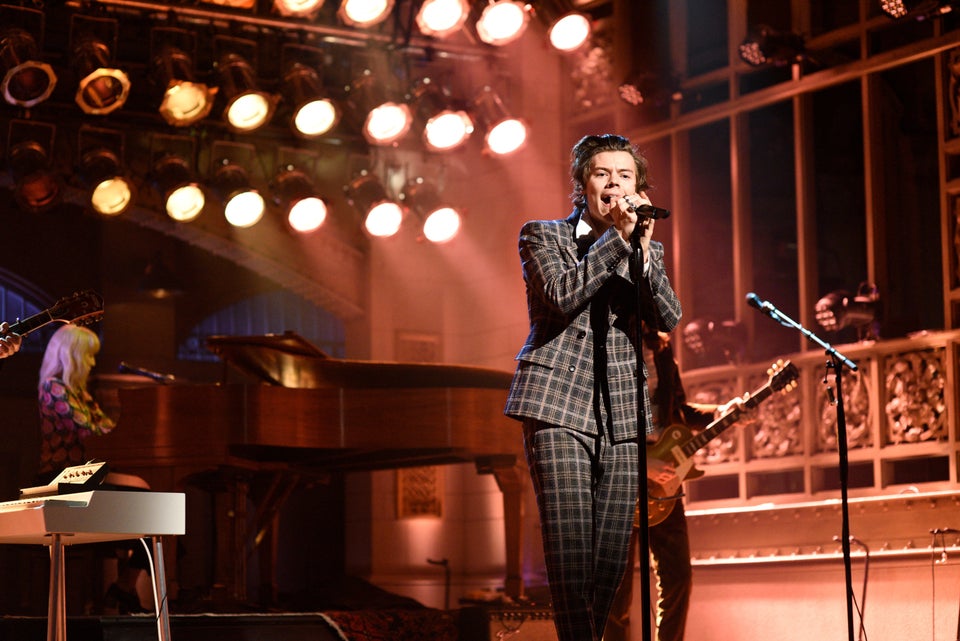 Harry Styles Style
Popular in the Community