But let's not forget that it's often a tenacious private citizen or internal whistleblower, usually not an elected official, who unearths unethical or even illegal activity.
On December 2 reporters gathered at the house of Ward 5 Councilmember Harry Thomas Jr. watching the FBI/IRS raid waiting for a possible Perp Walk and all had questions for one man who arrived to the scene holding a sign saying, "DISHONEST."
He is Tim Day, a tax accountant, life-long resident of Ward 5 and, one could argue, the man responsible for the entire investigation.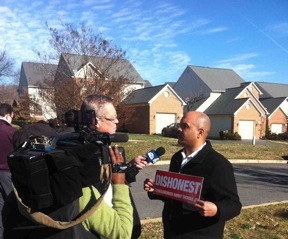 Local reporters, including Tom Sherwood, interview Tim Day.

"I left work to come down here when I heard the news," Day tells the gaggle of reporters surrounding him.
Day's digging into Thomas' financial dealings on the council began back in 2010. Frustrated with the lack of services afforded Ward 5 residents and lack of responsiveness of the council, Day became an ANC Commissioner in 2006 but gave up that seat to run against Thomas, a fellow resident and, according to one of the neighbors milling about at the raid, a former friend.
"In 2010 when I was running for the Ward 5 council seat," Day explains, "I made sure that I had a lot of history (on Thomas). So, after a long day of campaigning I came home and started reading a publication Thomas put out, a quarterly report. And it just didn't make sense. So I opened my computer and asked myself, 'What is Team Thomas?'"
Day discovered that Team Thomas' Swing Away and DC First Swing, two not-for-profit organizations created to get youths involved in sports that involve swinging a bat, club or racket, was allegedly out of compliance. Way out. Although the two programs were promoted on Thomas' council website and accepted funds from private donors as well as public earmarked money, neither were registered with the IRS.

When Day had his research and documentation ready, he went to the press. He held a phone press conference complete with a PowerPoint presentation detailing his findings. The Washington Post and Washington City Paper both continued digging. A lawsuit against Thomas for the misuse of public funds and other allegations are the result.
"This was not something I was sitting on as a campaign strategy," claims Day. "I lost the race. I'm the openly gay black Republican in Ward 5. What were my chances?"
The fact that he's openly gay and Republican, considered political liabilities in some D.C. circles, hasn't stopped Day in his quest for Thomas' seat. He credits his "commitment to community service" to his father, a man who despite having only a third grade education built a successful construction company and who made it his mission to supply livelihoods to ex-offenders.
And on this day, with satellite news trucks and reporters lining Thomas' quite street, with police tape cordoning off his cul-de-sac entrance, with FBI agents loading the councilmember's SUV and tricked out motorcycle onto a flat-bad truck, Day feels vindicated.
"I feel I'm a winner because a lot of positive things are coming out of my campaign. It's a slow process. But I'm committed to ethics reform in this city," says Day who has not decided to run again.
Calling all HuffPost superfans!
Sign up for membership to become a founding member and help shape HuffPost's next chapter