NEW YORK -- "Is it your birthday?" the man asked Rosalee Grable.
"No," Grable answered, as she sipped coffee in a tiny diner on City Island. She had no appetite, and her stomach was twisted in knots. At her side sat a bouquet of fresh flowers -- the reason the man in the nearby booth thought she might be celebrating.
"I'm about to see my mother for the first time since she was buried," she said.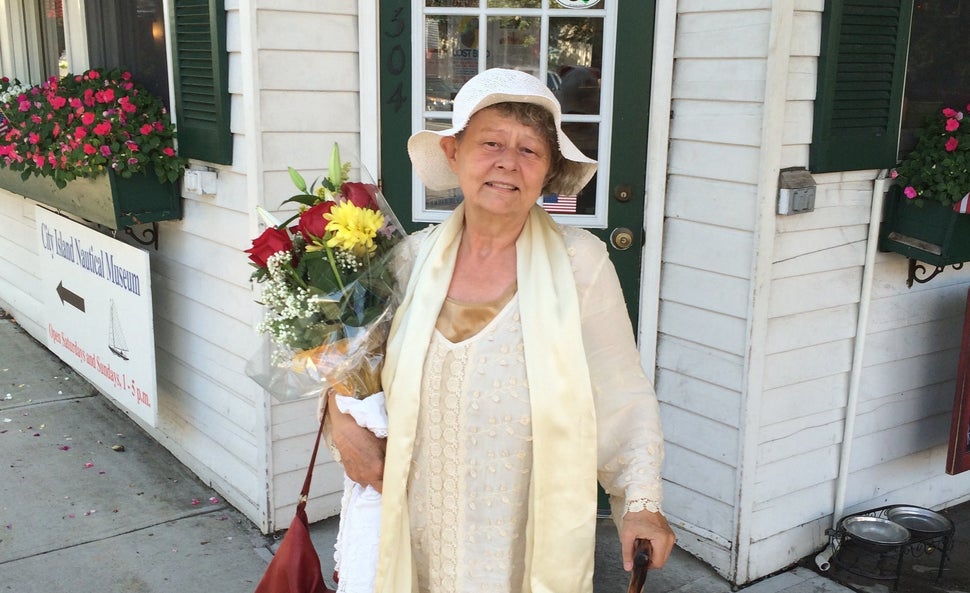 Grable, 64, was on her way to Hart Island, a small comma of land in Long Island Sound that contains a mass paupers' grave with the remains of as many as 1 million people -- making it the largest tax-funded cemetery in the world. The remains of people who were too poor to afford a burial, or who were never claimed by family members, rest in pine boxes placed there by the Department of Correction inmates who work as gravediggers and groundskeepers.
Though Grable has visited the 131-acre island by ferry before, it used to be that family members were only allowed to stand and reflect at a gazebo just past the island's dock. This past Sunday, the day of Grable's latest expedition, marked the first time that relatives were allowed to visit their loved ones' actual burial spots. For Grable, the experience meant closure, and a reminder that people still care about the souls of those interred on the island.
"Overall, we had a close relationship," she said of her mother. "Getting around me being a grouchy person and all, my mother rolled with the punches. It was always OK."
Grable said she didn't know how she would feel when she saw her mother's grave.
"I know it'll be dismal," she said. "There won't be any grass, and I'll wish for grass. But the fact that they can't treat her like a prisoner for at least one day makes me hopeful."
Karaoke Gladys 
Grable's mother, Gladys Van Aelst, died last year at the age of 85. She enjoyed soap operas and puttering around the kitchen, but her closest friends were the 20-something barflies who cheered loudest when it was her turn to sing karaoke.
"Karaoke Gladys," as she was called, had a passion for belting out old country tunes in front of crowds. Grable said some nights her mother would sit alone in her room, listening to tape recordings of herself from her old karaoke days.
At Amsterdam Tavern on Manhattan's Upper West Side, Karaoke Gladys would sit at a booth close to the microphone every Sunday night. As the hour got late, and people decades younger than her headed home to sleep, Van Aelst would still be there with a glass of red wine, excited for another song.
"The first time I went to pick her up, I heard her singing, and when she stopped they just started cheering like it was some football player up there," Grable said. "She was just so crazy about karaoke. She really had something miraculous going on."  
  Karaoke Gladys' final song at Amsterdam Tavern. 
Some nights, Grable would get a call from her mother telling her not to come pick her up, since there were college-age kids eager to walk her back home. Regulars often refer to the bar as "FamTav" because of its communal vibe.
As Van Aelst's health began to decline, bar patron Caitriona O'Grady, 25, would help her get to the bathroom and back to her seat. She and other regulars thought of Van Aelst as FamTav's honorary grandma.
"Gladys just kind of drew everyone to her. She was just this happy, shining, bubbling light," O'Grady said. "She would come into the bar and suddenly everybody would want to talk to her."
Moses Waterland, a 29-year-old bartender at Amsterdam Tavern, knew Van Aelst for two years, and often approached her for life advice.
"She was really good at putting things in perspective," Waterland told HuffPost. "She was very good at giving pithy responses to complicated questions." 
After her death, on a night dubbed "Gladytude," regulars at the bar sang songs and talked about their memories of Van Aelst. A framed photo of the deceased woman sat in the window of the bar, strings of soft lights curled around it.
Now that Van Aelst has passed, it's Grable who finds herself at Amsterdam Tavern every karaoke night in what she calls "religious observance," embraced by the same friends who'd embraced her mother.
Because Grable never spent a lot of time with her mother at the tavern, she said, she's only now realizing how much the people there loved Karaoke Gladys.
"I wish I'd caught on sooner," Grable said through tears. "I was so hardheaded and stupid and didn't really appreciate her nearly as much as I wish I had. But her friends have made it better -- made it way better."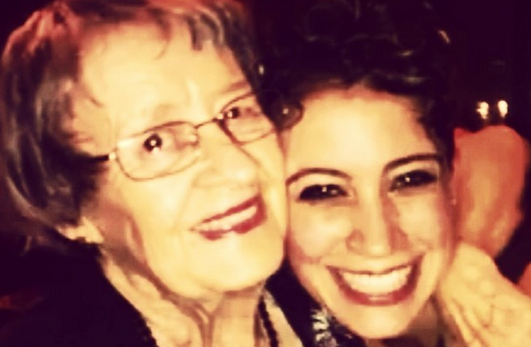 Island of the dead 
Hart Island wasn't always a cemetery. It became a burial ground in 1869; prior to that, it had been the site of a Civil War prison camp for Confederate soldiers, a tuberculosis hospital and an insane asylum. The records of the people buried there only go back to 1977. Everything before that was lost in a building fire. 
Melinda Hunt, founder of the Hart Island Project, has created a database for loved ones to find and add family members buried at the potter's field. She told HuffPost that allowing family members to visit the actual grave plots is a "big step in the right direction."
Previously, city officials had kept citizens away from the island, citing safety concerns.
The city Department of Correction loosened its restrictions after settling a lawsuit earlier this month brought on by the New York Civil Liberties Union.
Grable said the poor are already isolated in life, so they shouldn't get the same treatment in death too. Her mother worked as a waitress for years, and Grable is now on disability, pinching pennies and living with roommates in a cramped Manhattan apartment.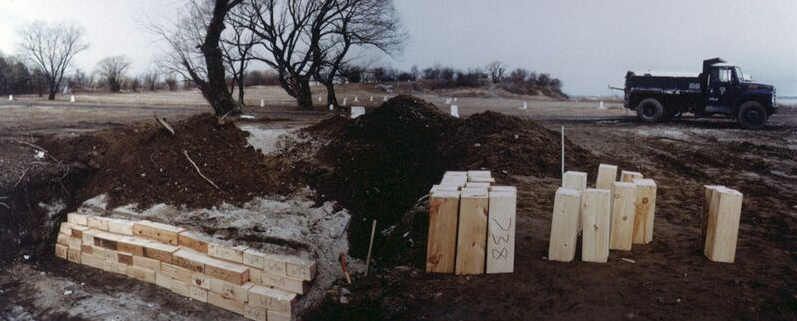 It doesn't bother Grable that her mother was buried without embalming fluid, wrapped in a white cloth "like Jesus was." In fact, Grable said she likes the "green" burials, since Van Aelst never wanted to be cremated. 
"'I don't wanna be burned!'" Grable said in a high-pitched imitation of her mother.
She also doesn't mind the way the pine caskets are buried in stacks, one on top of another.
"They call it a 'mass grave.' But this is New York City," she said. "You live in an apartment, and you find yourself dead in an apartment. My mom just has a lot of neighbors." 
Grable said that she herself will be buried on Hart Island when it's her time. She hopes she'll get to have visitors, too.
Saying goodbye
The ferry to Hart Island slogged through the water as Grable sat with her hands folded, gazing at the approaching island. There were four other families on the boat with her.
"I'm pretty calm, more curious," said 53-year-old Michael Campanelli, who was there to see the spot where his aunt is buried. 
"It's sort of like visiting a battlefield," said his wife, Sandy Campanelli. "There's nothing there, but you know there's a lot of sadness and death. I wouldn't say we're excited about doing this, but it's going to be interesting."
As it approached the dock, the boat glided through a kind of hallway formed by two long, parallel rows of wooden poles rising out of the water -- a gateway to the dead to welcome the ferry, which also serves as the hearse that brings bodies to Hart Island. A small white statue of Jesus flanked by baby angels greeted the new arrivals.
As a van took the visitors to the plots they'd come to see, Grable looked out the window at the ruined brick buildings overrun by weeds and forest. She peered into the collapsed and crumbling structures.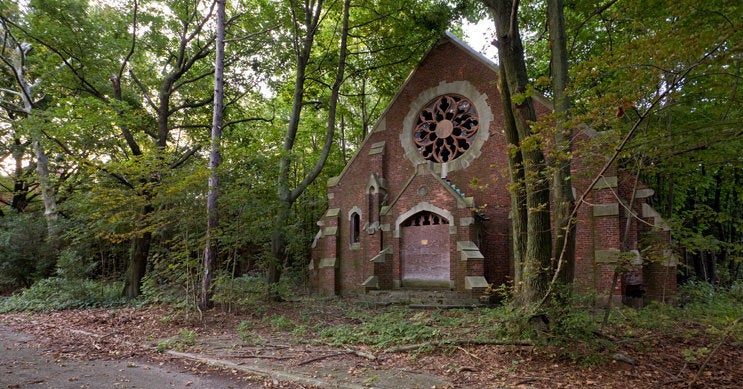 There's a calming, haunting beauty to the island of the dead. On one building, a mural of a large bird, its wings outstretched, seems to look out over the thousands of infants buried just below it. Nearby, a chapel sits among the trees, its stained-glass windows long shattered. Birds chirp and the occasional osprey flies overhead. Captain Martin Thompson of the city DOC said he's even seen a couple of deer on the island.
At Van Aelst's plot, an officer instructed Grable to go where DOC officials had placed a bouquet of flowers marking the exact location of her mother's grave. Long plastic pipes sticking up from the barren ground marked each spot where around 150 adults were buried together. Grable's cane pressed into the muddy earth as she approached the grave, muttering about the lack of grass. 
Just next to the grave plot was a long trench 10 feet deep, full of fresh coffins stacked and exposed. 
Grable unfolded a white cloth and began to arrange flowers: a couple of roses, some lilies, a few gerbera daisies spread out on the sun-baked ground. She took a deep breath and smiled.
"I love the ruins here," she said. "This is good. I'm feeling much, much better."
During the 30 or so minutes Grable spent at her mother's grave, she talked about how Van Aelst had a voice that could "chase the devil out of hell." She smoked a cigarette, remarking that Van Aelst had always hated seeing her do this. Grable said she plans to return next month, and when she does, she wants to plant wildflower seeds. 
"Now that I've actually seen the spot where she is, I don't feel so bad," she said. "There's this negative stigma that comes with being buried in a pauper's grave, but it's so gorgeous out here. It's healing."
Back at the City Island diner, Grable finally had an appetite. 
"It's truly been a red-letter day," she said, beaming. 
Calling all HuffPost superfans!
Sign up for membership to become a founding member and help shape HuffPost's next chapter