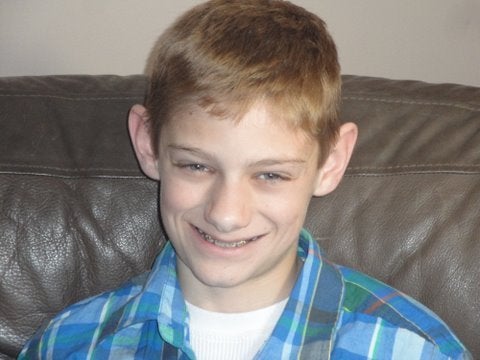 Some of the best business ideas take an existing product or service and find a new use for it. (Think of what Netflix has done for movie rentals, or what Groupon has done for coupons.)
Hart Main may just wind up doing the same thing for candles. His product? ManCans, candles with scents made specifically for men who don't really want to smell like freshly laundered towels or a dewy forest. A typical ManCans scent is more likely to smell like a fresh new baseball glove.
For a startup, ManCans is doing well, averaging 300 orders a week. And if it takes a while for the Marysville, Ohio-based business to grow to the point where it's selling 3,000 or 30,000 candles a week, Main has time. After all, he's only 13.
"It started as a joke," Main says of the origins of his company. "It really wasn't meant to turn into anything serious."
Last November, Main's 12-year-old sister, Camryn, was selling candles to raise money for school. Main, who wasn't crazy about the girly scents, joked that there ought to be candles for guys -- guys who didn't want their bedrooms to smell like, say, lavender soap. That piqued the interest of his mother, Amy, who encouraged her son to try to make some candles with a masculine aroma.
"I do that with all of my kids -- I listen to them," Amy Main says. "Even if it sounds like they're joking, if their idea sounds like something they can do, by all means, I tell them to go for it." Which is why Camryn also has a dog-walking business.
But for now, Main is keeping his mom (a nursing administrator at an adult-education center) and dad (an IT manager) plenty busy. When the local media picked up a story on the business, Main suddenly faced a flood of interviews -- and orders spiked. That may just be the beginning: Main is scheduled to appear on the talk show The Doctors this month.
While Main's age makes for a compelling news story, the candles' unique scents are what actually draw customers in. ManCans offers eight scents so far: New York Style Pizza, Grandpa's Pipe, Sawdust, Campfire, New Mitt, Fresh Cut Grass, Coffee and, of course, Bacon.
Initially, Main was planning to sell quite a few other scented candles, with smells like Money to Burn and Dirt, but like any good entrepreneur, he realized he was probably expanding too quickly and should stick to his core scents for now. "We released Money to Burn but it wasn't selling too well," Main says.
Main, meanwhile, has set up his business so that even while it is a for-profit company, it has a charitable arm. Main makes the candles in soup cans, so he purchases soup and donates it to local soup kitchens. He then returns the empty cans and he and his mother make the candles in their kitchen. He orders oils from suppliers around Ohio and combines them with the wax. "We're actually looking at renting a space to make the candles in," Main says. "Doing it in our kitchen, it's just too much the way it is now."
Main, in fact, has had several growing pains with his company even as he contends with his own growing pains. At times, he's been behind on orders, where it takes at least two weeks for customers to receive their candles, which retail for $9.50 each. Pricing has been tricky to figure out. Main initially charged $5 per candle, but as his operations became more expansive and involved, he had to raise the price. And the company has been so successful that it essentially "broke" Main's PayPal student account, forcing Amy to open a new one in her name.
Shane Haggerty, a colleague of Amy's who has become the de facto PR person for ManCans, says he's impressed with how the 13-year-old has risen to the challenge of running his own company. "Hart is very much in charge of this business and is as hands-on as any CEO would be at the age of 50," he says. "His mom recently shared a story of how Hart discovered an order was poorly packaged and shipping was incorrectly priced. Hart went directly to the distributor and made sure this would never happen again. He handles himself so well in media interviews and with the whole business that it's amazing to watch, because you have to be reminded that this is a 13-year-old middle school student who simply wanted to be able to buy a bicycle with the extra money he would earn."
Now Main, who turns 14 in July, says he can envision life as an entrepreneur, instead of becoming a lawyer as he once planned. "I like the fact that I have control over things and can make decisions and see what's actually happening," he says.
Name: Hart MainCompany: ManCansAge: 13Location: Marysville, OhioFounded: 2010Employees: One temp who takes orders while Hart is in schoolRevenue: UndisclosedWebsite: www.man-cans.com
The original version of this article appeared on AOL Small Business on 5/10/11.
Related
Popular in the Community