 Real life mysteries can be enthralling, but unlike Hollywood, some are never resolved. It is those mysteries, however, that cause intrigue and bring out the arm chair detective in all of us. Such is the case of one of the worst fire disasters in the history of the United States that occurred in Connecticut during a performance of Ringling Bros. and Barnum & Bailey Circus.
Nearly 200 people, mostly women and children, lost their lives during the inferno and ensuing chaos. Hundreds of others were badly burned or seriously injured. Officials initially deemed the fire a tragic accident -- but was it?
Six years later, a young Ohio man admitted not only to starting the fire but also to his involvement in the murder of four people.
The circus fire, which has been a source of controversy for more than 60 years, occurred in Hartford on the afternoon of July 6, 1944. Records from the time period show that it was a miserably hot day, but the conditions were apparently not sufficient enough to deter crowds of people from attending the circus. Nearly 8,000 people gathered inside the 500-foot-long big top, situated in a field on Barbour St. All were anxious to see the matinee show, which included performances by lion tamers, clowns and trapeze artists.
HARTFORD CIRCUS FIRE: (ARTICLE CONTINUES BELOW)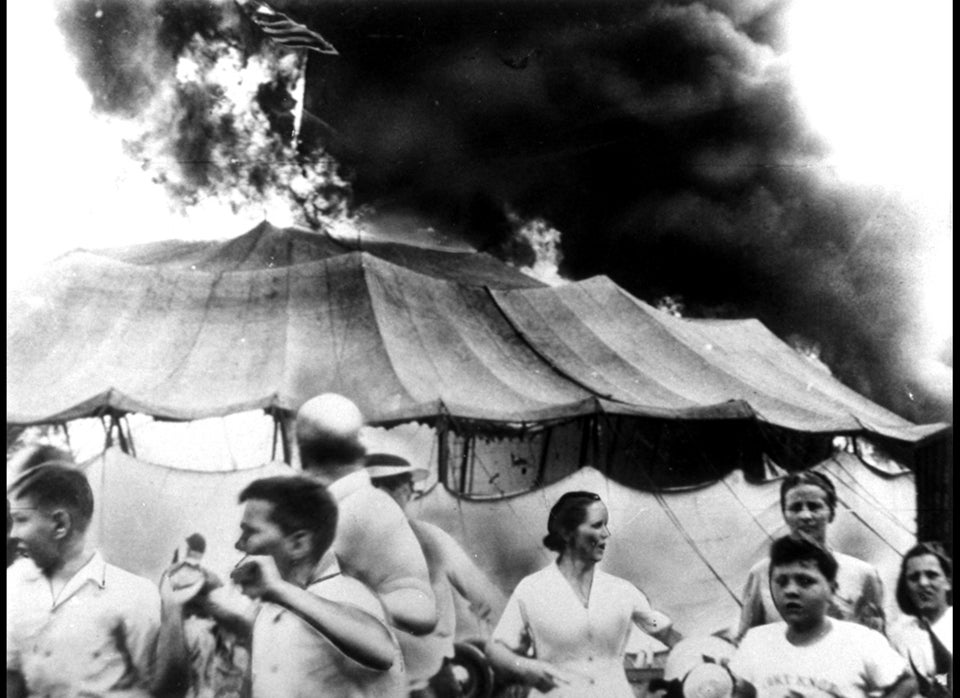 Hartford Circus Fire
The Great Wallendas, a group of daredevil stunt performers, were roughly 20 minutes into their performance when circus bandleader Merle Evans spotted flames crawling up the southwest sidewall toward the roof of the tent. Instinctively, Evans directed the band to play "Stars and Stripes Forever," a tune circus personnel had been taught to recognize as a universal distress signal.
Upon hearing the tune, ringmaster Fred Bradna attempted to address the crowd; however, his warnings fell upon deaf ears, and 100-ft. flames were rapidly feeding on the tent's outer layers.
"By that time, everybody was panicking," Krekian continued. "The exit was blocked with the cages that the animals were brought in and out with. ... There was a young man, a kid, and he had a pocketknife. And he slit the tent, took my arm and pulled me out."
Krekian was one of the lucky ones. Others were burned alive, trampled in the chaos or asphyxiated by toxic smoke. The remaining circus-goers were killed when the 19-ton big top came crashing down, roughly 10 minutes after the fire began.
One of the victims authorities have yet to positively identify is a young blonde girl known only as "Little Miss 1565", named after the number assigned to her at the city morgue. Her identity has been the subject of controversy since the day of the fire. Some believe the young girl is 6-year-old Sarah Graham. Others believe she was Eleanor Emily Cook, a young girl from Massachusetts. A 2005 investigation by the Connecticut State Police Forensic Science Lab is still open.
The tragedy was not lost on later generations.
"My mother was 15 at the time and had a ticket to the circus that day. A native of Chicopee, Mass., she and a friend were visiting her aunt in Hartford," Anne-Marie Welsh, an Erie, Pa. native, told The Huffington Post. "The day was so brutally hot they decided not to attend at the last minute. You can imagine the horror my grandparents lived through trying to get in touch when they heard about the fire. It took about four hours before they were able to connect by phone. Tough story, one that always makes me grateful my mom was spared."
Officials deemed the fire a tragic accident, resulting from a carelessly discarded cigarette. The day afterwards, five of Ringling Bros. owners were charged with involuntary manslaughter. Four were later convicted, but they were eventually pardoned. In the interim, Ringling Bros. paid out nearly $5,000,000 in financial damages.
Roughly six years after the fire, in May 1950, Robert Dale Segee, a 21-year-old resident of Circleville, Ohio, was questioned by police after a friend of his was picked up for setting a small fire.
Segee admitted to setting the Ringling Bros. circus fire in Hartford and confessed to committing more than two dozen arsons in Maine, New Hampshire and Ohio. Arson, however, was just one aspect of his alleged crimes. Segee also told police he had murdered four people, including a 9-year-old girl whom he said he beat to death with a stone.
Segee provided authorities with details and sketches of his alleged crimes, but authorities were unable to conclude whether his confessions were valid. Doctors who examined him said he suffered from mental illness, and he later recanted his confessions. In the end, he was indicted in only two arson fires, for which a grand jury sentenced him to more than 40 years of prison.
In 1993, state fire marshal investigators reopened the investigation into the circus fire, and detectives re-interviewed Segee, then 63.
Butterworth also said there was no evidence to either support or disprove Segee's 1950 confession.
"I'm not convinced either way," Butterworth said. "There is no evidence that says this is an arson fire. There is no evidence to call the fire intentionally set."
Roughly four years later, in 1997, Segee died, taking whatever knowledge he may have had with him to the grave. Today, the cause of big top fire remains a mystery.
WATCH RARE RAW FOOTAGE FROM THE SCENE: