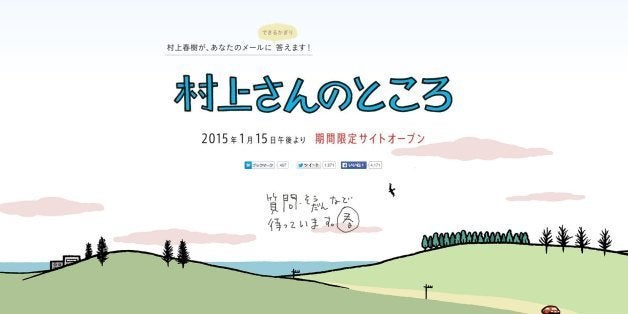 Nine years after Haruki Murakami's last online exchanges with fans, Murakami's publisher Shinchosa Co. has announced that they are planning to launch a website titled "Haruki Murakami's Place" that will allow readers to communicate directly with the Japanese author. The timeframe for submitting questions is this month, from the 15th to the 31st. The website, which will be publishing the author's responses, is expected to operate on a temporary basis until the end of March. Although the site has not officially opened yet, it is currently displaying a teaser page featuring artwork likely contributed by Masaru Fujimoto.
According to a representative from the publishing company, there are no basic criteria for the types of questions readers can ask.
"Murakami especially welcomes personal questions about his favorite cats or baseball team the Yakult Swallows," the representative said.
The website also expects to respond to questions from readers in a number of different languages –- so there's no need to worry if you do not speak Japanese.
Over the past several years, Haruki Murakami has actively engaged with his readers, to the extent that he makes an effort to answer 10-20 of the 100-plus emails he receives daily. Murakami said,
"10 to 20 years ago, it was necessary to use the media in order to communicate with readers. There's no need for that now, as it is possible to communicate directly with readers. This method can be slightly risky, but it helps if you put in a little bit of effort."
According to the Korea Times, Murakami made similar efforts to communicate with his readers during the '90s via his official website "Murakami Asahido."
In 2002, alongside the release of his novel Kafka on the Shore, Murakami answered roughly 1220 questions from readers worldwide.
Related
Popular in the Community