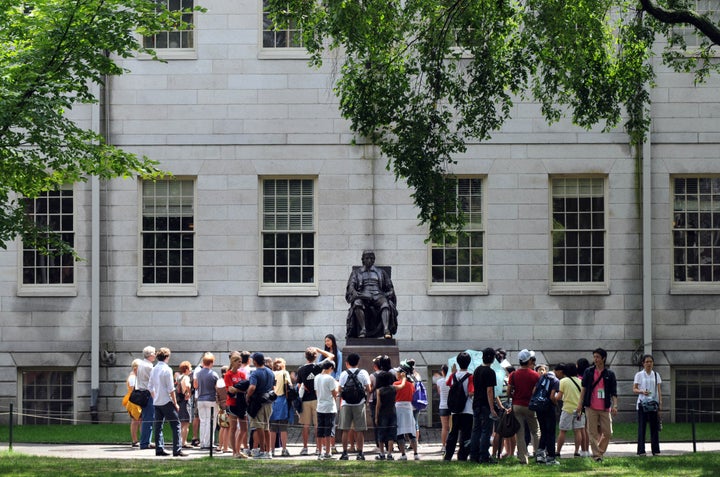 The Harvard Crimson, Harvard's daily newspaper, ran an editorial on Thursday accusing Occupy Harvard protesters of unnecessarily vilifying the Wall Street firm Goldman Sachs.
The editorial came in response to Occupy Harvard's disrupting of a Goldman recruiting event on Monday. That day, roughly 50 Occupy participants protested an event at the university's Office of Career Services. They chanted, ""Goldman Sachs, you can't hide. We can see your greedy side."
The Crimson claims that demonizing the oft-targeted investment firm "presents a facile and trivializing interpretation of the root causes of the economic catastrophe and debases our national conversation on the issue." It goes on to argue that Goldman Sachs is not as responsible for the financial crisis as the protesters think:
If Goldman Sachs employees had resisted the kinds of dealing that lead to high bonuses and long-term financial instability, it is possible that the mortgage crisis would not have been as severe as it was. However, to single out Goldman Sachs as a single target of opprobrium for causing the financial crisis is myopic and unoriginal; Goldman has been in the eye of the storm of banker bashing for close to three years now. No one has successfully proven yet that this one investment bank caused the financial crisis and benefited unduly from it. Instead, the bank was simply one actor out of many, and certainly doesn't fit the role of super villain as well as the Occupy Harvard folks imagine it does. For example, an excellent argument could be made that the millions of Americans who took on mortgages beyond their means are equally responsible as a group for the financial meltdown.
It then defends the many Harvard students who choose to work on Wall Street after graduation:
Perhaps it is not ideal that so many of us go on to Wall Street, but targeting individuals looking at career options in this way is hardly the appropriate remedy. Many students who enter these fields are not the scions of banking families but rather hard-working students looking for a challenging job that lets them experience a newfound financial prosperity. To exhort students to consider their contribution to society when choosing a career is one thing but to target those who want to work for Goldman Sachs misses the point; whatever negative impact the company has on our economy is due to structural issues rather than questions of individual morality.
Some didn't take kindly to the Crimson's reasoning. Joe Coscarelli at New York Magazine called the editorial's justification for Harvard students' to work at Goldman "an A+ in euphemism," and Rosie Gray at The Village Voice scoffed, "Whatever helps you sleep at night, guys!"
Meanwhile, Occupy Harvard continued its mission. On Wednesday, The Crimson reported, protesters played the role of disrupters again. This time, they interrupted a panel at the Institute of Politics to decry Philadelphia mayor Michael Nutter's response to the eviction of Occupy Philly protesters earlier in the week.
Occupy Harvard has maintained a small presence consisting of tents on Harvard Yard for the last three weeks. As Wired reports, it has led a largely cloistered existence, unlike its Occupy Boston cousin across the Charles River.
Calling all HuffPost superfans!
Sign up for membership to become a founding member and help shape HuffPost's next chapter