Harvard University's head diving coach has been placed on leave after being accused of sexually harassing female athletes while working at a competitive diving camp in Indiana.
Chris Heaton solicited nude photos from young female athletes at Ripfest diving camp and sent them pictures of his penis beginning in 2015, according to a lawsuit filed Sunday with the U.S. District Court for the Southern District of Indiana.
Harvard officials on Tuesday placed Heaton on leave pending an internal review, university spokeswoman Rachel Dane told HuffPost in a statement. Harvard wasn't aware of the allegations when they hired Heaton in August, she said. 
Heaton hasn't publicly addressed the allegations. He did not immediately respond to HuffPost's request for comment.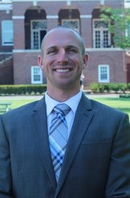 Three former Ripfest attendees ― Ashley Stevens and two unnamed female plaintiffs ― say in the class-action lawsuit that they reported the misconduct to program officials. They say those officials, including veteran USA Diving coach and Ripfest president John Wingfield, ignored their complaints about Heaton and other instructors.
The accusers say Ripfest organizers did not do enough to protect athletes from sexual predators, including then-coach Johel Ramirez Suarez. Stevens alleges Suarez inappropriately rubbed and touched her vulva while helping her stretch roughly a dozen times in 2015 and 2016, beginning when she was 16 years old.
Suarez pleaded guilty last month to three counts of battery after being arrested in November 2017 for touching the vulva of another teenage Ripfest diver.
The lawsuit names USA Diving, the sport's governing body, and Ripfest organizer Indiana Diving Academy as the primary defendants. Heaton is not listed as a defendant in the complaint.
USA Diving did not immediately respond to HuffPost's request for comment. 
The lawsuit comes amid mounting sexual abuse cover-up allegations against Olympic organizations in the U.S. In February, a lengthy investigative report from the Southern California News Group found USA Swimming ignored or covered up hundreds of sexual abuse cases over several decades. 
The USA Swimming report came on the heels of accusations that USA Gymnastics ignored hundreds of sexual abuse complaints against Larry Nasser, a doctor who had been affiliated with the organization and has since pleaded guilty to sexually assaulting young female athletes. 
Calling all HuffPost superfans!
Sign up for membership to become a founding member and help shape HuffPost's next chapter