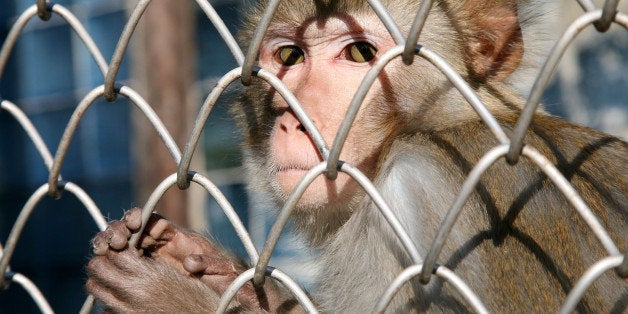 The U.S. Department of Agriculture announced on Wednesday that it was fining Harvard Medical School $24,036 for animal welfare violations related to the treatment of monkeys used in research.
The fine includes 11 violations -- including four monkey deaths -- dating from February 2011 to July 2012. Most of the violations occurred at Harvard's New England Primate Research Center, which is located west of Boston in Southborough, Mass. and will wind down operations over the next one or two years. Their other animal facility is located in the Longwood Medical Area in Boston and will remain open, reported the Los Angeles Times.
The violations appear to stem from "incomplete training or inconsistent oversight," noted The Boston Globe. Some of them include malfunctioning of hydration devices, which led to severe dehydration and euthanasia for two of the primates. Another monkey died after becoming entangled in a chain while playing with a toy.
The USDA frequently cites violations at the nation's 1,300 licensed animal research facilities, but rarely issues fines. Harvard could have faced severely higher fines -- up to $10,000 per incident -- but the school thinks their fines were appropriate and kept to a minimum because of the "excellent work of those members of our community who took aggressive action to institute rigorous quality improvements that benefit animal safety and welfare," they said in a statement, according to Reuters.
Yet animal activists wanted a steeper fine. "For an institution that receives $185 million annually in taxpayer funds alone, half of which is spent on animal experiments, a $24,000 fine for years of abusing and neglecting monkeys won't motivate Harvard to do better by animals," Justin Goodman, a spokesman for PETA, wrote in a statement.
The remaining primates at the New England Primate Research Center will move to other national research centers or continue to be managed at NEPRC, according to the Los Angeles Times.
Primate research has long been a subject of ethical contention. Their 95-98 percent genetic similarity to humans makes them "valuable biomedical research subjects," according to the Office of Research Integrity, yet the treatment is seen as unethical and deprives them of their social needs, as monkeys are social animals. According to PETA, the U.S. is the only nation in the world besides Gabon that still uses invasive experiments on chimpanzees.
According to The Humane Society, 112,000 monkeys are kept for research in the U.S., including those being held and used for breeding. Monkeys are often used to research human diseases, psychological disorders and vaccine and drug testing. Research is often harmful to monkeys and includes surgeries, lethal dosing and much more, according to the organization. Macaques are the most commonly researched monkeys, as well as marmosets, squirrel monkeys and tamarins.
REAL LIFE. REAL NEWS. REAL VOICES.
Help us tell more of the stories that matter from voices that too often remain unheard.
BEFORE YOU GO
PHOTO GALLERY
10 Worst States For Animal Abuse Laws