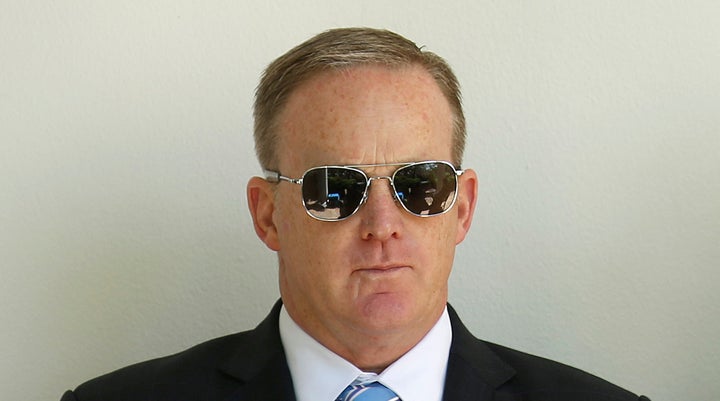 Sean Spicer, a man most famous for lying compulsively and giving Hitler the benefit of the doubt, has been rewarded for his brief stint as White House press secretary with a prestigious fellowship at the Institute of Politics at Harvard's John F. Kennedy School of Government for the fall semester.
His appointment was in keeping with the trend of America's broadly liberal institutions falling all over themselves to give a prominent platform to our country's worst, most illiberal voices, in an idiot kabuki of broadmindedness. According to the institute, Spicer is supposed to be "engaging students in discourse on topical issues of today" by giving bright young minds a look at the inner workings of White House communications.
Instead, according to a student who attended one of Spicer's Q&A sessions, "The entire thing was just a defense of every waking moment he served." He is a flack once more, only this time for himself.
Over the course of this week, Spicer has been holding court during breakfasts, lunches, dinners and lectures to pass along to the groups of commingling graduate and undergrad students the many lessons of public service he digested along with all those pieces of gum in his time at the White House. HuffPost spoke with several of these students, who have been granted anonymity because the sessions were off the record, per the Harvard institute's standard visiting fellow rules. The school probably didn't need to worry too much. As one student explained, "He's incredibly inarticulate, so it was really difficult to take any sort of notes."
The Harvard Kennedy School features a mostly liberal student body, and its students were particularly upset over the school's decision to rescind Chelsea Manning's fellowship while keeping that of both Spicer and former Trump campaign manager Corey Lewandowski. Despite that, everyone HuffPost spoke with said the questions Spicer received were relatively tame. No questions were pre-screened, but the sessions' moderators had full control over who was able to get in a question.
Spicer, for his part, had his talking points ready. The students HuffPost spoke with emphasized that, regardless of the question, Spicer tended to circle back to a few familiar themes. Benghazi, for instance.
Here are a few lessons Spicer imparted to the public servants of tomorrow, paraphrased by two students who attended several of Spicer's sessions:
A lot of the problems in politics today come from the fact that we don't take the time to understand each other, and that we should listen first and then protest. If you dialogue with a politician on the other side, you're seen as a sellout by your own party.
Politico recently did an article on me, and they said that I was a press secretary when I was in the RNC, and if they can't get that right then what can they get right? [Spicer was the RNC's communications director.]
One

New York Times reporter had said to me, 'How can you face the fact that you work for a racist fascist?' That reporter can't possibly have been objective because he holds those views, and more broadly the media was incredibly biased in covering Trump.
On why the Trump administration keeps lying
Were you upset when Benghazi was blamed on a video by Jay Carney, Hillary Clinton and Susan Rice? There were no challenges from the media then.
The Trump administration is being held to an unfair higher standard.
Well, Obama promised that with Obamacare you wouldn't have to switch your doctor, but you did.
On why Sean Spicer, specifically, lied
I'm a spokesperson for the president, and my job is to say what he wants me to say.

I said in the first press conference that the inauguration was witnessed by the most people ever, so I was also talking about social media and online reporting of the inauguration, not just crowd sizes, which are obviously hard to calculate.
On the difference between alternative facts and lies
An alternative fact is 3+1=4 or 4+0=4. Those are alternative facts. A lie is 3+2=4. Alternative facts are legitimate tools to use in politics.
On what Sean Spicer regrets
I regret a lot of things. I regret things every day of my life, and I apologize.
On the difference between working for the RNC and working for the White House
On Sean Spicer's proudest White House moment
My proudest moment as press secretary was getting the opportunity to give people tours of the White House.
On Sean Spicer's coolest White House moment
The coolest moment as press secretary was having the New England Patriots all standing in my office waiting to go meet the president. When I was growing up, I had to sit in the middle bleachers and watch them from the stadium. Now I have the whole starting lineup in my office and got to take a selfie with them before they met Trump.
On White House press briefings
White House press briefings are a waste of time.

Reporters had the chance to go and knock on my door and see me any time, but they would only ask questions during the White House press briefing so they could be on camera. They could have asked me at any other time of the day. [HuffPost White House reporter S.V. Date reports that "the door was almost always closed. You needed his gatekeeper's permission to get in. I never got permission."]
On life after the White House
I will continue to support the Trump agenda.

I've been at Harvard three days and no one has said anything negative publicly to my face.
All very illuminating. We've reached out to Spicer for comment and will update if he responds.
Let's not forget, though, that this is about the students. And what are the students taking away from this encounter with a master of his field? "I learned that the media was not misrepresenting him in how they were talking about him six months ago," said one Harvard Kennedy School student. "I was kind of expecting him to be better than how he was portrayed through the press, but he was pretty much just as slimy and weaselly as I'd thought he was."
Support HuffPost
The Stakes Have Never Been Higher
Popular in the Community