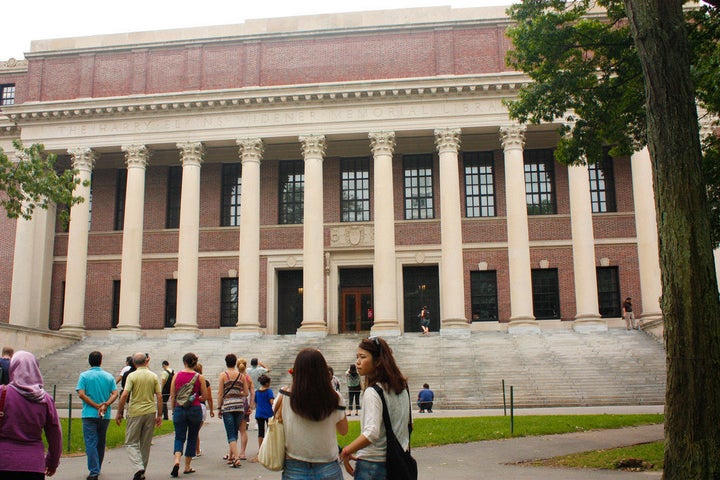 A spokesman for the Office of Civil Rights told the Washington Post the complaint was "accepted for investigation" on Jan. 11 under allegations of "discrimination against Asian-Americans on the basis of race/national origin with respect to the university's admissions process."
The student, whose named has not been released, filed complaints against Harvard and Princeton after being rejected by both universities last year, according to Bloomberg. His father told the paper that his son was among the top students in his California high school's graduating class.
The same student also filed a complaint against Yale, but later withdrew the allegation.
Jeff Neal, a spokesman for Harvard, told Bloomberg the school could not comment on pending investigations but that the school "does not discriminate against Asian-American applicants."
It's not the first time Ivy League universities have been the subject of discrimination complaints filed by Asian-American students.
Both Bloomberg and the Washington Post noted a high-profile case from 2006 in which Jian Li, a Chinese American student who has perfect scores on the SAT and a number of AP subject tests, filed a complaint against Princeton University alleging the school rejected him because of his race.
Despite schools' claims that they do not discriminate applicants on the basis of race, a number of studies have suggested that Asian students do in fact face harsher standards for college admission than peers of different races.
...It became immediately clear to me that Asians - who constitute 5 percent of the US population - faced an uphill slog. They tended to get excellent scores, take advantage of AP offerings, and shine in extracurricular activities. Frequently, they also had hard-knock stories: families that had immigrated to America under difficult circumstances, parents working as kitchen assistants and store clerks, and households in which no English was spoken. But would Yale be willing to make 50 percent of its freshman class Asian? Probably not.
"As someone who was applying with relatively strong scores, I didn't want to be grouped into that stereotype," Amalia Halikias, a Yale Freshman whose mother is Asian, told the AP. "I didn't want to be written off as one of the 1.4 billion Asians that were applying."
Not surprisingly, there is a much higher percentage of Asians students at schools that can't consider race in admissions, like public California universities, which are legally prohibited from considering race in admissions. At the University of California Berkeley, for example, 40 percent of undergraduate students are Asian, according to the AP.
"[Top colleges] could fill their entire freshman class twice over with qualified Asian students or white students or valedictorians," Rosita Fernandez-Rojo, a former college admissions officer who is now director of college counseling at Rye Country Day School outside of New York City, told the AP.
CORRECTION: A previous version of this article incorrectly stated the title of Thomas Espenshade and Alexandria Walton Radford's book as "Not Yet Separate, But Equal" and excluded Radford as author. The title of the book is in fact "No Longer Separate, Not Yet Equal: Race and Class in Elite College Admission and Campus Life" by Thomas J. Espenshade & Alexandria Walton Radford.
Support HuffPost
The Stakes Have Never Been Higher
Related
Popular in the Community