The "Harvard rejection letter" that went viral earlier this week? Yeah, it's fake. But you should still read it.
Molly McGaan, the letter's author and a student at Francis W. Parker School in Chicago, wrote the cheeky piece of satire for her school's humor publication, "Citizen Poke," and it viral -- for obvious, hilarious reasons: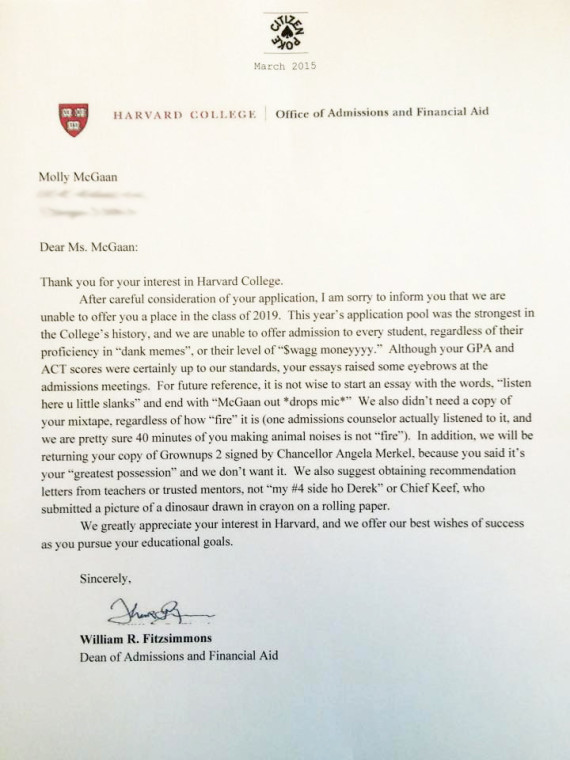 The letter purported to come from the Harvard College Office of Admissions and Financial Aid. It regretfully informs Ms. McGaan her application, which rested on a solid foundation of "proficiency in 'dank memes'" and a respectable level of "$wagg moneyyyy," wouldn't be enough to earn admission despite a solid GPA and test scores.
"We also suggest obtaining recommendation letters from teachers or trusted mentors," the letter advises, "not 'my #4 side ho Derek' or Chief Keef, who submitted a picture of a dinosaur drawn in crayon on a rolling paper."
McGaan told The Huffington Post she was inspired to lighten the load of applying to schools.
"I've had a lot of friends ... really stressed out about college admissions," McGaan said, "and I just wanted to make some people smile."
"To me it was just this very juvenile little joke that I wrote," she added. "I couldn't believe it got picked up so fast. I write this magazine at my school, and the most amount of 'likes' [a story has had on Facebook] before this was about four."
The 18-year-old has actually applied to Harvard, and is slightly concerned the tongue-in-cheek letter may harm her admissions odds. School officials told The Boston Globe they have indeed seen McGaan's handiwork, but declined to comment further.
"People legitimately think it's real, which is so bizarre to me." McGaan told the Globe. "It's just so insane."
McGaan doesn't expect to hear back from Harvard for another couple weeks. Thankfully, the stress of admissions season doesn't seem to have affected her sense of humor:
Calling all HuffPost superfans!
Sign up for membership to become a founding member and help shape HuffPost's next chapter
BEFORE YOU GO