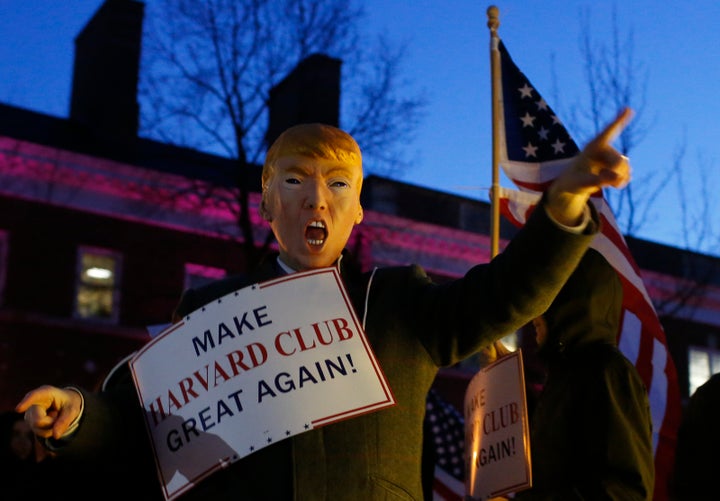 A Republican student group at Harvard University released a statement on Thursday denouncing GOP presidential nominee Donald Trump.
"Donald Trump is a threat to the survival of the Republic," the Harvard Republican Club statement says. "His authoritarian tendencies and flirtations with fascism are unparalleled in the history of our democracy."
"He isn't eschewing political correctness," the statement continues. "He is eschewing basic human decency."
The students' statement goes on to call out Trump's flimsy rhetoric.
"Donald Trump, despite spending more than a year on the campaign trail, has either refused or been unable to educate himself on issues that matter most to Americans like us. He speaks only in platitudes, about greatness, success, and winning," it reads. "When confronted about these frequent reversals, Trump lies in a manner more brazen and shameless than anything politics has ever seen."
The Harvard club is the oldest college GOP group. Its members hope that other Republicans in the Northeast will rescind endorsements of Trump, so that the party's candidates are not severely impacted down the ballot at local and state-level elections.
"We call on our party's elected leaders to renounce their support of Donald Trump, and urge our fellow College Republicans to join us in condemning and withholding their endorsement from this dangerous man," the group says in its statement.
Declan Garvey, a rising senior and president of the Harvard group, said members have expressed disappointment in Trump for months.
"However, Trump's remarks on Khizr Khan and his wife pushed us to start the official endorsement process now rather than wait until everyone was back on campus in the fall," he told The Huffington Post. "On Tuesday night we emailed a secure and anonymous survey to our club's email list, and approximately 80 percent of respondents preferred for us to not endorse the nominee, so we put together the ensuing statement."
The Harvard Republican Club is the latest student group to officially denounce Trump. Last month, some 4,000 students and alumni from Trump's alma mater, the University of Pennsylvania's Wharton School, signed an open letter condemning the candidate. The letter's authors said many of Trump's statements were in direct conflict with the values of their school.
Oh, and the Harvard club isn't having it with the birtherism from Trump's allies.
You can read the full statement from the Harvard group here.
Popular in the Community