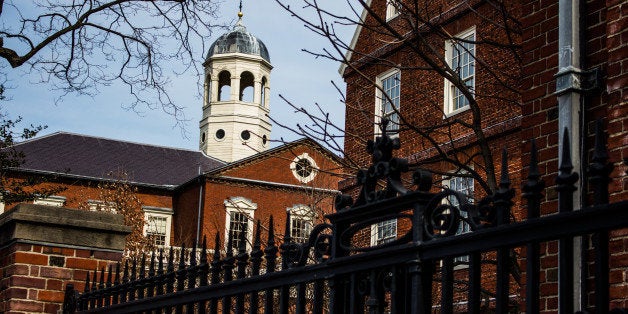 An accomplished professor claims she was denied tenure by Harvard University and will lose her job there due to her advocacy for victims of sexual violence who were critical of the Ivy League school's handling of their cases.
Dr. Kimberly Theidon, an anthropologist whose work inspired the Oscar-nominated 2009 film "The Milk of Sorrow," filed a complaint against Harvard on March 24 with the Massachusetts Commission Against Discrimination. The complaint alleges that Harvard denied Theidon tenure because of her work with sexual assault victims at the school, and that had Theidon not spoken publicly on behalf of sexual assault victims, provided assistance to students who experienced sexual violence and harassment, and privately complained she was paid less than her male counterparts, her job would never have been jeopardized.
"I was told on multiple occasions to be a 'dutiful daughter' if I wanted to make it in the ranks at Harvard," Theidon told The Huffington Post. "By all means, look the other way -- isn't that what the 'dutiful daughter' does? That was not an acceptable option for me ... I was never willing to check my conscience when I walked through the gates and into Harvard Yard."
Up until it actually happened, the university had given Theidon no indication that there was even a chance she'd be denied tenure, insisted Theidon's legal representatives, Elizabeth Rodgers and Philip Gordon.
Among other signs of good faith from the university, Theidon was promoted to associate professor in 2008 and then assigned an endowed designation of John J. Loeb Associate Professor of the Social Sciences, which a confidential document shared with HuffPost stated was a position for the "most distinguished tenure-track [Harvard] faculty." Theidon appeared to be on such a sure path to tenure, she said, that Harvard planners began working with her in spring 2013 to participate in the layout of her new tenured faculty offices.
Theidon's employment complaint against Harvard was filed just a week before a group of sexual assault survivors submitted a separate Title IX complaint to the U.S. Department of Education, alleging that Harvard College systematically mishandled reports of sexual assault and harassment under the gender equity law Title IX. Each of the survivors in the Title IX complaint asked to remain anonymous for fear of retaliation.
Harvard spokesman Jeff Neal said the university would not comment on pending legal cases, but that it is committed to "the principle of gender equity."
"To ensure the University's continued preeminence in scholarship and teaching, Harvard maintains an extremely high bar for promotion, particularly promotion to a tenured position, which carries a lifetime appointment," Neal said. "Because a leading research university is only as good as its faculty and students, maintaining the excellence of both groups is an important priority."
After publication of this article, Neal elaborated further, adding that "the University would never base a tenure decision on a faculty member's advocacy for students who have experienced sexual assault. Instead, tenure decisions are based on the quality of a faculty member's research, teaching and university citizenship."
Theidon's complaint, reviewed by The Huffington Post, pinpoints a handful of specific incidents the professor believes Harvard retaliated against her for.
One was Theidon's public defense of sexual assault survivors who accused the university of mishandling their cases in an April 2013 Harvard Crimson article, less than two months before the institution denied her tenure.
So-called "men's rights activists" from a fringe website had bombarded the comments section of the Crimson article with attempts to pick apart whether the survivors in the story were actually assaulted and attacking various statistics cited by the author. Theidon defended the survivors in the comments section and engaged in a series of arguments with the men's rights activists, at the urging of students critical of the university's Title IX policies.
In another incident, a student sought out Theidon's advice about a Harvard staff member's ongoing harassment of her. The student, who requested anonymity, followed Theidon's advice and reported the behavior to administrators. When she did, the student said the director of her program and the department chair both advised her not to discuss the issue with others on campus, and to especially avoid discussing it with Theidon, due to her consideration for tenure.
After learning Theidon was not only denied tenure, but would have her employment with the university end, the student blamed herself.
"I really thought, 'Oh my God, what have I done?'" the student said. "I didn't know what the consequences could be for her career. It was very scary for me, for her to be denied tenure. If that's enough to knock her off her career trajectory, what would happen to me as a student who doesn't even have a job yet?"
Theidon said she had also raised concerns privately with her dean and vice provost that she was not receiving as much pay as men who had less experience or who weren't as productive as her.
Theidon always kept an open door for students, she told HuffPost, and they often came to her to talk about social issues at Harvard, given that many of her classes discussed gendered and sexual violence.
On May 28, 2013, Theidon learned the university had denied her tenure and would terminate her employment at Harvard on June 30, 2014. Senior Vice Provost for Diversity Judith Singer allegedly informed Theidon, according to the complaint, that the committee reviewing her tenure discussed her "political activity" and concluded it was "the sort of [activity] scholars postpone until they have tenure."
"It took me a moment," Theidon said, "to figure out what politics I engaged in that were relevant. It's not my politics in Peru and Colombia, it's not my speaking out about sexual violence elsewhere. The 'political activity' was when I was trying to support sexual assault survivors right here at home at the Harvard campus."
Singer told her an appeal would be futile, Theidon said, but she filed one anyway. Theidon is told the appeal remains under review, with only two months left before her employment at Harvard will otherwise come to an end.
Singer did not respond to requests for comment.
The summer timeframe for deciding Theidon's appeal suggests that Harvard will make its decision after commencement ceremonies, when donors and parents are on campus, and safely away from application or acceptance season.
"If it was just about me, I might shrug," Theidon said. "But it's not just about me, it's about the students. It's about many other female faculty members who are just as vulnerable."
This article has been updated with additional comment from a Harvard spokesman.
Related
Popular in the Community